PRINCETON, NJ -- President Obama's job approval rating averaged 47% in May, unchanged from April, and exactly the same as George W. Bush's and Gerald Ford's ratings in May of their re-election years. Bush ended up winning by three percentage points in 2004, while Ford lost by two points in 1976. Obama's average is well below the May re-election-year averages of Ronald Reagan and Bill Clinton, both of whom won, but above the May averages of George H.W. Bush and Jimmy Carter, who lost.
Since World War II, presidents' May job approval averages in the year they sought re-election have been broadly aligned with the election outcome. The major exception to that was Harry Truman, who had a low 39% job approval rating in May 1948 and trailed in pre-election polls conducted through October of that year, but pulled a major surprise in winning the November 1948 election.
Five of the other six presidents who won re-election did so handily, and had higher job approval ratings in May of their re-election years than Obama does now -- Clinton, Reagan, Nixon, Johnson, and Eisenhower. This historical context suggests that Obama's chances of winning by a large popular-vote margin in November are low.
At the same time, the fact that Obama's current job approval rating is significantly higher than the May ratings of George H.W. Bush and Carter, both of whom lost by more than five points, suggests there is a lower probability that Obama will lose in November by a significant margin.
Obama's parity with George W. Bush's and Ford's May ratings foreshadows a close race in the fall, given that both Bush and Ford ended up in tight election contests. Supporting the assumption of a close race in the fall is the finding that Obama and his opponent Mitt Romney have been for the most part statistically tied in Gallup Daily tracking of the trial-heat ballot since mid-April.
Obama's ratings have been on a positive track since they fell to 41% for three months last summer and early fall, and his 47% averages in May and April are the highest such averages he has seen since May 2011, when he received a boost after the killing of Osama bin Laden in Pakistan.
The trajectory of Obama's job approval ratings from this point forward will be an important predictor of what happens next November. George W. Bush's job approval average improved slightly in the late summer and early fall of 2004, averaging 50% in August and 53% in September, before falling to 49% in October. Gallup's only other measure for Ford was 45% in June 1976, similar to his 47% in May of that year.
The job approval ratings for the two most recent winning presidents other than George W. Bush -- Clinton and Reagan -- stayed above 50% in each month before their successful November elections. The monthly job approval averages for the two most recent losing presidents -- George H.W. Bush and Carter -- stayed below 40% in the summer and fall of their re-election years, with Bush averaging a low of 31% in July 1992, and Carter 32% in June and August 1980.
Obama's average for the week ending June 3 was 46%, by one point the lowest since the last week of March. It does not appear, however, that Friday's negative government jobs report was a factor in his lower ratings last week. Obama's rating for Friday through Sunday, June 1-3, was 47%, just above his weekly average, and higher than the 45% and 46% three-day averages that immediately preceded last Friday.
Obama's Approval at 84% Among Democrats, 12% Among Republicans
Obama's May job approval ratings remain highly differentiated by party, with Obama receiving 84% approval among Democrats, 44% among independents, and 12% among Republicans. This partisan breakdown is virtually unchanged from April. Since his recent low point in August of last year, Obama has gained seven points among Democrats, nine points among independents, and three points among Republicans.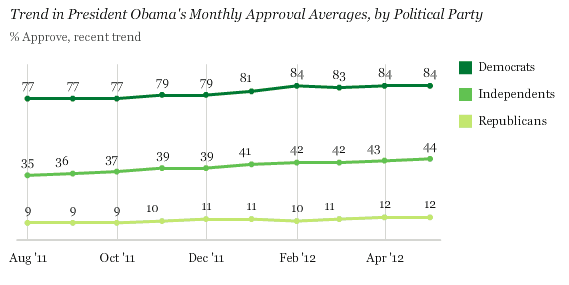 Implications
President Obama's May job approval average of 47% continues to point to a close election next Nov. 6. A comparison with the ratings of previous presidents in May of their re-election years shows that Obama is below the position of five presidents who went on to win, and above the position of two presidents who went on to lose. Obama's May average is tied with the ratings of George W. Bush in May 2004 and Ford in May 1976, and the fact that one of those presidents won and one lost -- both by narrow margins -- underscores the likelihood that this year's election outcome could be close, and could go either way.
Explore President Obama's approval ratings in depth and compare them with those of past presidents in the Gallup Presidential Job Approval Center.
Survey Methods
Results are based on telephone interviews conducted as part of Gallup Daily tracking May 1-31, 2012, with a random sample of 15,678 adults, aged 18 and older, living in all 50 U.S. states and the District of Columbia.
For results based on the total sample of national adults, one can say with 95% confidence that the maximum margin of sampling error is ±1 percentage point.
Interviews are conducted with respondents on landline telephones and cellular phones, with interviews conducted in Spanish for respondents who are primarily Spanish-speaking. Each sample includes a minimum quota of 400 cell phone respondents and 600 landline respondents per 1,000 national adults, with additional minimum quotas among landline respondents by region. Landline telephone numbers are chosen at random among listed telephone numbers. Cell phone numbers are selected using random-digit-dial methods. Landline respondents are chosen at random within each household on the basis of which member had the most recent birthday.
Samples are weighted by gender, age, race, Hispanic ethnicity, education, region, adults in the household, and phone status (cell phone only/landline only/both, cell phone mostly, and having an unlisted landline number). Demographic weighting targets are based on the March 2011 Current Population Survey figures for the aged 18 and older non-institutionalized population living in U.S. telephone households. All reported margins of sampling error include the computed design effects for weighting and sample design.
In addition to sampling error, question wording and practical difficulties in conducting surveys can introduce error or bias into the findings of public opinion polls.
For more details on Gallup's polling methodology, visit www.gallup.com.