PRINCETON, NJ -- Americans' confidence in U.S. banks is now at a record-low 21%, down slightly from 23% in the past two years and one percentage point below the 22% found in 2009. The percentage of Americans saying they have a "great deal" or "quite a lot" of confidence in U.S. banks is now about half the pre-recession level of 41%, recorded in June 2007.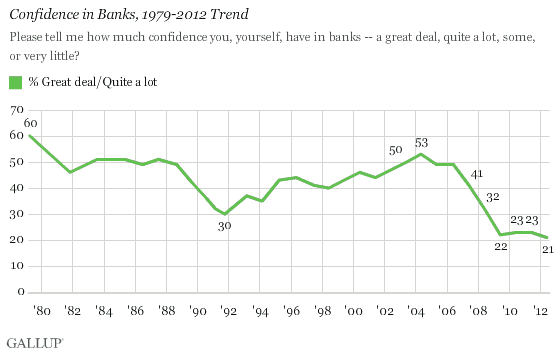 Additionally, for the fourth year in a row, more Americans say they have little or no confidence in U.S. banks than have a great deal or quite a lot. Prior to the recession and financial crisis, more Americans consistently said they had a great deal or quite a lot of confidence in banks than had little or no confidence. This remained the case even in June 2007, just before the recession began, and in June 2008, just prior to the financial crisis.
Gallup since 1973 has asked Americans to say how much confidence they have in a variety of U.S. institutions, including annually since 1993. Confidence in banks is higher than only two of the other institutions tested in this year's poll -- Congress (13%) and Health Maintenance Organizations (19%). Tied with banks are television news, organized labor, and big business -- all at 21% and third from the bottom out of the 16 U.S. institutions rated.
Confidence in Banks Up in the East, Down in the Midwest
Confidence in banks is up in the East, with the 24% who express confidence higher than in any other region. At the same time, confidence has declined in the Midwest from 27% in 2011 to 17% now. Confidence in banks among Americans in the South (23%) and West (21%) is essentially unchanged.
However, Americans' confidence in banks across all regions of the country remains down compared with the pre-recession/pre-financial crisis days of 2007.
Confidence in U.S. Banks Remains Fragile
Gallup's annual Confidence in Institutions poll shows a general decline in confidence in the nation's major institutions. This is not a surprise after five years that have included a recession, a financial crisis, and an economic slowdown with no real recovery in sight.
This general decline in confidence may partly explain Americans' worsening perceptions of U.S. banks, but it is not the only factor. U.S. banks have seen the greatest decline in confidence of any institution relative to its historical average. Americans' confidence in banks is at its lowest level by one point since Gallup began tracking confidence in banks -- essentially remaining at the post-financial crisis level of 2009.
These bleak perceptions of the nation's banks are consistent with ongoing banking issues worldwide, including the continuing crisis in Europe, particularly regarding European banks. It is also consistent with the major J.P. Morgan trading loss and Moody's recent downgrade of large global banks, including some banks in the United States.
The reality is that U.S. banks are much stronger now than they were during the financial crisis in 2008 and 2009. Federal Reserve Board Chairman Ben Bernanke told the Joint Economic Committee of Congress on June 7 that "Banking and financial conditions in the United States have improved significantly since the depths of the [financial] crisis." He went on to note that the Fed has conducted stress tests of the 19 biggest U.S. banks and these firms have added about $300 billion to their capital since 2009. As a result, even under an "extremely adverse hypothetical economic scenario," most of these banks would continue to be able to provide credit to the nation's consumers and businesses.
In sum, the U.S. needs a healthy financial system in both perceptions and reality to achieve a sustainable economic recovery going forward. However, Gallup's most recent polling suggests banking perceptions have a long way to go before they improve to the degree monetary authorities suggest is the new reality.
Survey Methods
Results for this Gallup poll are based on telephone interviews conducted June 7-10, 2012, with a random sample of 1,004 adults, aged 18 and older, living in all 50 U.S. states and the District of Columbia.
For results based on the total sample of national adults, one can say with 95% confidence that the maximum margin of sampling error is ±4 percentage points.
Interviews are conducted with respondents on landline telephones and cellular phones, with interviews conducted in Spanish for respondents who are primarily Spanish-speaking. Each sample includes a minimum quota of 400 cell phone respondents and 600 landline respondents per 1,000 national adults, with additional minimum quotas among landline respondents by region. Landline telephone numbers are chosen at random among listed telephone numbers. Cell phone numbers are selected using random-digit-dial methods. Landline respondents are chosen at random within each household on the basis of which member had the most recent birthday.
Samples are weighted by gender, age, race, Hispanic ethnicity, education, region, adults in the household, and phone status (cell phone only/landline only/both, cell phone mostly, and having an unlisted landline number). Demographic weighting targets are based on the March 2011 Current Population Survey figures for the aged 18 and older non-institutionalized population living in U.S. telephone households. All reported margins of sampling error include the computed design effects for weighting and sample design.
In addition to sampling error, question wording and practical difficulties in conducting surveys can introduce error or bias into the findings of public opinion polls.
For more details on Gallup's polling methodology, visit www.gallup.com.