PRINCETON, NJ -- A majority of Americans say the U.S. healthcare law that the Supreme Court recently upheld as constitutional will make things better for those who do not have health insurance and for those who get sick. At the same time, Americans say the law will make things worse rather than better for taxpayers, businesses, doctors, and those who currently have health insurance. Americans are about evenly divided on the impact of the law on hospitals and on themselves personally.
Americans' views of the implications of the Patient Protection and Affordable Care Act (ACA), measured in a July 9-12 Gallup poll, are nuanced. Although Americans are fairly evenly split in their views of how the law will affect them personally, they have widely differentiated views of its impact on various other groups and entities in society. The results thus provide support for both proponents of the law, who argue that it will help those in need, and for opponents, who argue that it will place a burden of cost and more bureaucracy on taxpayers and businesses.
While the precise long-term impact of the ACA on the healthcare system per se is unclear at this point, Americans tend to have mixed views of the consequences of the law for hospitals, but tilt toward the view that it will make things worse rather than better for doctors.
Democrats, Republicans Have Mirror-Image Views
The vast gulf in the way Democrats and Republicans look at the law is evident across all eight dimensions tested in this research -- but with relative differences.
Democrats are least sanguine about the impact of the law on businesses and taxpayers, although they still say the law will make each of the eight dimensions better, rather than worse -- most of them by substantial margins. Republicans break even in their views of the law's impact on people who currently do not have health insurance, but say things will be worse rather than better for each of the other seven dimensions tested. Independents show the same mixed pattern as the overall national sample.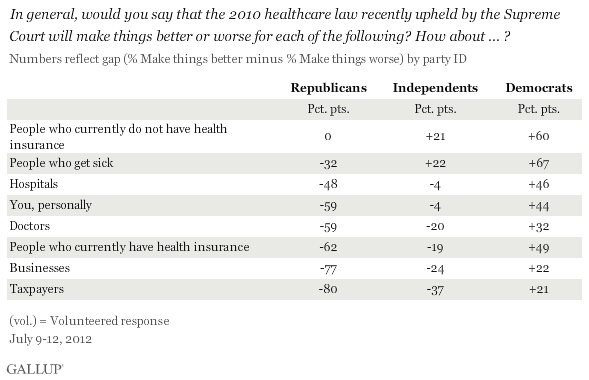 The complete pattern of responses by each partisan group is available on Page 2.
Implications
Both sides of the heated and contentious debate over the Affordable Care Act of 2010 can learn something from a review of how the American people see the law's impact on various societal entities. Americans agree with the argument that the ACA will benefit those who don't have health insurance and those who get sick -- presumably because of Americans' recognition that millions of additional people will acquire health insurance when the ACA is fully implemented. On the other hand, the average American agrees with the argument that the ACA is going to cost money, and that taxpayers, businesses, and those who currently have insurance will end up being worse off -- at least financially -- as a result of the law.
Of course, many government programs that are designed to benefit groups in society do so at a cost. Social Security, Medicare, and Medicaid all basically take money from large numbers of individuals and businesses in society and transfer it to the intended recipient groups. The ACA appears to be perceived in a similar way, but so far without the broad acceptance accorded to these long-standing programs.
Thus, it appears that the proponents of the ACA could profitably acknowledge more directly that the program will cost taxpayers money and could create disturbances for other entities in society, but augment that understanding with the argument that -- like Social Security and Medicare -- the results will be worth it. The opponents of the plan most likely should acknowledge that the program will benefit certain people in society, namely those without insurance and the sick, but that there are other less costly or more efficient ways to deliver those benefits.
Survey Methods
Results for this Gallup poll are based on telephone interviews conducted July 9-12, 2012, with a random sample of 1,004 adults, aged 18 and older, living in all 50 U.S. states and the District of Columbia.
For results based on the total sample of national adults, one can say with 95% confidence that the maximum margin of sampling error is ±4 percentage points.
Interviews are conducted with respondents on landline telephones and cellular phones, with interviews conducted in Spanish for respondents who are primarily Spanish-speaking. Each sample includes a minimum quota of 400 cell phone respondents and 600 landline respondents per 1,000 national adults, with additional minimum quotas among landline respondents by region. Landline telephone numbers are chosen at random among listed telephone numbers. Cell phone numbers are selected using random-digit-dial methods. Landline respondents are chosen at random within each household on the basis of which member had the most recent birthday.
Samples are weighted by gender, age, race, Hispanic ethnicity, education, region, adults in the household, and phone status (cell phone only/landline only/both, cell phone mostly, and having an unlisted landline number). Demographic weighting targets are based on the March 2011 Current Population Survey figures for the aged 18 and older non-institutionalized population living in U.S. telephone households. All reported margins of sampling error include the computed design effects for weighting and sample design.
In addition to sampling error, question wording and practical difficulties in conducting surveys can introduce error or bias into the findings of public opinion polls.
View methodology, full question results, and trend data.

For more details on Gallup's polling methodology, visit www.gallup.com.