WASHINGTON, D.C. -- Gallup's U.S. Job Creation Index improved slightly to +19 in August, compared with +17 in July, but stayed within the range Gallup has found since March, including +20 readings in June and April. More broadly, the past six months reflect the best U.S. job market conditions workers have reported since the global economic collapse.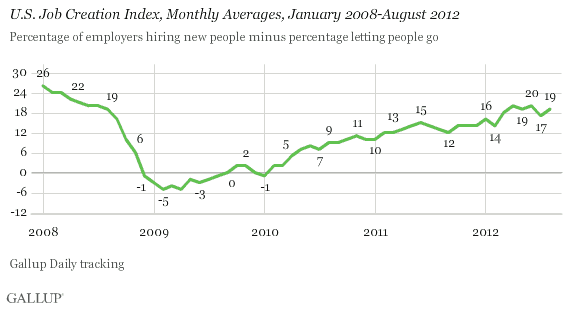 Gallup's Job Creation Index scores reflect the difference between the percentage of workers who say their employer is hiring and expanding the size of its workforce and the percentage who say their employer is letting workers go and reducing the size of its workforce. In August, 35% of workers said their employer was hiring and 16% said their employer was letting workers go. The plurality (42%) said their employer was not changing the size of its workforce.
Local Government Job Creation Improves the Most in August
The slight uptick in the nation's Job Creation Index score in August primarily reflects an improved job climate within local and state government. Workers in local and state government each reported more hiring than firing in August, sending their Job Creation Index scores to +3, and marking their first return to positive territory since the global economic collapse. At the same time, the federal government's Job Creation Index score declined slightly to -12 and the private sector's score was essentially unchanged at +23.
While private-sector job creation continues to far outpace government job creation, it shows the same basic pattern as the national average -- with the last six months reflecting an improved, but steady, climate compared with prior months since the global economic collapse.
Workers at each level of government are equally likely to report that their employer is hiring (27% of local government workers, 28% of state government workers, and 27% of federal government workers say this). However, local and state government workers report significantly less firing -- at 24% and 25%, respectively -- than federal government workers do, at 39%.
The Midwest leads all regions, with a Job Creation Index score of +23, followed by the South at +20, with both of these regions posting August gains. The East and West continue to struggle with lower Job Creation Index scores and no positive traction in August.
Bottom Line
The current trend in Gallup's Job Creation Index score aligns with other reports about the nation's job situation and expectations for this week's U.S. government jobs report for August, suggesting slow, steady improvement but hardly a sustained surge. The data suggest U.S. job market conditions in August returned to their previous levels after a dip in July -- due to more hiring at the local and state government level. However, this improvement could reflect seasonal factors such as increased hiring for schools and a new fiscal year. Further, many states are still struggling with budget shortfalls that may threaten longer-term hiring increases in many places.
The private sector remains the biggest economic engine in the country -- and it clearly needs more gas to improve the nation's job creation climate in a significant, sustained way.
Gallup.com reports results from these indexes in daily, weekly, and monthly averages and in Gallup.com stories. Complete trend data are always available to view and export in the following charts:
Daily: Employment, Economic Confidence, Job Creation, Consumer Spending
Weekly: Employment, Economic Confidence, Job Creation, Consumer Spending
Read more about Gallup's economic measures.
View our economic release schedule.
Survey Methods
Results are based on telephone interviews conducted as part of Gallup Daily tracking Aug. 1-31, 2012, with a random sample of 17,603 adults, aged 18 and older, employed full or part time, living in all 50 U.S. states and the District of Columbia.
For results based on the total sample of employed adults, one can say with 95% confidence that the maximum margin of sampling error is ±1 percentage point.
Interviews are conducted with respondents on landline telephones and cellular phones, with interviews conducted in Spanish for respondents who are primarily Spanish-speaking. Each sample includes a minimum quota of 400 cell phone respondents and 600 landline respondents per 1,000 national adults, with additional minimum quotas among landline respondents by region. Landline telephone numbers are chosen at random among listed telephone numbers. Cell phone numbers are selected using random-digit-dial methods. Landline respondents are chosen at random within each household on the basis of which member had the most recent birthday.
Samples are weighted by gender, age, race, Hispanic ethnicity, education, region, adults in the household, and phone status (cell phone only/landline only/both, cell phone mostly, and having an unlisted landline number). Demographic weighting targets are based on the March 2011 Current Population Survey figures for the aged 18 and older non-institutionalized population living in U.S. telephone households. All reported margins of sampling error include the computed design effects for weighting and sample design.
In addition to sampling error, question wording and practical difficulties in conducting surveys can introduce error or bias into the findings of public opinion polls.
For more details on Gallup's polling methodology, visit www.gallup.com.