PRINCETON, NJ -- Forty-three percent of Americans say what they saw at last week's Democratic Convention makes them more likely to vote for Barack Obama -- typical of what Gallup has measured for most conventions -- and slightly better than the 40% reading for Mitt Romney and the recent Republican Convention. At the same time, a relatively high 38% of Americans say the convention made them less likely to vote for Obama, resulting in a net impact rating of +5, which is on the low-end of Gallup's historical comparisons.
These results are based on a Gallup poll conducted Sept. 7-8, immediately after the Sept. 4-6 Democratic National Convention in Charlotte.
Seventy-eight percent of Democrats say the convention made them more likely to vote for Obama, while 79% of Republicans said it made them less likely. Independents were evenly divided. Gallup also found large Democratic and Republican differences in ratings of the recent Republican Convention.
Americans' self-reports of the Democratic Convention's effect on their vote may underestimate its true impact, however. Since the convention, Obama has expanded his lead in Gallup Daily tracking's seven-day rolling average of the presidential trial heat, from a one-percentage-point advantage (47% to 46%) before the convention to a five-point advantage (49% to 44%), which includes two days of interviewing after the Democratic Convention. Gallup will present a final estimate of Obama's convention bounce on Tuesday, based on four full days of post-convention interviewing.
Additionally, Obama's job approval rating now stands at 50%, up from 45% before the convention, and the percentage of Americans identifying as Democrats or leaning Democratic has increased to 48% from 43% before the convention.
Obama Speech Rated Better Than Romney's, Worse Than Clinton's Keynote
Forty-three percent of Americans rated Obama's nomination acceptance speech as "excellent" or "good," marginally better than the 38% who gave the same ratings to Mitt Romney's speech in Gallup's Aug. 31-Sept. 1 post-Republican Convention poll. It is also a much less favorable reaction than Americans gave to Obama's 2008 acceptance speech, when 58% rated his speech positively.
Obama's 2012 acceptance speech ranks on the lower end of nomination speeches according to Americans' post-convention evaluations, while his 2008 speech is the most positively rated in Gallup's records.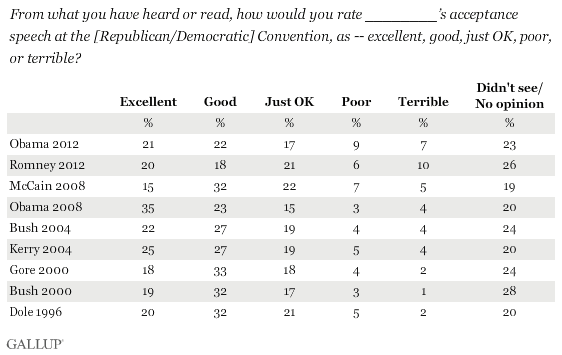 Obama's speech may have been overshadowed to some degree by the keynote address delivered by former president Bill Clinton on Wednesday night. Gallup found 56% of Americans rating Clinton's speech positively, including 34% who said it was "excellent," similar to the high ratings of Obama's well-regarded 2008 speech.
Independents and Republicans were much more positive about Clinton's speech than Obama's, while Democrats were highly positive about both.
The difference in Republicans' and independents' ratings of the Clinton and Obama speeches may be partly influenced by their basic views of the two men. Clinton has a much higher favorable rating than Obama does.
Slightly More Attention Paid to Democratic Convention
Fifty-five percent of Americans say they watched a "great deal" or "some" of the Democratic Convention, slightly more than the 51% who said that about the Republican Convention. That is down from the 2004 and 2008 conventions, but on par with the conventions in 2000.
Implications
Neither of the 2012 national conventions measured up to some of their predecessors -- in terms of reported viewership, ratings of the nominees' acceptance speeches, or impact on Americans' voting choice. However, with it looking like Obama will receive a post-convention bounce in support, while Romney did not, it could be argued that the Democratic Convention was the more successful of the two.
With the conventions now over, the candidates enter into a more intensive phase of campaigning, while also preparing for a series of debates in October.
Gallup will continue to track presidential voting preferences and Obama's job approval rating throughout the campaign to see if the emerging movement toward Obama persists or is a temporary reaction to the Democratic Convention.
Track every angle of the presidential race on Gallup.com's Election 2012 page.
Sign up to get Election 2012 news stories from Gallup as soon as they are published.
Survey Methods
Results for this Gallup poll are based on telephone interviews conducted Sept. 7-8, 2012, on the Gallup Daily tracking survey, with a random sample of 1,045 adults, aged 18 and older, living in all 50 U.S. states and the District of Columbia.
For results based on the total sample of national adults, one can say with 95% confidence that the maximum margin of sampling error is ±4 percentage points.
Interviews are conducted with respondents on landline telephones and cellular phones, with interviews conducted in Spanish for respondents who are primarily Spanish-speaking. Each sample includes a minimum quota of 400 cell phone respondents and 600 landline respondents per 1,000 national adults, with additional minimum quotas among landline respondents by region. Landline telephone numbers are chosen at random among listed telephone numbers. Cell phones numbers are selected using random digit dial methods. Landline respondents are chosen at random within each household on the basis of which member had the most recent birthday.
Samples are weighted by gender, age, race, Hispanic ethnicity, education, region, adults in the household, and phone status (cell phone-only/landline only/both, cell phone mostly, and having an unlisted landline number). Demographic weighting targets are based on the March 2011 Current Population Survey figures for the aged 18 and older non-institutionalized population living in U.S. telephone households. All reported margins of sampling error include the computed design effects for weighting and sample design.
The questions reported here were asked of a random half-sample of respondents for two nights on the Gallup Daily tracking survey.
In addition to sampling error, question wording and practical difficulties in conducting surveys can introduce error or bias into the findings of public opinion polls.
View methodology, full question results, and trend data.
For more details on Gallup's polling methodology, visit https://www.gallup.com/.