PRINCETON, NJ -- Thirty percent of Americans are satisfied with the way things are going in the United States. Although low in an absolute sense, the current satisfaction level is the highest Gallup has measured since August 2009 (36%). A year ago, satisfaction stood at 11%.
Shortly before Barack Obama won the election four years ago, satisfaction dipped to a record-low 7% after the September 2008 financial crisis and the unpopular bank bailout that Congress first rejected, then passed. When Obama took office in January 2009, satisfaction remained low at 13%.
However, it steadily climbed during his first year in office, peaking at 36% in August 2009. Satisfaction began to decline thereafter, amid the debate over healthcare legislation, a continually struggling economy, and public frustration with the government's ability to deal with the national debt and other problems.
This year, satisfaction has improved, staying at or above 20% since February.
The Sept. 6-9 Gallup poll also gauged Americans' degree of satisfaction or dissatisfaction with conditions in the United States. All told, 6% of Americans are very satisfied, 24% somewhat satisfied, 27% somewhat dissatisfied, and 41% very dissatisfied. Thus, the largest segment of Americans is very dissatisfied with the way things are going in the United States. However, that figure is down significantly from a year ago, when 56% were very dissatisfied.
The percentage very dissatisfied is now roughly the same as it was in January 2008, 43%, in the earlier stages of the presidential campaign to find a successor for President George W. Bush, who then had a 32% job approval rating.
Democratic Satisfaction Surpasses Majority Level
Democrats are driving the rise in satisfaction this year, not surprising given that an incumbent Democratic president is seeking re-election. The Sept. 6-9 Gallup poll, conducted the final day of the Democratic National Convention and the first three days after it, shows satisfaction among Democrats surpassing the majority level. A small fraction of Republicans, 7%, say they are satisfied, as do 25% of independents.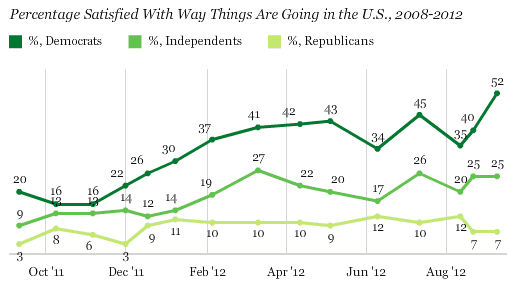 The September update marks the first time satisfaction has surpassed 50% among any party subgroup since August 2009, when a majority of Democrats were also satisfied.
Satisfaction Levels Still in Danger Zone for Obama
Gallup's satisfaction measure dates from 1979, and has been asked in September of four prior years in which an incumbent president was seeking a second term.
Satisfaction levels are lower now than in September 1984 (48%), 1996 (45%), and 2004 (41%), years in which an incumbent president successfully won re-election. In 1992, when George H.W. Bush was defeated for a second term in office, significantly fewer Americans than today, 22%, were satisfied.
Thus, the current 30% level of satisfaction falls about halfway between the levels found when incumbents were re-elected and the levels when they were defeated.
Implications
Americans have been in a gloomy mood for the better part of four years, including record-low satisfaction ratings in 2008 and near-record lows in 2011. Although more than twice as many Americans continue to say they are dissatisfied rather than satisfied with the way things are going in the country, satisfaction has improved to levels not seen since 2009.
The improved satisfaction in September may be explained partly by the effects of the recent Democratic National Convention, which produced a bounce in support for Obama and a rise in Americans' economic confidence. As a result, Obama currently leads Mitt Romney by 50% to 43% among registered voters. However, factoring in the advantages Republicans typically have with voter turnout, further improvement in Americans' satisfaction during the final two months of the 2012 campaign -- to get closer to the levels seen in 1984, 1996, and 2004 -- would enhance Obama's chances of re-election.
Survey Methods
Results for this Gallup poll are based on telephone interviews conducted Sept. 6-9, 2012, with a random sample of 1,017 adults, aged 18 and older, living in all 50 U.S. states and the District of Columbia.
For results based on the total sample of national adults, one can say with 95% confidence that the maximum margin of sampling error is ±4 percentage points.
Interviews are conducted with respondents on landline telephones and cellular phones, with interviews conducted in Spanish for respondents who are primarily Spanish-speaking. Each sample includes a minimum quota of 400 cell phone respondents and 600 landline respondents per 1,000 national adults, with additional minimum quotas among landline respondents by region. Landline telephone numbers are chosen at random among listed telephone numbers. Cell phone numbers are selected using random-digit-dial methods. Landline respondents are chosen at random within each household on the basis of which member had the most recent birthday.
Samples are weighted by gender, age, race, Hispanic ethnicity, education, region, adults in the household, and phone status (cell phone only/landline only/both, cell phone mostly, and having an unlisted landline number). Demographic weighting targets are based on the March 2011 Current Population Survey figures for the aged 18 and older non-institutionalized population living in U.S. telephone households. All reported margins of sampling error include the computed design effects for weighting and sample design.
In addition to sampling error, question wording and practical difficulties in conducting surveys can introduce error or bias into the findings of public opinion polls.
View methodology, full question results, and trend data.
For more details on Gallup's polling methodology, visit www.gallup.com.