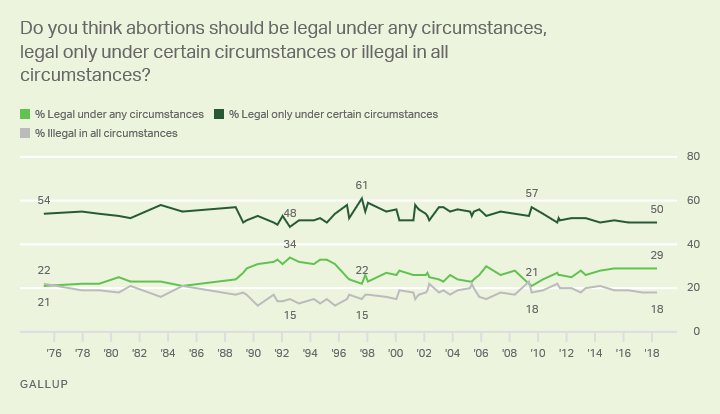 Legal under any
Legal only under certain
Illegal in all
No opinion

%

%

%

%

2018 May 1-10
29
50
18
2
2017 May 3-7
29
50
18
3
2016 May 4-8
29
50
19
2
2015 May 6-10
29
51
19
1
2014 May 8-11
28
50
21
2
2013 May 2-7
26
52
20
2
2012 Dec 27-30
28
52
18
3
2012 May 3-6
25
52
20
3
2011 Jul 15-17
26
51
20
3
2011 Jun 9-12
26
52
21
1
2011 May 5-8
27
50
22
2
2010 May 3-6
24
54
19
3
2009 Jul 17-19
21
57
18
4
2009 May 7-10
22
53
23
2
2008 May 8-11
28
54
17
2
2007 May 10-13
26
55
18
1
2006 May 8-11
30
53
15
2
2005 Nov 11-13
26
56
16
2
2005 Jun 24-26
24
55
20
1
2005 May 2-5
23
53
22
2
2005 Mar 21-23
23
55
20
2
2004 May 2-4
24
56
19
1
2003 Oct 24-26
26
55
17
2
2003 May 5-7
23
57
19
1
2003 Jan 10-12
24
57
18
1
2002 May 6-9
25
51
22
2
2002 Mar 22-24
27
53
19
1
2002 Feb 8-10
26
54
18
2
2001 Aug 10-12
26
56
17
1
2001 May 10-14
26
58
15
1
2001 Mar 26-28
26
51
18
5
2000 Mar 30-Apr 2
28
51
19
2
2000 Jan 13-16
26
56
15
3
1999 Apr 30-May 2
27
55
16
2
1998 Jan 16-18
23
59
17
1
1997 Nov 6-9
26
55
17
2
1997 Aug 12-13
22
61
15
2
1996 Sep 20-22 ^
24
52
17
7
1996 Jul 25-28
25
58
15
2
1995 Sep 22-24
31
54
12
3
1995 Feb 24-26
33
50
15
2
1994 Sep 6-7
33
52
13
2
1994 Mar 28-30
31
51
15
3
1993 Mar 12-14
32
51
13
4
1992 Jul 23-24 ^
34
48
15
3
1992 Jan 16-19
31
53
14
2
1991 Sep 5-8
33
49
14
4
1991 May 30-Jun 2
32
50
17
1
1990 Apr 5-20
31
53
12
4
1989 Jul 6-9
29
51
17
3
1989 Jul 6-7
29
51
17
3
1989 Apr 12-13
27
50
18
5
1988 Sep 25-Oct 1
24
57
17
2
1985 Jan 3-4
21
55
21
3
1983 Jun 24-27
23
58
16
3
1981 May 8-11
23
52
21
4
1980 Jul 11-14
25
53
18
4
1979 Feb 23-26
22
54
19
5
1977 Dec 9-12
22
55
19
4
1975 Apr 4-7
21
54
22
3
^ Based on registered voters
Gallup
Combined data based on full sample
Legal under any
Legal under most
Legal only in a few
Illegal in all
No opinion

%

%

%

%

%

2018 May 1-10
29
14
35
18
3
2017 May 3-7
29
13
36
18
4
2016 May 4-8
29
12
37
19
3
2015 May 6-10
29
13
36
19
2
2014 May 8-11
28
11
37
21
3
2013 May 2-7
26
13
38
20
3
2012 Dec 27-30
28
13
38
18
4
2012 May 3-6
25
13
39
20
4
2011 Jul 15-17
26
13
38
20
4
2011 Jun 9-12
26
12
38
21
2
2011 May 5-8
27
10
39
22
3
2010 May 3-6
24
15
37
19
5
2009 Jul 17-19
21
13
42
18
6
2009 May 7-10
22
15
37
23
3
2008 May 8-11
28
13
40
17
3
2007 May 10-13
26
15
40
18
1
2006 May 8-11
30
13
39
15
3
2005 Nov 11-13
26
16
39
16
3
2005 Jun 24-26
24
15
40
20
1
2005 May 2-5
23
12
40
22
3
2005 Mar 21-23
23
14
39
20
4
2004 May 2-4
24
13
42
19
2
2003 Oct 24-26
26
14
40
17
3
2003 May 5-7
23
15
42
19
1
2003 Jan 10-12
24
14
42
18
2
2002 May 6-9
25
12
39
22
2
2002 Mar 22-24
27
12
40
19
2
2001 Aug 10-12
26
12
43
17
2
2001 May 10-14
26
15
41
15
3
2001 Mar 26-28
26
13
38
18
5
2000 Mar 30-Apr 2
28
11
38
19
4
2000 Jan 13-16
26
17
39
15
3
1999 Apr 30-May 2
27
12
42
16
3
1998 Jan 16-18
23
16
42
17
2
1997 Nov 6-9
26
15
40
17
2
1997 Aug 12-13
22
12
48
15
3
1996 Jul 25-28
25
13
43
15
4
1995 Sep 22-24
31
14
39
12
4
1995 Feb 24-26
32
9
41
15
3
1994 Sep 6-7
33
13
38
13
3
Gallup
Trend from polls in which pro-life/pro-choice was asked after question on legality of abortion
Pro-choice
Pro-life
Mixed/Neither (vol.)
Don't know what terms mean (vol.)
No opinion

%

%

%

%

%

2018 May 1-10
48
48
2
2
1
2017 May 3-7
49
46
2
2
1
2016 May 4-8
47
46
3
3
2
2015 May 6-10
50
44
3
2
1
2014 May 8-11
47
46
3
3
*
2013 May 2-7
45
48
3
3
2
2012 Dec 27-30
48
44
3
4
1
2012 May 3-6
41
50
4
3
3
2011 Jul 15-17
47
47
2
3
1
2011 Jun 9-12
46
48
2
3
2
2011 May 5-8
49
45
3
2
2
2010 May 3-6
45
47
2
4
3
2009 Jul 17-19
46
47
3
2
2
2009 May 7-10
42
51
2
4
1
2008 May 8-11
50
44
1
2
2
2007 May 10-13
49
45
3
2
2
2006 May 8-11
51
41
4
2
3
2005 May 2-5
48
44
3
3
2
2004 May 2-4
49
44
2
3
2
2003 Oct 24-26
48
45
3
3
1
2003 May 5-7
48
45
2
4
1
2002 May 6-9
47
46
3
3
1
2001 Aug 10-12
46
46
3
3
2
2001 May 10-14
48
42
4
4
2
2001 Mar 26-28
47
41
4
6
2
2000 Mar 30-Apr 2
48
43
2
4
3
1999 Apr 30-May 2
48
42
3
4
3
1998 Jan 16-18
48
45
3
2
2
1997 Nov 6-9
51
40
3
3
3
1997 Aug 12-13
47
44
3
3
3
1996 Jul 25-28
53
36
5
3
3
1995 Sep 22-24
56
33
5
3
3
(vol.)=volunteered response
Gallup
Trend from polls in which pro-life/pro-choice was NOT asked after questions on legality of abortion
Pro-choice
Pro-life
Mixed/Neither (vol.)
Don't know what terms mean (vol.)
No opinion

%

%

%

%

%

2018 Jun 1-13
49
45
3
1
2
2015 Oct 7-11
49
44
2
2
2
2012 Sep 24-27
47
46
3
2
2
2010 Mar 26-28
45
46
4
2
3
2009 Nov 20-22
48
45
2
2
3
2008 Sep 5-7
51
43
2
1
3
2007 Jun 11-14
51
43
2
2
2
2007 Jun 1-3
52
39
4
2
2
2006 Jan 6-8
53
42
1
2
2
2005 Aug 28-30
54
38
3
2
3
2005 Jul 22-24
51
42
3
3
1
2004 Oct 14-16
52
41
2
3
2
2001 Aug 3-5
52
39
4
3
2
2001 Jul 10-11
50
40
4
3
3
2001 Feb 9-11
55
38
5
1
1
2000 Oct 6-9
47
45
3
2
3
2000 Jul 14-16
50
40
4
2
4
1996 Jul 18-21
48
40
5
4
3
1996 Mar 15-17
56
37
3
2
2
(vol.)=volunteered response
Gallup
Very favorable
Mostly favorable
Mostly unfavorable
Very unfavorable
No opinion

%

%

%

%

%

2018 Jun 1-13
31
31
14
20
4
2015 Oct 7-11
28
31
14
23
5
1993 Mar 12-14
40
41
8
5
6
1989 Feb 28-Mar 2
29
50
7
4
11
Gallup
Should be legal
Should be illegal
Depends (vol.)
No opinion

%

%

%

%

In the first three months of pregnancy
2018 May 1-10
60
34
4
1
2012 Dec 27-30
61
31
6
3
2011 Jun 9-12
62
35
2
1
2003 Jan 10-12
66
29
3
2
2000 Mar 30-Apr 2
65
31
2
2
1996 Jul 25-26
64
30
4
2
In the second three months of pregnancy
2018 May 1-10
28
65
4
2
2012 Dec 27-30
27
64
5
4
2011 Jun 9-12
24
71
3
2
2003 Jan 10-12
25
68
4
3
2000 Mar 30-Apr 2
24
69
4
3
1996 Jul 25-26
26
65
7
2
In the last three months of pregnancy
2018 May 1-10
13
81
4
2
2012 Dec 27-30
14
80
4
2
2011 Jun 9-12
10
86
2
1
2003 Jan 10-12
10
84
4
2
2000 Mar 30-Apr 2
8
86
3
3
1996 Jul 25-26
13
82
3
2
(vol.)=volunteered response
Gallup
Asked of half sample
Legal
Illegal
No opinion

%

%

%

When the woman's life is endangered
2018 May 1-10
83
15
2
2003 May 19-21
82
15
3
When the child would be born mentally disabled
2018 May 1-10
56
41
3
2003 May 19-21
50
46
4
When the child would be born with a life-threatening illness
2018 May 1-10
67
31
3
2003 May 19-21
60
35
5
When the pregnancy was caused by rape or incest
2018 May 1-10
77
21
2
2003 May 19-21
72
24
4
When the woman does not want the child for any reason
2018 May 1-10
45
53
2
2003 May 19-21
41
56
3
When the child would be born with Down Syndrome
2018 May 1-10
49
48
2
Gallup
Asked of half sample
Legal
Illegal
No opinion

%

%

%

When the woman's life is endangered
2018 May 1-10
75
22
3
2003 May 19-21
75
22
3
When the child would be born mentally disabled
2018 May 1-10
35
61
4
2003 May 19-21
38
56
6
When the child would be born with a life-threatening illness
2018 May 1-10
48
49
3
2003 May 19-21
48
47
5
When the pregnancy was caused by rape or incest
2018 May 1-10
52
42
5
2003 May 19-21
59
39
2
When the woman does not want the child for any reason
2018 May 1-10
20
77
3
2003 May 19-21
24
74
2
When the child would be born with Down Syndrome
2018 May 1-10
29
68
3
Gallup
Morally acceptable
Morally wrong
Depends on situation (vol.)
Not a moral issue (vol.)
No opinion

%

%

%

%

%

2018 May 1-10
43
48
7
--
1
2017 May 3-7
43
49
7
*
2
2016 May 4-8
43
47
9
*
2
2015 May 6-10
45
45
8
1
1
2014 May 8-11
42
48
8
*
1
2013 May 2-7
42
49
8
*
2
2012 May 3-6
38
51
9
*
2
2011 May 5-8
39
51
7
*
3
2010 May 3-6
38
50
9
*
3
2009 May 7-10
36
56
6
*
1
2008 May 8-11
40
48
10
*
2
2007 May 10-13
40
51
7
*
1
2006 May 8-11
43
44
11
*
2
2005 May 2-5
40
51
8
-
1
2004 May 2-4
40
50
8
*
2
2003 May 5-7
37
53
9
*
1
2002 May 6-9
38
53
8
*
1
2001 May 10-14
42
45
11
1
1
*Less than 0.5%; (vol.) = Volunteered response
Gallup
Very satisfied
Somewhat satisfied
Somewhat dissatisfied
Very dissatisfied
No opinion

%

%

%

%

%

2018
10
27
24
27
12
2017
11
28
24
24
13
2016
9
24
22
33
11
2015
10
24
24
24
18
2014
10
28
19
27
17
2013
12
32
21
25
11
2012
10
29
21
25
15
2008
12
31
23
20
13
2007
12
29
22
25
12
2006
11
29
22
26
12
2005
13
29
21
26
11
2004
12
33
22
24
9
2003
10
32
24
22
12
2002
11
37
19
24
9
2001
11
32
21
26
10
Gallup
Combined responses: Satisfaction with abortion policies + follow-up of those dissatisfied
Total satisfied
Dissatisfied, want stricter
Dissatisfied, want less strict
Dissatisfied, remain same
No opinon

%

%

%

%

%

2018
37
22
19
10
12
2017
39
23
15
10
13
2016
33
29
13
13
11
2015
34
24
12
12
18
2014
38
25
13
8
17
2013
44
27
8
11
11
2012
39
28
9
9
15
2008
43
23
11
10
13
2007
41
24
13
10
12
2006
41
25
10
12
12
2005
42
25
11
11
11
2004
45
27
10
9
9
2003
42
27
9
9
13
2002
47
27
9
7
10
2001
43
26
8
13
10
Gallup
Candidate must share views
One of many important factors
Not a major issue
No opinion

%

%

%

%

Registered voters
2016 May 4-8
20
51
27
3
2015 May 6-10
19
49
28
4
2014 May 8-11
19
49
27
4
2012 Sep 24-27
17
45
34
4
2007 May 10-13
16
60
23
2
2004 Oct 14-16
17
46
35
2
2004 May 2-4
14
46
39
1
2001 May 10-14
21
52
25
2
2000 Mar 30-Apr 2
14
52
32
2
1999 Apr 30-May 2
19
52
26
3
1996 Jul 25-28
15
53
30
2
1996 Jul 18-21
17
50
30
4
1992 Jun 29
13
46
36
5
National adults
2016 May 4-8
20
49
28
4
2015 May 6-10
21
46
27
5
2014 May 8-11
19
48
28
6
2012 Sep 24-27
18
44
33
5
2008 May 8-11
13
49
37
2
2007 May 10-13
16
59
23
3
2004 Oct 14-16
17
46
35
2
2004 May 2-4
14
45
39
2
2001 May 10-14
20
51
27
2
2000 Mar 30-Apr 2
15
49
33
3
1999 Apr 30-May 2
19
51
27
3
1996 Jul 25-28
16
51
30
3
1996 Jul 18-21
18
48
30
4
Gallup
Vote for
Vote against
No opinion

%

%

%

2013 Jun 15-16
49
48
3
Gallup
Pro-choice
Pro-life
Mixed/Neither (vol.)
Don't know what terms mean (vol.)
No opinion

%

%

%

%

%

2013 May 2-7
51
35
7
2
5
(vol.)=volunteered response
Gallup
Yes, overturn
No, not overturn
No opinion

%

%

%

2012 Dec 27-30
29
53
18
2008 May 8-11
33
52
15
2007 May 10-13
35
53
12
2006 May 8-11
32
55
13
2006 Jan 20-22
25
66
9
2005 Jul 7-10 ^
28
63
9
2002 Mar 22-24
36
60
4
1992 Aug 13-14
34
60
6
1989 Oct 5-8
33
61
6
1989 Jul 6-7
31
58
11
^ Asked of a half sample
Gallup
Favor
Oppose
No opinion

%

%

%

2011 Jul 15-17
69
28
3
2003 Jan 10-12
78
19
3
1996 Jul 25-28
74
22
4
1992 Jan 16-19
73
23
4
Gallup
Favor
Oppose
No opinion

%

%

%

2011 Jul 15-17
71
27
2
2005 Nov 11-13
69
28
3
2003 Jan 10-12
73
24
3
1996 Jul 25-28
74
23
3
1992 Jan 16-19
70
23
7
Gallup
Favor
Oppose
No opinion

%

%

%

2011 Jul 15-17
64
31
5
2003 Jan 10-12
70
25
5
2000 Oct 25-28
63
35
2
2000 Mar 30-Apr 2
66
29
5
2000 Jan 13-16
64
31
5
1999 Apr 30-May 2
61
34
5
1998 Jan 16-18
61
36
3
1997 Mar 24-26
55
40
5
1996 Apr 25-28
57
39
4
Gallup
Favor
Oppose
No opinion

%

%

%

2011 Jul 15-17
87
11
2
Gallup
Favor
Oppose
No opinion

%

%

%

2011 Jul 15-17
40
57
3
Gallup
Favor
Oppose
No opinion

%

%

%

2011 Jul 15-17
46
51
4
Gallup
Favor
Oppose
No opinion

%

%

%

2011 Jul 15-17
50
46
3
Gallup
Favor
Oppose
No opinion

%

%

%

2005 Nov 11-13
64
34
2
2003 Jan 10-12
72
26
2
1996 Jul 25-28
70
26
4
1992 Jan 16-19
73
25
2
Gallup
Favor
Oppose
No opinion

%

%

%

2005 Nov 11-13
37
61
2
2003 Jan 10-12
38
59
3
1996 Jul 25-28
38
59
3
1992 Jan 16-19
42
56
2
1984
50
46
4
Gallup
Favor
Oppose
No opinion

%

%

%

2003 Jan 10-12
88
11
1
1996 Jul 25-28
86
11
3
1992 Jan 16-19
86
12
2
Gallup
Should be legal
Should be illegal
Depends (vol.)
No opinion

%

%

%

%

2011 Jun 9-12
83
13
1
3
2003 Jan 10-12
85
11
2
2
2000 Mar 30-Apr 2
84
12
2
2
1996 Jul 25-26
88
7
3
2
(vol.)=volunteered response
Gallup
Should be legal
Should be illegal
Depends (vol.)
No opinion

%

%

%

%

2011 Jun 9-12
82
15
1
2
2003 Jan 10-12
77
17
4
2
2000 Mar 30-Apr 2
81
15
2
2
1996 Jul 25-26
82
11
5
2
(vol.)=volunteered response
Gallup
Should be legal
Should be illegal
Depends (vol.)
No opinion

%

%

%

%

2011 Jun 9-12
61
35
2
2
2003 Jan 10-12
63
32
3
2
2000 Mar 30-Apr 2
64
29
3
4
1996 Jul 25-26
66
27
5
2
(vol.)=volunteered response
Gallup
Should be legal
Should be illegal
Depends (vol.)
No opinion

%

%

%

%

2011 Jun 9-12
50
45
2
3
2003 Jan 10-12
56
37
4
3
2000 Mar 30-Apr 2
53
39
5
3
1996 Jul 25-26
53
37
7
3
(vol.)=volunteered response
Gallup
Should be legal
Should be illegal
Depends (vol.)
No opinion

%

%

%

%

2011 Jun 9-12
51
46
2
2
2003 Jan 10-12
55
39
3
3
2000 Mar 30-Apr 2
53
40
4
3
1996 Jul 25-26
54
36
7
3
(vol.)=volunteered response
Gallup
Should be legal
Should be illegal
Depends (vol.)
No opinion

%

%

%

%

2011 Jun 9-12
75
22
1
2
2003 Jan 10-12
76
19
2
3
2000 Mar 30-Apr 2
78
19
1
2
1996 Jul 25-26
77
18
3
2
(vol.)=volunteered response
Gallup
Should be legal
Should be illegal
Depends (vol.)
No opinion

%

%

%

%

2011 Jun 9-12
36
61
1
2
2003 Jan 10-12
35
61
2
2
2000 Mar 30-Apr 2
34
62
2
2
1996 Jul 25-26
32
62
3
3
(vol.)=volunteered response
Gallup
Legal
Illegal
No opinion

%

%

%

2007 May 10-13
22
72
5
2003 Oct 24-26
25
68
7
Gallup
Favor
Oppose
No opinion

%

%

%

2006 Mar 10-12
36
60
3
Gallup
Legal under any
Legal under certain
Illegal in all
No opinion

%

%

%

%

2005 May 2-5
13
67
16
4
2001 May 10-14
16
66
11
7
Gallup
Very important
Somewhat important
Not too important
Not important at all
No opinion

%

%

%

%

%

2005 May 2-5
45
31
15
8
1
Gallup
Good thing
Bad thing
No opinion

%

%

%

2003 Jan 10-12
53
30
17
Gallup
Subscribe to receive weekly Gallup News alerts.
Never miss our latest insights.
Recommended
More than three-quarters of U.S. adults believe drinking alcohol is morally acceptable while 65% say the same about smoking marijuana.
Protestants who identify with "mainline" denominations are distinctly more liberal on moral issues than are Baptists, Pentecostals and those identifying with nondenominational Protestant groups.
Americans continue to be divided in their opinions on abortion, with equal percentages describing themselves as "pro-choice" and "pro-life."