WASHINGTON, D.C. -- Americans spend less time doing what they do best on Sundays compared with other days of the week -- averaging 6.7 hours compared to 7 hours on most days. Americans use their strengths the most on Thursdays -- averaging 7.6 hours.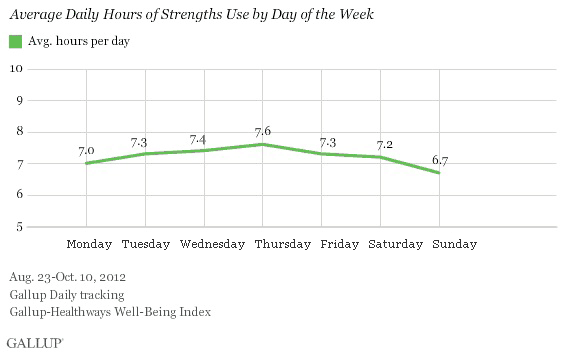 These findings are based on Gallup Daily tracking interviews with 49,637 American adults on Aug. 23-Oct. 10, 2012. Respondents were asked "About how many hours out of the day yesterday were you able to use your strengths to do what you do best?"
The overall pattern of strengths usage by day of week suggests that people use their strengths a little more with each passing day during the workweek through Saturday. Then a sharp decline occurs on Sunday. For many Americans, Sunday is free of some of the typical daily demands of work and school. Though people could capitalize on this less structured time to do more of what they do best, it seems as though they take a small break from using their strengths, despite the inherent benefits of doing so.
According to Gallup research, Americans gain a positive emotional boost the more often they use their strengths. The more they use their strengths in a day, the less likely they are to feel stressed, worried, angry or sad, and the more likely they are to report having enough energy, feeling well-rested, and being happy -- all of which benefit their overall well-being and productivity.
Thus, it makes sense that when people report having a good day, as characterized by positive emotional experiences, they also report using their strengths more. Specifically, the experience of happiness corresponds with one to two extra hours of using strengths on any given day. The difference in usage of strengths is largest at the end of the week when it appears that an unhappy Friday is not conducive to doing what you do best. But, the gap in daily strengths' use between happy adults and unhappy adults shrinks on Sundays -- the day when those who report experiencing happiness use their strengths the least.
A similar pattern occurs for the emotions of enjoyment and smiling and laughter. Americans who report experiencing enjoyment use their strengths for about two more hours per day than those who don't.
Regarding smiling and laughter -- those who say they smile or laugh a lot use their strengths an average of one to two hours more daily than those who don't every day of the week.
Bottom Line
There is a clear relationship between using one's strengths and positive emotions -- and it holds across all days of the week. Americans who report experiencing happiness and enjoyment and smiling or laughing a lot use their strengths for an average of one to two hours more than those who don't report these positive emotions every day of the week.
However, Americans in general use their strengths the most Monday through Saturday and the least on Sundays. Given the positive relationship between using one's strengths and having higher well-being and productivity levels, it may be beneficial that Americans report using their strengths most during the week, when most people are at work. Still, Americans who find a way to integrate their strengths into their weekend activities can extend the well-being benefits of using their strengths even further.
Ample research has shown that positive feelings are associated with more success at work, better relationships, and improvements in health and well-being. It isn't clear from this data whether positive emotions cause individuals to do what they do best, or vice versa, but either way it is likely that both using strengths and experiencing the associated positive feelings will bring a range of benefits.
About the Gallup-Healthways Well-Being Index
The Gallup-Healthways Well-Being Index tracks well-being in the U.S., U.K., and Germany and provides best-in-class solutions for a healthier world. To learn more, please visit well-beingindex.com.
Survey Methods
Results are based on telephone interviews conducted as part of Gallup Daily tracking Aug. 23-Oct. 10, 2012, with a random sample of 49,637 adults, aged 18 and older, living in all 50 U.S. states and the District of Columbia.
For results based on the total sample of national adults, one can say with 95% confidence that the maximum margin of sampling error is ±1.2 percentage points.
Interviews are conducted with respondents on landline telephones and cellular phones, with interviews conducted in Spanish for respondents who are primarily Spanish-speaking. Each sample includes a minimum quota of 400 cellphone respondents and 600 landline respondents per 1,000 nation adults with additional minimum quotas among landline respondents by region. Landline telephone numbers are chosen at random among listed telephone numbers. Cellphones numbers are selected using random digit dial methods. Landline respondents are chosen at random within each household on the basis of which member had the most recent birthday. Samples are weighted by gender, age, race, Hispanic ethnicity, education, region, adults in the household, and phone status (cellphone-only/landline only/both, cellphone mostly, and having an unlisted landline number). Demographic weighting targets are based on the March 2011 Current Population Survey figures for the aged 18 and older non-institutionalized population living in U.S. telephone households. All reported margins of sampling error include the computed design effects for weighting and sample design. In addition to sampling error, question wording and practical difficulties in conducting surveys can introduce error or bias into the findings of public opinion polls.
For more details on Gallup's polling methodology, visit https://www.gallup.com/.