PRINCETON, NJ -- Americans who oppose the legalization of same-sex marriage, 46% of the adult population, are most likely to explain their position on the basis of religious beliefs and/or interpretation of biblical passages dealing with same-sex relations.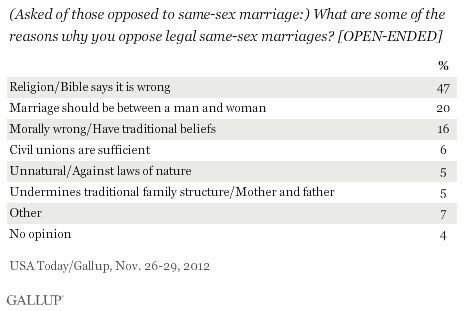 Other reasons given by those who oppose same-sex marriage include the conviction that marriage should be only between a man and a woman and the view that same-sex marriage is morally wrong or against traditional beliefs. Smaller percentages say that civil unions should be sufficient, that same-sex marriage is unnatural or against the laws of nature, or that same-sex marriage would undermine the traditional family structure.
These data are from a Nov. 26-29 USA Today/Gallup poll that explored a number of issues relating to the status of gays and lesbians in American society. Gallup.com will report additional findings later this week.
Supporters Cite Equal Rights and Personal Choice
Those who favor same-sex marriage are most likely to explain their position by saying either that it is a matter of equal rights, or that such things should be left to the personal choice of those involved. Other supporters say that it is not other people's business to decide who should get married, or that they personally know people who are gay or lesbian.
Fifty-Three Percent Favor Same-Sex Marriage; Ties Record High
Overall, 53% of Americans believe same-sex marriages should be recognized by law as valid, with the same rights as traditional marriages -- tying with May 2011 as the highest level of support Gallup has found since it began tracking the issue in 1996. Forty-six percent say such marriages should not be legal.
More than two-thirds of Americans were opposed to same-sex marriage in 1996 when Gallup first asked about the issue, and the majority were opposed as recently as 2010. But half or more of Americans have supported same-sex marriage in three out of the four Gallup surveys conducted since May 2011.
Young Americans, Democrats, and Those Who Don't Attend Church Most in Favor
Seven in 10 weekly church attenders are opposed to same-sex marriage, while seven in 10 of those who seldom or never attend church are in favor. This dramatic difference in position on same-sex marriage based on religiosity underscores the power of the relationship between religion and attitudes toward moral and values issues in America today.
The biggest differences by age in support for same-sex marriage occur at the extremes, with 34 percentage points separating 18- to 29-year-olds and those 65 and older. Support among Americans aged 30 to 64 is basically split, mirroring the national average.
Republicans are the most opposed to same-sex marriage, while Democrats are the most in favor. Independents tilt toward support -- close to the national average. This finding relates to the fact that party identification in the U.S. today is correlated with religiousness, with Republicans substantially more likely to be religious than independents or Democrats.
Implications
This survey confirms a significant change in American attitudes toward same-sex marriage -- with support rising to 53% today from 42% eight years ago and 27% in 1996. The issue is still divisive, however, particularly along age and political lines. Americans under the age of 30 and Democrats highly favor same-sex marriage, while those aged 65 and older and Republicans significantly oppose it.
These results also underscore the importance of religion as a correlate of these attitudes. A simple indicator of religiosity -- religious service attendance -- is a powerful predictor of views on same-sex marriage, with seven in 10 of those who attend weekly saying they are opposed, and seven in 10 of those who seldom or never attend saying they are in favor. Significantly, when asked to explain their position, almost half of those opposed to same-sex marriage focus on religion, including the statement that such a position follows the respondent's religious beliefs, or that it is based on their interpretation of the Bible.
Survey Methods
Results for this USA Today/Gallup poll are based on telephone interviews conducted Nov. 26-29, 2012, with a random sample of 1,015 adults, aged 18 and older, living in all 50 U.S. states and the District of Columbia.
For results based on the total sample of national adults, one can say with 95% confidence that the maximum margin of sampling error is ±4 percentage points.
Interviews are conducted with respondents on landline telephones and cellular phones, with interviews conducted in Spanish for respondents who are primarily Spanish-speaking. Each sample includes a minimum quota of 400 cellphone respondents and 600 landline respondents per 1,000 national adults, with additional minimum quotas among landline respondents by region. Landline telephone numbers are chosen at random among listed telephone numbers. Cellphone numbers are selected using random-digit-dial methods. Landline respondents are chosen at random within each household on the basis of which member had the most recent birthday.
Samples are weighted by gender, age, race, Hispanic ethnicity, education, region, adults in the household, population density, and phone status (cellphone only/landline only/both, cellphone mostly, and having an unlisted landline number). Demographic weighting targets are based on the March 2011 Current Population Survey figures for the aged 18 and older U.S. population. All reported margins of sampling error include the computed design effects for weighting.
In addition to sampling error, question wording and practical difficulties in conducting surveys can introduce error or bias into the findings of public opinion polls.
View methodology, full question results, and trend data.
For more details on Gallup's polling methodology, visit https://www.gallup.com/.