PRINCETON, NJ -- At least six in 10 Americans believe key elements of the looming "fiscal cliff" would have a negative impact on the United States as a whole. Of three major fiscal cliff measures -- cuts in defense spending, cuts in domestic spending, and tax increases -- Americans are most likely to see the tax increases as harmful to the United States.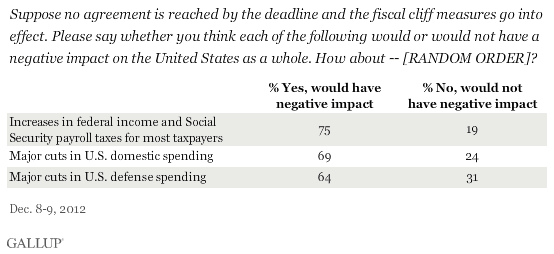 The results are based on a Dec. 8-9 Gallup poll, which also tracked key measures relating to the fiscal cliff, including the findings that a growing number of Americans want leaders to compromise to reach an agreement and that a majority of Americans believe the federal government will reach an agreement before the Jan. 1 deadline.
A majority of Republicans, Democrats, and independents agree that each of the fiscal cliff's major components would have a negative impact on the United States. Republicans are more likely to view defense cuts as harmful and Democrats to view domestic spending cuts as harmful. More than three-quarters of Democrats and Republicans think tax increases will harm the U.S.
Most Expect Fiscal Cliff to Harm Own Financial Situation
In addition to its potential negative impact on the country, 64% of Americans believe the fiscal cliff measures would harm their own personal financial situation, while 33% disagree. The poll did not assess the potential impact of each fiscal cliff component on Americans' personal finances, just the anticipated effects of the fiscal cliff overall.
A majority of those in all key subgroups expect the fiscal cliff to hurt their own financial situation. Pre-retirement-age adults (those 50 to 64 years old) are more likely to anticipate damage to their finances than are young adults (those 18 to 29 years old).
Also, Democrats are less likely than Republicans to say the fiscal cliff will negatively affect their personal finances.
Implications
Americans are pretty clear in their views on the fiscal cliff in two respects: they believe the measures would negatively affect the United States as well as their own financial situations, and they want government leaders in Washington to compromise to find an agreement to avoid the fiscal cliff.
So far, the Democrats and the Republicans have met and traded proposals but there are sticking points impeding an agreement -- mainly Republicans' reluctance to accept tax increases, particularly on upper-income Americans, and Democrats' reluctance to accept significant domestic spending cuts.
During the current session of Congress -- which consists of a Democratic-controlled Senate and a Republican-controlled House of Representatives, along with a Democratic president -- the efforts at bipartisanship have shown mixed results. The parties were able to reach agreements to extend the 2001 and 2003 tax cuts and payroll tax cuts for this year. However, they were not able to agree on deficit reduction measures in August or in November 2011. Those failed efforts led to the scheduling of the fiscal cliff measures for Jan. 1.
Survey Methods
Results for this Gallup poll are based on telephone interviews conducted Dec. 8-9, 2012, on the Gallup Daily tracking survey, with a random sample of 1,069 adults, aged 18 and older, living in all 50 U.S. states and the District of Columbia.
For results based on the total sample of national adults, one can say with 95% confidence that the maximum margin of sampling error is ±4 percentage points.
Interviews are conducted with respondents on landline telephones and cellular phones, with interviews conducted in Spanish for respondents who are primarily Spanish-speaking. Each sample includes a minimum quota of 400 cellphone respondents and 600 landline respondents per 1,000 national adults, with additional minimum quotas among landline respondents by region. Landline telephone numbers are chosen at random among listed telephone numbers. Cellphone numbers are selected using random-digit-dial methods. Landline respondents are chosen at random within each household on the basis of which member had the most recent birthday.
Samples are weighted by gender, age, race, Hispanic ethnicity, education, region, adults in the household, population density, and phone status (cellphone only/landline only/both, cellphone mostly, and having an unlisted landline number). Demographic weighting targets are based on the March 2011 Current Population Survey figures for the aged 18 and older U.S. population. All reported margins of sampling error include the computed design effects for weighting.
In addition to sampling error, question wording and practical difficulties in conducting surveys can introduce error or bias into the findings of public opinion polls.
View methodology, full question results, and trend data.

For more details on Gallup's polling methodology, visit www.gallup.com.