PRINCETON, NJ -- Most Americans say gay and lesbian domestic partners or spouses should have inheritance rights and health insurance and other benefits. And a majority say gays and lesbians should be able to legally adopt children.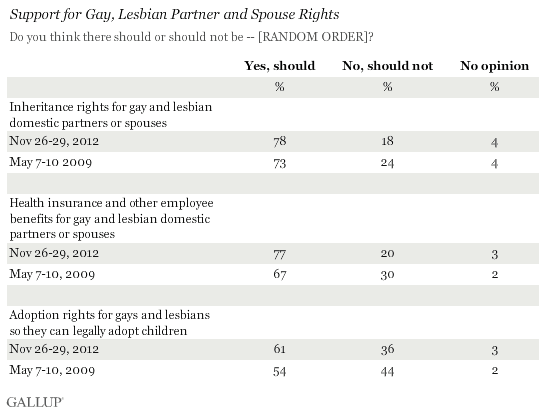 These findings are from a Nov. 26-29, 2012, USA Today/Gallup poll. Results from the same poll show that a majority of Americans favor the legalization of same-sex marriage, and 63% believe that discrimination against gays and lesbians is a serious problem in the United States.
Americans are slightly more supportive of inheritance rights, employee benefits, and adoption rights for gays and lesbians now than they were in May 2009, when Gallup last surveyed on the topic.
A separate question finds a slight majority of Americans supporting the official Boy Scouts of America policy of excluding openly gay individuals from being Boy Scout leaders. The policy has become controversial in recent years, causing some corporate sponsors to withdraw their support for the Scouts, according to recent news reports.

Republicans Less Supportive Than Democrats of Gay, Lesbian Rights
Republicans are less in favor of inheritance rights, health insurance and other benefits, and adoption rights for gays and lesbians than are either independents or Democrats. They are also less supportive of allowing openly gay Boy Scout leaders to serve. The partisan divide between Republicans and Democrats is at least 20 percentage points on all four issues.
Still, a majority of all partisan groups support inheritance rights and employee benefits for gay and lesbian spouses and partners. But slightly less than half of Republicans support adoption rights. And support is below the majority level among both Republicans and independents for allowing openly gay adults to serve as Boy Scout leaders.
Bottom Line
While 53% of Americans support legalizing same-sex marriage, significantly higher percentages support the idea of equal rights for partners or spouses of gays or lesbians when it comes to inheritance rights and employee benefits, and making it legal for gays and lesbians to adopt children. Support for all three issues is up at least slightly from three years ago.
Less than half of Americans, however, support the idea of openly gay adults serving as Boy Scout leaders. Given the lack of a trend on this question, it is not clear whether support is higher than in the past, or the degree to which the lack of support may reflect respondents' reluctance to say how a private organization should decide who holds its positions of leadership.
Survey Methods
Results for this USA Today/Gallup poll are based on telephone interviews conducted Nov. 26-29, 2012, with a random sample of 1,015 adults, aged 18 and older, living in all 50 U.S. states and the District of Columbia.
For results based on the total sample of national adults, one can say with 95% confidence that the maximum margin of sampling error is ±4 percentage points.
Interviews are conducted with respondents on landline telephones and cellular phones, with interviews conducted in Spanish for respondents who are primarily Spanish-speaking. Each sample includes a minimum quota of 400 cellphone respondents and 600 landline respondents per 1,000 national adults, with additional minimum quotas among landline respondents by region. Landline telephone numbers are chosen at random among listed telephone numbers. Cellphone numbers are selected using random-digit-dial methods. Landline respondents are chosen at random within each household on the basis of which member had the most recent birthday.
Samples are weighted by gender, age, race, Hispanic ethnicity, education, region, adults in the household, population density, and phone status (cellphone only/landline only/both, cellphone mostly, and having an unlisted landline number). Demographic weighting targets are based on the March 2011 Current Population Survey figures for the aged 18 and older U.S. population. All reported margins of sampling error include the computed design effects for weighting.
In addition to sampling error, question wording and practical difficulties in conducting surveys can introduce error or bias into the findings of public opinion polls.
View methodology, full question results, and trend data.

For more details on Gallup's polling methodology, visit www.gallup.com.