WASHINGTON, D.C. -- Slightly fewer Americans rate their healthcare coverage as either excellent or good, at a combined 67%, down from 72% last year. Despite the decline, 40% still rate their coverage as good and 27% as excellent.
As is typical, Americans are much more positive about their own healthcare coverage than about healthcare coverage in the U.S. in general. The same Nov. 15-18 Health and Healthcare survey found 41% rate healthcare coverage in the U.S. as excellent or good and a combined 58% say coverage is only fair or poor.
Americans Remain Happy With Healthcare Quality
Most Americans (82%) continue to rate the quality of the healthcare they receive as excellent or good. The 40% who rate their care as excellent ties for the highest since Gallup started asking the question annually in 2001.
Again, Americans are more positive about the quality of care they personally receive than about the quality of healthcare in the U.S. in general. About six in 10 Americans rate U.S. healthcare quality as excellent or good.
Income Makes a Difference in Ratings of Healthcare Coverage, Quality
Higher-income Americans are much more likely than lower-income adults to rate the quality of their healthcare and their healthcare coverage as excellent or good. However, even a majority of the lowest income Americans rate both highly.
Medicare and Medicaid recipients and those with private health insurance are about equally likely to give their healthcare coverage and quality good ratings.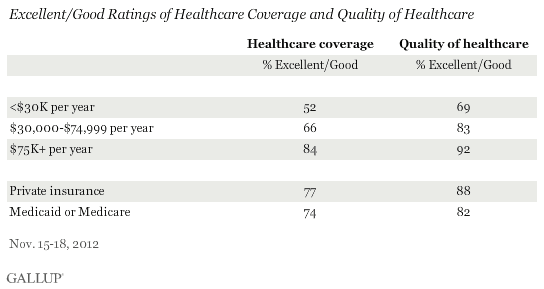 Bottom Line
While much of the national discussion about healthcare focuses on the negative -- rising costs, inefficiencies, getting more Americans covered, etc. -- Americans are generally satisfied with their own healthcare coverage and quality of care. Whether the small decline in Americans' satisfaction with their healthcare coverage is related to changes associated with the new healthcare law is unclear at this time.
Survey Methods
Results for this Gallup poll are based on telephone interviews conducted Nov. 15-18, 2012, with a random sample of 1,015 adults, aged 18 and older, living in all 50 U.S. states and the District of Columbia.
For results based on the total sample of national adults, one can say with 95% confidence that the maximum margin of sampling error is ±3 percentage points.
Interviews are conducted with respondents on landline telephones and cellular phones, with interviews conducted in Spanish for respondents who are primarily Spanish-speaking. Each sample includes a minimum quota of 400 cellphone respondents and 600 landline respondents per 1,000 national adults, with additional minimum quotas among landline respondents by region. Landline telephone numbers are chosen at random among listed telephone numbers. Cellphone numbers are selected using random-digit-dial methods. Landline respondents are chosen at random within each household on the basis of which member had the most recent birthday.
Samples are weighted by gender, age, race, Hispanic ethnicity, education, region, adults in the household, population density, and phone status (cellphone only/landline only/both, cellphone mostly, and having an unlisted landline number). Demographic weighting targets are based on the March 2011 Current Population Survey figures for the aged 18 and older population living in the U.S. All reported margins of sampling error include the computed design effects for weighting.
In addition to sampling error, question wording and practical difficulties in conducting surveys can introduce error or bias into the findings of public opinion polls.
For more details on Gallup's polling methodology, visit https://www.gallup.com/.