PRINCETON, NJ -- In the wake of the tragic shooting at Sandy Hook Elementary School in Newtown, Conn., U.S. parents of school-aged children are slightly more concerned about their children's safety at school than they were in August, with the percentage saying they fear for their oldest child's safety rising eight percentage points to 33%. This is the highest level recorded since October 2006 when 35% were fearful. That poll was conducted just days after a deadly shooting at an Amish schoolhouse in Lancaster County, Pa.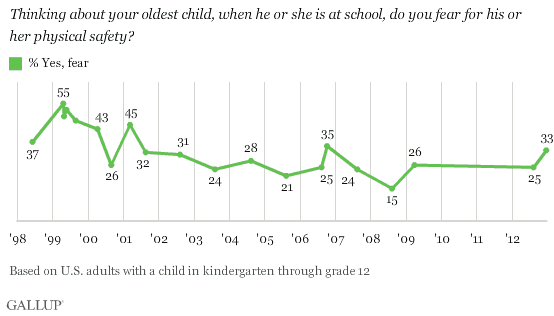 On the morning of Friday, Dec. 14, a lone 20-year-old gunman shot his way into Sandy Hook Elementary School in Newtown, Conn., and proceeded to kill 20 students and six staff members, before killing himself once authorities arrived, making it the second deadliest school shooting in U.S. history. The deadliest was the Virginia Tech massacre of 2007.
Still, the fear factor resulting from school shootings appears to have diminished over the past decade. The eight- to 10-point increases in parents' fear for their children's safety following the Newtown, Conn. and Amish school shootings contrasts with a 19-point increase, to 45%, in the percentage of parents fearful in March 2001 after a deadly school shooting in Santee, Calif. Fear spiked even higher, rising 18 points, to 55%, after the Littleton, Colo., shooting at Columbine High School in April 1999.
Roughly Half in U.S. Believe Own Community Is at Risk
The new USA Today/Gallup poll, conducted Dec. 19-22, also finds 52% of Americans saying it is very or somewhat likely that shootings similar to what happened in Newtown, Conn. could happen in their own community. That contrasts with much larger majorities in prior years believing shootings similar to the Columbine High School tragedy (68%), as well as a mass shooting at Red Lake High school in Minnesota in March 2005 (73%), were likely to occur where they live.
By 60% to 43%, women are significantly more likely than men to believe shootings similar to the one that occurred in Newtown, Conn., could happen in their own community. Concern is higher among adults aged 35 and older than those aged 18 to 35. It is also higher among adults with no children in grades K-12 than those with school-aged children -- perhaps reflecting parents' more direct awareness of steps local schools take to protect students.
Regionally, residents living in the East and those living in suburbs are more likely to believe their communities are at risk of such shootings than those living in other regions or in towns or rural areas.
Whether these relatively muted reactions on the part of Americans reflect increased security measures schools have been taking in recent years, a desensitizing of the public to the events, or something else, is not clear. However, the majority of parents, 56%, do say that the school their oldest child attends is doing enough to prevent a shooting similar to that in Connecticut. Roughly one third, 34%, say it is not, while 10% are not sure.
Americans Riveted to Sandy Hook News
Although Americans may be less likely than in the past to go on high alert following high-profile school shootings, half say they have been following the news of the Newtown shooting very closely and another 37% are following it somewhat closely. The combined 87% is in the top 10 of more than 200 news stories for which Gallup has measured Americans' attentiveness since 1991, putting it on par with the 2010 Gulf of Mexico oil spill, the start of the 1991 U.S. ground war in Iraq, and the death of Princess Diana in 1997.
Bottom Line
The Newtown, Conn., school shooting has resulted in more public school parents fearing for their own child's safety at school. However, at 33%, the percentage very or somewhat concerned is not substantially higher than the quarter or so who are typically concerned when school shootings are not in the news, including in August when 25% said they were fearful. As such, it is a change from years past when the percentage fearful surged to much higher levels after such tragedies. Similarly, fewer Americans believe there is a high likelihood that what happened in Newtown, Conn., could occur where they live than made this connection in relation to some other past shootings.
Survey Methods
Results for this USA Today/Gallup poll are based on telephone interviews conducted Dec. 19-22, 2012, with a random sample of 1,038 adults, aged 18 and older, living in all 50 U.S. states and the District of Columbia.
For results based on the total sample of national adults, one can say with 95% confidence that the maximum margin of sampling error is ±4 percentage points.
Interviews are conducted with respondents on landline telephones and cellular phones, with interviews conducted in Spanish for respondents who are primarily Spanish-speaking. Each sample includes a minimum quota of 400 cellphone respondents and 600 landline respondents per 1,000 national adults, with additional minimum quotas among landline respondents by region. Landline telephone numbers are chosen at random among listed telephone numbers. Cellphone numbers are selected using random-digit-dial methods. Landline respondents are chosen at random within each household on the basis of which member had the most recent birthday.
Samples are weighted by gender, age, race, Hispanic ethnicity, education, region, adults in the household, population density, and phone status (cellphone only/landline only/both, cellphone mostly, and having an unlisted landline number). Demographic weighting targets are based on the March 2011 Current Population Survey figures for the aged 18 and older U.S. population. All reported margins of sampling error include the computed design effects for weighting.
In addition to sampling error, question wording and practical difficulties in conducting surveys can introduce error or bias into the findings of public opinion polls.
View methodology, full question results, and trend data.
For more details on Gallup's polling methodology, visit https://www.gallup.com/.