PRINCETON, NJ -- Few Americans mention guns or immigration as the most important problems facing the nation today, despite the current attention lawmakers in Washington are giving to these issues. The economy still dominates as the top concern, followed by jobs and dissatisfaction with the general way in which Congress and the government work.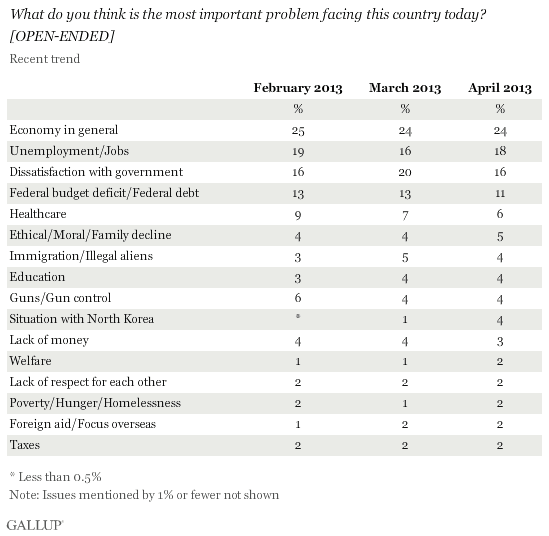 These data, from an April 4-7 survey, underscore the prominence of economic issues in Americans' minds, even as the economy continues its recovery from the recessionary depths of 2008.
In terms of specific economic issues, Americans most frequently name the economy in general (24%), jobs/unemployment (18%), and the deficit (11%). The percentage mentioning each of these economic issues is in the same broad range as has been the case each month this year so far, although a higher 20% mentioned the deficit as the nation's top problem in January.
From a longer-term perspective, top-of-mind mentions of these economic issues are down significantly from their five-year highs. A high of 58% mentioned the economy as the nation's top problem in November 2008, and 39% named jobs as the No. 1 issue in September 2011.
Overall, 56% of Americans name some economic issue as the nation's top problem, the lowest such percentage since December 2009. Nearly as many now name a non-economic issue.
Guns Remains Low Priority for Americans
The 4% of Americans mentioning guns as the nation's top problem is the same as it was last month, and comparable to the 6% in February and 4% in January and December, the last measure having been taken just after the mass shooting at an elementary school in Newtown, Conn. Prior to these past several months, in recent years virtually no Americans mentioned guns as the nation's top problem.
Americans have never been highly likely to mention guns or gun violence as the nation's top problems, even in the aftermath of other tragic mass shootings. Ten percent of Americans said guns or gun violence were the nation's top problems in May 1999, a month after the Columbine High School shootings in Colorado -- and that was the highest percentage mentioning "guns" in Gallup's history of asking the question.
This low top-of-mind mention of guns/gun violence as the nation's top problem does not mean Americans are against new gun control legislation. Gallup surveys in fact show that a majority of Americans favor each of nine gun violence measures tested in January of this year, including an extraordinary 91% who favor a measure that would mandate criminal background checks for gun purchases.
Immigration Not as High a Priority as It Has Been in Past
The 4% of Americans who name immigration as the top problem is about the same as the 5% who mentioned it last month. More generally, Americans have been significantly more likely to mention immigration issues than guns as the nation's top problem in recent years. In April 2006, for example, 19% of Americans said immigration was the nation's top problem, second only to the Iraq war at that point. At least 10% of Americans also mentioned immigration as the top problem at other points in 2007, 2008, and 2010.
As is the case with guns, Americans favor immigration reform legislation despite the relatively low percentage mentioning immigration as the nation's top problem. Two-thirds or more of Americans interviewed in late January favored each of five specific measures designed to address immigration issues.
Frustration With Government Eases Slightly
The 16% who mention issues with government or Congress as the nation's top problem is down slightly from 20% last month, which in turn was the highest reading since the summer of 1974. At that time, 26% said the way government operated was the country's most important problem, reflecting the Watergate crisis that resulted in the resignation of President Richard Nixon in August of that year.
Concerns About North Korea on the Rise
Four percent of Americans this month mention the situation involving North Korea as the nation's most important problem, up from 1% last month. Prior to these last two months, Americans have rarely mentioned issues with North Korea as the nation's top problem. But, over 60 years ago, the Korean War popped to the top of the most important problem list in 1951 and 1952.
Bottom Line
Despite the relatively intense current focus in Washington on passing new legislation dealing with gun violence and immigration, most Americans do not mention either issue as the nation's top problem. Instead, Americans focus on economic issues and problems with the government as their top concerns.
This is not an unusual state of affairs; the economy or economically related issues have nearly always in recent years ranked at the top of the "most important problem" list. The low frequency of mentions of guns is also not unusual -- guns have never been highly prevalent on this measure. The low ranking of immigration is a bit more unusual, because Americans have been significantly more likely to mention it at previous points than they are now.
All in all, to the degree that Americans would want their elected representatives to focus on the problems they perceive to be the most important of the day, they would prioritize the economy and jobs, efforts to fix problems with the way government functions today, and the deficit.
Survey Methods
Results for this Gallup poll are based on telephone interviews conducted April 4-7, 2013, with a random sample of 1,005 adults, aged 18 and older, living in all 50 U.S. states and the District of Columbia.
For results based on the total sample of national adults, one can say with 95% confidence that the margin of sampling error is ±4 percentage points.
Interviews are conducted with respondents on landline telephones and cellular phones, with interviews conducted in Spanish for respondents who are primarily Spanish-speaking. Each sample of national adults includes a minimum quota of 50% cellphone respondents and 50% landline respondents, with additional minimum quotas by region. Landline telephone numbers are chosen at random among listed telephone numbers. Cellphone numbers are selected using random digit dial methods. Landline respondents are chosen at random within each household on the basis of which member had the most recent birthday.
Samples are weighted to correct for unequal selection probability, nonresponse, and double coverage of landline and cell users in the two sampling frames. They are also weighted to match the national demographics of gender, age, race, Hispanic ethnicity, education, region, population density, and phone status (cellphone only/landline only/both, cellphone mostly, and having an unlisted landline number). Demographic weighting targets are based on the March 2012 Current Population Survey figures for the aged 18 and older U.S. population. Phone status targets are based on the July-December 2011 National Health Interview Survey. Population density targets are based on the 2010 census. All reported margins of sampling error include the computed design effects for weighting.
In addition to sampling error, question wording and practical difficulties in conducting surveys can introduce error or bias into the findings of public opinion polls.
View methodology, full question results, and trend data.
For more details on Gallup's polling methodology, visit www.gallup.com.