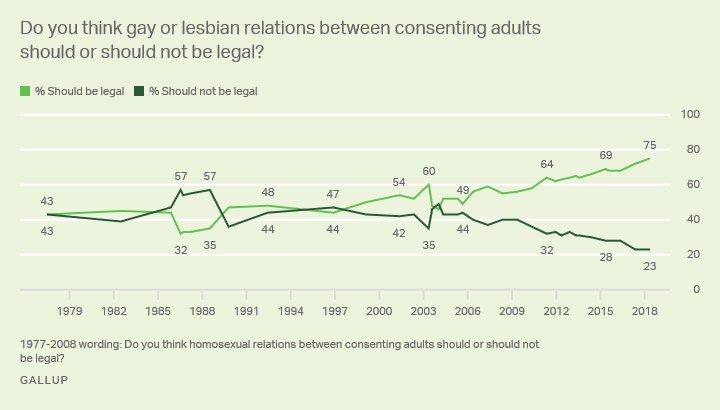 Should be legal
Should not be legal
No opinion

%

%

%

2018 May 1-10
75
23
2
2017 May 3-7
72
23
5
2016 May 4-8
68
28
4
2015 Jul 8-12
68
28
4
2015 May 6-10
69
28
4
2014 May 8-11
66
30
4
2013 Jul 10-14
64
31
5
2013 May 2-7
65
31
5
2012 Nov 26-29
64
33
3
2012 May 3-6
63
31
6
2011 Dec 15-18
62
33
5
2011 May 5-8
64
32
4
2010 May 3-6
58
36
6
2009 May 7-10
56
40
4
2008 May 8-11 ^
55
40
5
2007 May 10-13
59
37
4
2006 May 8-11 ^
56
40
4
2005 Aug 22-25
49
44
7
2005 May 2-5
52
43
5
2004 May 2-4
52
43
5
2004 Jan 9-11
46
49
5
2003 Jul 25-27
48
46
6
2003 Jul 18-20
50
44
6
2003 May 19-21
59
37
4
2003 May 5-7
60
35
5
2002 May 6-9
52
43
5
2001 May 10-14
54
42
4
1999 Feb 8-9
50
43
7
1996 Nov 21-24
44
47
9
1992 Jun 4-8
48
44
8
1989 Oct 12-15
47
36
17
1988 Jul 1-7
35
57
11
1987 Mar 14-18
33
55
12
1986 Sep 13-17
33
54
13
1986 Jul 11-14
32
57
11
1985 Nov 11-18
44
47
9
1982 Jun 25-28
45
39
16
1977 Jun 17-20
43
43
14
^ Asked of a half sample; 1977-2008 wording: Do you think homosexual relations between consenting adults should or should not be legal?
Gallup
Trend in which gay marriage question preceded by questions on legality of gay/lesbian rights and relations
Should be valid
Should not be valid
No opinion

%

%

%

2018 May 1-10
67
31
2
2017 May 3-7
64
34
2
2016 May 4-8
61
37
2
2015 Jul 8-12
58
40
2
2015 May 6-10
60
37
3
2014 May 8-11
55
42
3
2013 Jul 10-14
54
43
3
2013 May 2-7
53
45
3
2012 Nov 26-29
53
46
2
2012 May 3-6
50
48
2
2011 Dec 15-18
48
48
4
2011 May 5-8
53
45
3
2010 May 3-6
44
53
3
2009 May 7-10
40
57
3
2008 May 8-11 ^
40
56
4
2007 May 10-13
46
53
1
2006 May 8-11 ^
42
56
2
2005 Aug 22-25
37
59
4
2004 May 2-4
42
55
3
1999 Feb 8-9
35
62
3
1996 Mar 15-17
27
68
5
^ Asked of a half sample; 1996-2005 WORDING: "Do you think marriages between homosexuals ... "
Gallup
Trend in which gay marriage question NOT preceded by questions on legality of gay/lesbian rights and relations
Should be valid
Should not be valid
No opinion

%

%

%

2005 Apr 29-May 1
39
56
5
2005 Mar 18-20 ^
28
68
4
2004 Jul 19-21 ^
32
62
6
2004 Mar 5-7
33
61
6
2004 Feb 16-17
32
64
4
2004 Feb 6-8 ^
36
59
5
2003 Dec 15-16
31
65
4
2003 Oct 24-26
35
61
4
2003 Jun 27-29
39
55
6
2000 Jan 13-16
34
62
4
^ Asked of a half sample
Gallup
Morally acceptable
Morally wrong
Depends on (vol.)
Not a moral issue (vol.)
No opinion

%

%

%

%

%

2018 May 1-10
67
30
1
1
1
2017 May 3-7
63
33
1
1
2
2016 May 4-8
60
37
1
1
2
2015 May 6-10
63
34
1
1
2
2014 May 8-11
58
38
2
1
2
2013 May 2-7
59
38
1
*
2
2012 May 3-6
54
42
1
1
3
2011 May 5-8
56
39
1
1
3
2010 May 3-6
52
43
1
*
4
2009 May 7-10
49
47
1
1
3
2008 May 8-11
48
48
1
1
2
2007 May 10-13
47
49
2
*
2
2006 May 8-11
44
51
1
1
2
2005 May 2-5 ^
45
51
1
-
3
2004 May 2-4
42
54
1
1
2
2003 May 5-7
44
52
2
*
2
2002 May 6-9
38
55
2
1
4
2001 May 10-14
40
53
3
1
3
^Asked of a half sample; * Less than 0.5%; (vol.) = Volunteered response; 2005-2008 WORDING: Homosexual relations; 2001-2004 WORDING: Homosexual behavior
Gallup
Born with
Environment
Both (vol.)
Neither (vol.)
No opinion

%

%

%

%

%

2018 May 1-10
50
30
10
4
6
2016 May 4-8
46
33
12
2
8
2015 May 6-10
51
30
8
4
8
2014 May 8-11
42
37
9
4
8
2013 May 2-7
47
33
9
3
8
2012 Nov 26-29
45
36
10
2
7
2012 May 3-6
40
35
11
4
10
2011 May 5-8
40
42
6
3
9
2010 May 3-6
36
37
12
3
12
2009 May 7-10
35
42
12
2
9
2008 May 8-11 ^
41
38
9
2
9
2007 May 10-13
42
35
11
2
9
2006 May 8-11
42
37
11
2
8
2005 May 2-5
38
44
10
2
6
2004 May 2-4
37
41
11
3
8
2003 May 5-7
38
44
11
2
5
2002 May 6-9
40
36
12
4
8
2001 May 10-14
40
39
9
3
9
1999 Feb 8-9
34
44
13
1
8
1996 Nov 21-24
31
40
13
3
13
1989 Oct 12-15
19
48
12
2
19
1982 Jun 25-28
17
52
13
2
16
1977 Jun 17-20
13
56
14
3
15
^ Asked of a half sample; (vol.) = Volunteered response; 1977-2008 wording: "In your view, is homosexuality...."
Gallup
Very satisfied
Somewhat satisfied
Somewhat dissatisfied
Very dissatisfied
No opinion

%

%

%

%

%

2018
15
41
20
18
6
2017
18
41
19
17
6
2016
15
45
15
19
6
2015
15
38
20
19
8
2014
11
42
17
23
8
2013
8
41
19
26
6
2012
8
33
22
29
8
2008
7
31
23
29
10
2007
7
27
23
35
8
2006
5
27
28
31
9
2005
6
26
23
37
8
2004
4
35
24
32
5
2003
7
30
27
27
9
2002
5
35
23
31
6
2001
5
30
28
29
8
2001-2013 WORDING: The acceptance of homosexuality in the nation
Gallup
Combined responses: Satisfaction with acceptance + follow-up of those dissatisfied
Total satisfied
Dissatisfied, want greater
Dissatisfied, want less
Dissatisfied, about right
No opinon

%

%

%

%

%

2018
56
23
8
7
6
2017
59
19
8
9
6
2016
60
10
13
11
6
2015
53
16
14
10
8
2014
53
14
16
10
8
2013
49
13
21
11
6
2012
41
19
23
9
8
2008
38
21
22
9
10
2007
34
22
27
9
8
2006
32
20
30
10
9
2005
32
19
28
13
8
2004
39
14
30
12
5
2003
37
17
25
13
8
2002
40
15
27
11
6
2001
35
16
26
15
8
Gallup
Yes, new laws needed
No, not needed
No opinion

%

%

%

2017 May 3-7
51
46
3
Gallup
Birth gender
Gender identity
No opinion

%

%

%

2017 May 3-7
48
45
7
2016 May 4-8
50
40
10
Gallup
Candidate must share views
One of many important factors
Not a major issue
No opinion

%

%

%

%

Registered voters
2016 May 4-8
23
46
29
2
2015 May 6-10
26
46
26
2
2008 May 8-11
n/a
n/a
n/a
n/a
2004 May 2-4
16
47
35
2
National adults
2016 May 4-8
23
44
30
3
2015 May 6-10
26
43
26
4
2008 May 8-11
16
49
33
2
2004 May 2-4
16
46
35
3
Gallup
In favor of
Opposed to
No opinion

%

%

%

2015 May 6-10
42
53
6
2013 May 2-7
30
63
7
2012 Nov 26-29
30
61
9
Gallup
Will always divide
Will agree at some point
No opinion

%

%

%

2015 May 6-10
38
59
3
2012 Nov 26-29
45
51
4
Gallup
2015 May

6-10

2011 May

5-8

%

%

Less than 5%
9
4
5%-less than 10%
11
9
10%-less than 15%
14
17
15%-less than 20%
7
9
20%-25%
20
17
More than 25%
33
35
No opinion
6
8
Mean
23.2
24.6
Median
20
20
Gallup
Yes, should
No, should not
No opinion

%

%

%

2014 May 8-11
63
35
2
2003 May 5-7 ^
49
48
3
^ Asked of a half sample; 2003 WORDING: Do you think homosexual couples should or should not have the legal right to adopt a child?
Gallup
Better
No effect
Worse
No opinion

%

%

%

%

2013 May 2-7
19
40
39
2
2009 May 7-10
13
36
48
2
2003 Sep 19-21
10
40
48
2
Gallup
More accepting
No change
Less accepting
No opinion

%

%

%

%

2013 May 2-7
36
57
7
1
2003 Jul 18-20
32
59
8
1
Gallup
Yes
No
No opinion

%

%

%

2013 May 2-7
75
25
*
2009 May 7-10
58
40
3
2008 May 30-Jun 1
57
42
1
2004 Jan 9-11
58
42
*
2003 Jul 18-20
56
43
1
1998 Jul 17-19 ^
37
62
1
1985 Dec 5-12 #
24
75
1
* Less than 0.5%; ^ Harris poll; # Los Angeles Times poll
Gallup
Based on adults who favor same-sex marriage
Nov

26-29

, 2012

%

Equal rights/Everyone should have same rights, freedoms
32
Personal choice/Love, happiness matters, not sexual orientation
32
Not my business/Not government's business to decide
14
Have friends/family who are gay/lesbian
9
Everyone is equal in God's eyes
5
Born that way
4
Medical, insurance, financial purposes
3
Need to separate state and church
2
Other
5
No opinion
5
Gallup
Based on adults who oppose same-sex marriage
Nov

26-29

, 2012

%

Religion/Bible says it is wrong
47
Marriage should be between a man and woman
20
Morally wrong/Have traditional beliefs
16
Civil unions are sufficient
6
Unnatural/Against laws of nature
5
Undermines traditional family structure/Mother and father
5
Other
7
No opinion
4
Gallup
Yes, have changed
No, have not changed
No opinion

%

%

%

2012 Nov 26-29
36
63
1
Gallup
Based on those whose views on same-sex marriage have changed
2012 Nov

26-29

%

More accepting/tolerant now
35
More awareness/educated/Didn't understand before
18
Changed mind (nonspecific)
9
Not as big a deal now as in past
9
I'm against it/Not right
8
Believe they deserve a civil union but not marriage
5
Not my business/Respect their wishes/Don't care
5
Legal now in some places
4
Have friends/family that are gay
3
Other
3
No opinion
7
Gallup
Yes, should be
No, should not be
No opinion

%

%

%

2012 Nov 26-29
61
36
3
2009 May 7-10
54
44
2
Gallup
Yes, should be
No, should not be
No opinion

%

%

%

2012 Nov 26-29
77
20
3
2009 May 7-10
67
30
2
Gallup
Yes, should be
No, should not be
No opinion

%

%

%

2012 Nov 26-29
78
18
4
2009 May 7-10
73
24
4
Gallup
Very serious
Somewhat serious
Not too serious
Not at all serious
No opinion

%

%

%

%

%

2012 Nov 26-29
23
40
26
9
2
Gallup
Yes
No
No opinion

%

%

%

2012 Nov 26-29
78
22
*
* Less than 0.5%
Gallup
Favor
Oppose
No opinion

%

%

%

2010 May 3-6
70
25
5
2009 May 7-10
69
26
6
2004 Nov 19-21
63
32
5
Gallup
Favor
Oppose
No opinion

%

%

%

2009 May 7-10
67
29
3
Gallup
Comfortable
Uncomfortable
No opinion

%

%

%

2009 May 7-10
78
18
4
Gallup
Favor
Oppose
No opinion

%

%

%

2008 May 8-11^
49
48
3
2006 May 8-11
50
47
3
2005 Apr 29-May 1
53
44
3
2005 Mar 18-20
57
37
6
2004 Jul 19-21 ^
48
46
6
2004 May 2-4
51
45
4
2004 Mar 5-7
50
45
5
2004 Feb 9-12
53
44
3
2004 Feb 6-8 ^
47
47
6
2003 Jul 18-20
50
45
5
^ Asked of a half sample
Gallup
Acceptable
Not acceptable
No opinion

%

%

%

2008 May 8-11
57
40
3
2007 May 10-13
57
39
3
2006 May 8-11 ^
54
41
4
2005 May 2-5 ^
51
45
4
2004 May 2-4
54
42
4
2003 Jul 25-27
46
49
5
2003 May 5-7
54
43
3
2002 May 6-9
51
44
5
2001 May 10-14
52
43
5
1999 Feb 8-9 ^
50
46
4
1997 Apr 18-20 ^
42
52
6
1996 Mar 15-17 ^
44
50
6
1992 Jun 4-8
38
57
5
1982 Jun 25-28
34
51
15
^ Asked of a half sample
Gallup
Yes, should
No, should not
Depends (vol.)
No opinion

%

%

%

%

2008 May 8-11
89
8
1
1
2007 May 10-13
89
8
1
2
2006 May 8-11
89
9
1
1
2005 May 2-5
87
11
1
1
2004 May 2-4
89
8
1
2
2003 May 19-21
88
10
1
1
2003 May 5-7
88
9
2
1
2002 May 6-9
86
11
1
2
2001 May 10-14
85
11
3
1
1999 Feb 8-9
83
13
2
2
1996 Nov 21-24
84
12
2
2
1993 Apr 22-24
80
14
--
6
1992 Jun 4-7
74
18
--
8
1989 Oct 12-15
71
18
--
11
1982 Jun 25-28
59
28
--
13
1977 Jun 17-20
56
33
--
11
(vol.)=volunteered response
Gallup
Serve openly
Serve under current policy
Not serve at all
No opinion

%

%

%

%

2007 Jul 6-8
46
36
15
3
2000 Jan 13-16
41
38
17
4
Gallup
Yes, should
No, should not
Depends (vol.)
No opinion

%

%

%

%

Salesperson
2005 May 2-5
90
7
1
2
2003 May 19-21
92
6
1
1
2001 May 10-14
91
6
2
1
1999 Feb 8-9
90
8
1
1
1996 Nov 21-24
90
7
1
2
1992 Jun 4-8
82
13
3
2
The armed forces
2005 May 2-5
76
22
1
1
2003 May 19-21
80
18
1
1
2001 May 10-14
72
23
2
3
1999 Feb 8-9
70
26
2
2
1996 Nov 21-24
65
29
3
3
1992 Jun 4-8
57
37
2
4
Doctors
2005 May 2-5
78
19
1
2
2003 May 19-21
82
16
1
1
2001 May 10-14
78
18
2
2
1999 Feb 8-9
75
21
2
2
1996 Nov 21-24
69
25
3
3
1992 Jun 4-8
53
42
2
3
Clergy
2005 May 2-5
49
47
1
3
2003 May 19-21
56
39
2
3
2001 May 10-14
54
39
2
5
1999 Feb 8-9
54
40
2
4
1996 Nov 21-24
53
40
3
4
1992 Jun 4-8
43
50
2
5
Elementary school teachers
2005 May 2-5
54
43
2
1
2003 May 19-21
61
37
2
*
2001 May 10-14
56
40
3
1
1999 Feb 8-9
54
42
2
2
1996 Nov 21-24
55
40
3
2
1992 Jun 4-8
41
54
3
2
High school teachers
2005 May 2-5
62
36
1
1
2003 May 19-21
67
30
2
1
2001 May 10-14
63
33
3
1
1999 Feb 8-9
61
36
2
1
1996 Nov 21-24
60
34
3
3
1992 Jun 4-8
47
49
2
2
A member of the president's cabinet
2005 May 2-5
75
23
*
2
2003 May 19-21
79
19
*
2
2001 May 10-14
75
21
2
2
1999 Feb 8-9
74
23
1
2
1996 Nov 21-24
71
24
2
3
1992 Jun 4-8
54
39
3
4
* Less than 0.5%; (vol.)=volunteered response
Gallup
Same-sex marriages
Civil unions
Neither
No opinion

%

%

%

%

2005 Mar 18-20 ^
20
27
45
8
2004 Nov 19-21
21
32
43
4
^ Asked of a half sample
Gallup
Favor
Oppose
No opinion

%

%

%

2004 May 2-4
49
48
3
2003 Jul 25-27
40
57
3
2003 May 5-7
49
49
2
2002 May 6-9
46
51
3
2002 Apr 8-11
45
46
9
2002 Feb 8-10
41
53
6
2001 May 10-14
44
52
4
2000 Oct 25-28 ^
42
54
4
Gallup
Yes, should
No, should not
No opinion

%

%

%

2003 Dec 5-7
79
18
3
Gallup
Subscribe to receive weekly Gallup News alerts.
Never miss our latest insights.
Recommended
Protestants who identify with "mainline" denominations are distinctly more liberal on moral issues than are Baptists, Pentecostals and those identifying with nondenominational Protestant groups.
Two years after the Supreme Court legalized same-sex marriage, 10.2% of LGBT Americans are now married to a same-sex partner, up from 7.9% before the ruling.
Americans are about evenly divided on both the need for new civil rights laws to protect LGBT people and on restroom policies for transgender individuals.