This article is part of an ongoing series analyzing how the government shutdown and the debate over raising the debt ceiling are affecting Americans' views of government, government leaders, political parties, the economy, and the country in general.
PRINCETON, NJ -- Eighteen percent of Americans are satisfied with the way the nation is being governed, down 14 percentage points from the 32% recorded last month before the partial government shutdown began. This is the lowest government satisfaction rating in Gallup's history of asking the question dating back to 1971.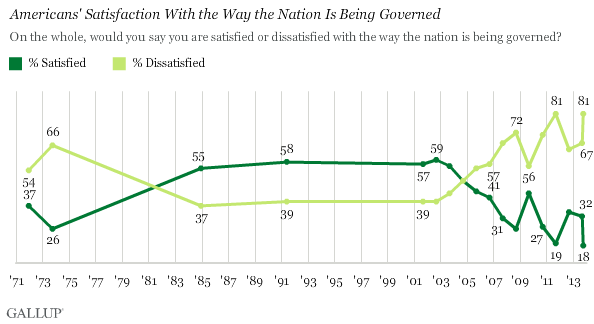 The previous low of 19% was recorded in September 2011, just after Washington lawmakers reached a last-minute agreement that forestalled a government default. More broadly, less than half of Americans have been satisfied with the government since 2004.
These most recent data are based on an Oct. 3-6 Gallup poll, and are the latest in a series of reports underscoring the negative impact the shutdown is having on Americans' attitudes toward their government.
Prior to 2011, the lowest level of satisfaction with the way the nation is being governed was 26% recorded in September 1973 -- in the middle of the Watergate scandal.
Democrats' Satisfaction Sinks Sharply Amid Government Shutdown
Democrats are more likely to be satisfied with the way the nation is being governed (28%) than are Republicans (8%) or independents (15%). This partisan difference was even greater last month, when 54% of Democrats were satisfied, compared with 11% of Republicans. Thus, Democrats' higher satisfaction with government has apparently been significantly eroded by the current events in Washington, while Republicans have maintained their already low satisfaction levels.
Bottom Line
Americans' satisfaction with the way the nation is being governed has dropped dramatically over the past month, providing still another example of how the government shutdown is having a detrimental impact on Americans' attitudes.
Gallup data also show that Americans now express less favorable attitudes toward their leaders in government, and now cite dysfunctional government as the top problem facing the U.S. today.
Survey Methods
Results for this Gallup poll are based on telephone interviews conducted Oct. 3-6, 2013, on the Gallup annual Crime survey, with a random sample of 1,028 adults, aged 18 and older, living in all 50 U.S. states and the District of Columbia.
For results based on the total sample of national adults, one can say with 95% confidence that the margin of sampling error is ±4 percentage points.
Interviews are conducted with respondents on landline telephones and cellular phones, with interviews conducted in Spanish for respondents who are primarily Spanish-speaking. Each sample of national adults includes a minimum quota of 50% cellphone respondents and 50% landline respondents, with additional minimum quotas by region. Landline and cell telephone numbers are selected using random-digit-dial methods. Landline respondents are chosen at random within each household on the basis of which member had the most recent birthday.
Samples are weighted to correct for unequal selection probability, nonresponse, and double coverage of landline and cell users in the two sampling frames. They are also weighted to match the national demographics of gender, age, race, Hispanic ethnicity, education, region, population density, and phone status (cellphone only/landline only/both, and cellphone mostly). Demographic weighting targets are based on the March 2012 Current Population Survey figures for the aged 18 and older U.S. population. Phone status targets are based on the July-December 2011 National Health Interview Survey. Population density targets are based on the 2010 census. All reported margins of sampling error include the computed design effects for weighting.
In addition to sampling error, question wording and practical difficulties in conducting surveys can introduce error or bias into the findings of public opinion polls.
View methodology, full question results, and trend data.
For more details on Gallup's polling methodology, visit www.gallup.com.