WASHINGTON, D.C. -- Gallup's U.S. Economic Confidence Index has recovered from the slight dip it took two weeks ago. The weekly index gained back three points last week to reach an average of -15, similar to where it was in April and May.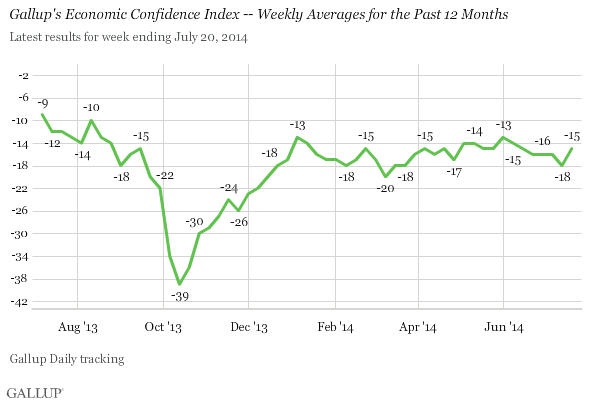 Americans' confidence in the economy, though still in negative territory, has been remarkably steady throughout 2014. So far this year, the weekly index has not strayed outside a seven-point range, with a high of -13 in the first week of January and again in late May, and a low of -20 in early March.
While last week's index score nearly matches the average for 2014, it reflects an uptick in Americans' views of the current economy and their optimism for its future from the prior week.
Gallup's Economic Confidence Index is the average of two components: Americans' views on the current economic situation and their perceptions of whether the economy is getting better or worse. Last week, 21% of Americans said the economy is "excellent" or "good," while 33% said it is "poor," resulting in a current conditions score of -12 -- a four-point improvement from the previous week.
Meanwhile, 39% of Americans said the economy is getting better and 56% said it is getting worse, resulting in an economic outlook score of -17, a two-point improvement from the week before. Though Americans are more optimistic about the economy than they have been in more than a month, the latest economic outlook score is down from where it was throughout late April to mid-June.
Bottom Line
Though the past six weeks have presented some potential challenges to Americans' economic confidence, this latest reading reinforces that these challenges have failed to make much long-term difference. Last week's reading continues along the narrow path the Economic Confidence Index has followed in 2014. But despite international turmoil, gas prices have remained relatively flat, and other than a minor dip a week ago when the stock market dropped, Americans' views of the economy from a broad perspective have not changed much.
Gallup.com reports results from these indexes in daily, weekly, and monthly averages and in Gallup.com stories. Complete trend data are always available to view and export in the following charts:
Daily: Employment, Economic Confidence and Job Creation, Consumer Spending
Weekly: Employment, Economic Confidence, Job Creation, Consumer Spending
Read more about Gallup's economic measures.
View our economic release schedule.
Survey Methods
Results for this Gallup poll are based on telephone interviews conducted July 14-20, 2014, on the Gallup Daily tracking survey, with a random sample of 3,549 adults, aged 18 and older, living in all 50 U.S. states and the District of Columbia.
For results based on the total sample of national adults, the margin of sampling error is ±2 percentage points at the 95% confidence level.
Interviews are conducted with respondents on landline telephones and cellular phones, with interviews conducted in Spanish for respondents who are primarily Spanish-speaking. Each sample of national adults includes a minimum quota of 50% cellphone respondents and 50% landline respondents, with additional minimum quotas by time zone within region. Landline and cellular telephone numbers are selected using random-digit-dial methods. Landline respondents are chosen at random within each household on the basis of which member had the most recent birthday.
Samples are weighted to correct for unequal selection probability, nonresponse, and double coverage of landline and cell users in the two sampling frames. They are also weighted to match the national demographics of gender, age, race, Hispanic ethnicity, education, region, population density, and phone status (cellphone only/landline only/both, and cellphone mostly). Demographic weighting targets are based on the most recent Current Population Survey figures for the aged 18 and older U.S. population. Phone status targets are based on the most recent National Health Interview Survey. Population density targets are based on the most recent U.S. census. All reported margins of sampling error include the computed design effects for weighting.
In addition to sampling error, question wording and practical difficulties in conducting surveys can introduce error or bias into the findings of public opinion polls.
For more details on Gallup's polling methodology, visit www.gallup.com.