Story Highlights
53% want GOP in Congress to have more influence than Obama
A third expect nation to be better off, while 19% say worse off
Two-thirds of Republicans optimistic; 44% of Democrats fretful
PRINCETON, N.J. -- Following the midterm election that some have termed a Republican wave, the majority of Americans want the Republicans in Congress -- rather than President Barack Obama -- to have more influence over the direction the country takes in the coming year. This is a switch from early 2012 when a slim plurality, 46%, wanted Obama to prevail in steering the nation.
Republicans' 17-percentage-point edge over Obama on this measure exceeds what they earned after the 2010 midterm, when Americans favored Republicans by an eight-point margin (49% to 41%). It also eclipses the nine-point advantage Republicans had over Bill Clinton following the 1994 midterm in which Republicans captured the majority of both houses.
Republicans' current edge, however, is still bested by Democrats' 30-point lead over George W. Bush (61% to 31%) following the 2006 midterm election. Democrats regained majority control of both houses that year.
The similarity across all three of these elections is that they resulted in the president's opposing party acquiring majority control of one, if not two, chambers of Congress. By contrast, a month after the 1998 midterm election in which the Republican majority survived -- but only barely, given a decline in their House seat margin -- Americans favored Clinton over the Republicans in Congress for leading the nation by a hefty 29-point margin.
Another factor likely influencing Americans' post-election preferences for whose leadership should prevail is the president's job approval rating. Obama in 2014 and 2010, Bush in 2006 and Clinton in 1994 all had approval ratings under 50% -- or even below 40% -- whereas Clinton's in December 1998 was a soaring 73%.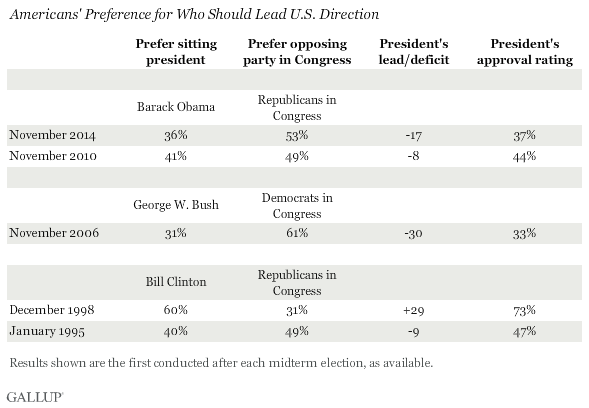 More Say the Country Will Now Be Better Off Than Worse Off
Although Americans are presumably happy with the outcome of the election -- as it gave full control of Congress to the party they want in charge of the nation's direction -- most are not expecting a major upturn in national conditions as a result of the Republicans' success at the polls. While more say the country will be better off now that the Republicans have won control than say it will be worse off (34% vs. 19%), close to half say it won't make a difference.
Americans' expectations about the outcome are a bit subdued compared with 2006, when 48% thought the country would be better off as a result of Democrats' victories in that midterm election. Another 16% thought it would be worse off, leaving just 33% saying the election would not make a difference.
The main factor accounting for the difference between 2006 and today could be that the 2006 midterm shifted the balance of power in Washington from unified Republican control to divided control, whereas this year the outcome only strengthened the Republicans' hand within an already divided government. As a result, Democrats in 2006 were more likely than Republicans are today -- 79% vs. 67% -- to believe the country would be better off as a result of their party's victory. And there has been an even bigger change among independents, with 43% in 2006 versus 28% today expecting things to improve.
Bottom Line
The midterm election provided a clear signal as to which party voters want to control Congress. That message is echoed in the results of the latest Gallup poll showing Americans expressly asking for the Republicans -- rather than Obama -- to guide the direction the country takes in the next year. But, after four years of partisan gridlock, most Americans are not optimistic that the election's outcome will improve things.
Survey Methods
Results for this Gallup poll are based on telephone interviews conducted Nov. 6-9, 2014, with a random sample of 828 adults, aged 18 and older, living in all 50 U.S. states and the District of Columbia. For results based on the total sample of national adults, the margin of sampling error is ±4 percentage points at the 95% confidence level.
Each sample of national adults includes a minimum quota of 50% cellphone respondents and 50% landline respondents, with additional minimum quotas by time zone within region. Landline and cellular telephone numbers are selected using random-digit-dial methods.
View complete question responses and trends.
Learn more about how Gallup Poll Social Series works.