Story Highlights
Ratings of coverage in U.S. mostly stable since '09
First time Democrats' and Republicans' ratings are similar
Republicans' ratings of quality and coverage falling since '12
WASHINGTON, D.C. -- Americans' ratings of healthcare coverage in the U.S. have generally held steady, despite the opening of the healthcare exchanges in 2013 and the decline in the uninsured rate this year. Thirty-eight percent of Americans now rate healthcare coverage in the U.S. as "excellent" or "good," within the range of the combined positive ratings seen since 2009, but more positive than what Gallup found from 2001 to 2008.
Since 2001, Gallup has asked Americans each November to rate healthcare coverage in the country as a whole. Americans' positive ratings of coverage jumped from 26% in November 2008 to 38% November 2009, after President Barack Obama took office and vowed to make healthcare a priority. Ratings generally remained more upbeat after the Affordable Care Act was passed in 2010, though they did dip slightly in 2011 and 2013.
When positive ratings of healthcare coverage increased in 2009, they improved about equally among Republicans (including independents who lean Republican) and Democrats (including Democratic leaners). Since then, however, Republicans' ratings have waned, while Democrats' have increased. Democrats' positive ratings have risen particularly sharply in the past year, possibly because of the implementation of the healthcare exchanges, which have broadened Americans' access to health insurance. As a result, for the first time, Democrats and Republicans are about equally likely to rate healthcare coverage in the U.S. positively, 41% vs. 35%, respectively.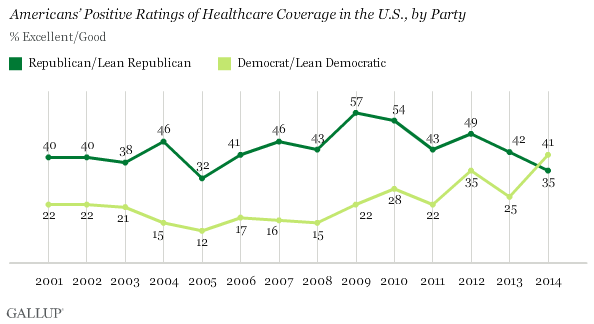 Similar Party Switch in Ratings on Quality of Healthcare
Broadly speaking, 54% of Americans overall rate the quality of healthcare in the U.S. as "excellent" or "good" in 2014, unchanged from last year and generally stable since Gallup began asking Americans to rate the quality of healthcare in 2001.
Just as Republicans' and Democrats' relative ratings of U.S. healthcare coverage have shifted during the past year, so have their ratings of U.S. healthcare quality. Fifty-eight percent of Democrats rate healthcare quality as excellent or good, compared with 52% of Republicans -- a much smaller difference than in previous years. Prior to this year, Republicans and Republican leaners consistently rated the quality of healthcare more positively than Democrats and Democratic leaners, sometimes by margins of 20 percentage points or more, such as in 2012 and 2010.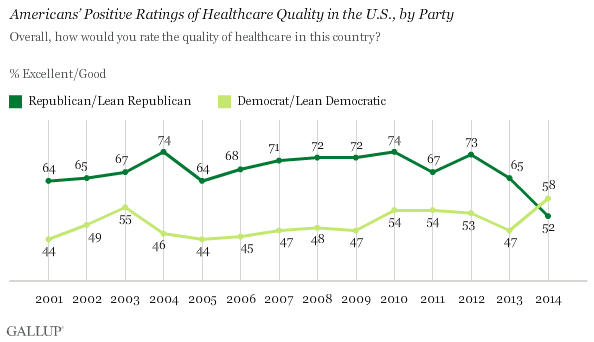 Democrats' ratings of healthcare quality generally moved above 50% beginning in 2010. In contrast, since 2012, Republicans' ratings have plummeted. This is likely a result of the passage of the healthcare law, which Democrats are far more likely than Republicans to support. Republicans may have been less likely to see the law as necessary or helpful, because they already were more likely than Democrats to rate U.S. healthcare positively.
Bottom Line
While more Americans rate healthcare coverage in the U.S. positively than did so prior to Obama's taking office in 2009, less than half say healthcare coverage is "excellent" or "good." This is despite a large drop in the U.S. uninsured rate in 2014, a sign that the Affordable Care Act is successfully meeting its goal of expanding coverage.
Political leanings are a strong predictor of how Americans feel about the healthcare law. Accordingly, the relative stability in ratings of national coverage since 2009 is driven almost entirely by Democrats' greater positivity, which has compensated for a sharp drop in positive reviews among Republicans over the same period.
Survey Methods
Results for this Gallup poll are based on telephone interviews conducted Nov. 6-9, 2014 with a random sample of 828 adults, aged 18 and older, living in all 50 U.S. states and the District of Columbia. For results based on the total sample of national adults, the margin of sampling error is ±4 percentage points at the 95% confidence level.
Each sample of national adults includes a minimum quota of 50% cellphone respondents and 50% landline respondents, with additional minimum quotas by time zone within region. Landline and cellular telephone numbers are selected using random-digit-dial methods.
View survey methodology, complete question responses, and trends.
Learn more about how Gallup Poll Social Series works.