Story Highlights
Both current and outlook components down from prior week
Index currently registers -3
WASHINGTON, D.C. -- Gallup's U.S. Economic Confidence Index dipped below zero to -3 for the week ending March 22. This is down from the prior week's +1, but is consistent with the three negative weekly scores from late February and early March. Since December, the Economic Confidence Index has straddled the zero line, which is the midpoint for the index.
The index broke into positive territory for the first time in Gallup's seven-year tracking in December and remained positive for eight straight weeks, peaking at +5 in the second half of January.
Gallup has found that recent changes in economic confidence have been correlated with changes in gas prices, with confidence increasing when gas prices have dropped in a given week, and confidence decreasing when gas prices have risen. The latest drop in confidence comes after a week in which gas prices held steady, but that came after a week in which gas prices went down, suggesting to consumers that the drop in gas prices was only temporary. Gas prices remain higher than they were a month ago.
Gallup's Economic Confidence Index is the average of two components: Americans' views of current economic conditions and their perceptions of whether the U.S. economy is getting better or getting worse. The theoretical maximum for the index is +100, if all Americans say the economy is excellent or good and getting better. The theoretical minimum is -100, if all Americans say the economy is poor and getting worse. Scores near the zero midpoint indicate significant public ambivalence about the economy, with roughly equal numbers viewing it positively versus negatively.
For the week ending March 22, 27% of Americans said the economy was "excellent" or "good," while 28% said it was "poor." This resulted in a current conditions score of -1, down three points from the +2 in the previous week. Meanwhile, the economic outlook score was -5, the result of 45% of Americans saying the economy is "getting better" while 50% said it is "getting worse." The economic outlook score is four points lower than the -1 of the prior week.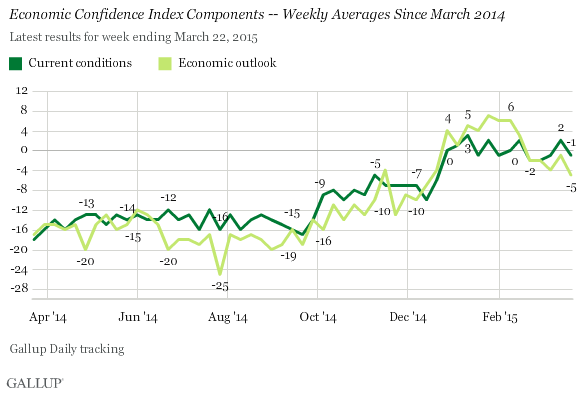 The data in this article are available in Gallup Analytics.
Survey Methods
Results for this Gallup poll are based on telephone interviews conducted March 16-22, 2015, on the Gallup U.S. Daily survey, with a random sample of 3,549 adults, aged 18 and older, living in all 50 U.S. states and the District of Columbia. For results based on the total sample of national adults, the margin of sampling error is ±2 percentage points at the 95% confidence level. All reported margins of sampling error include computed design effects for weighting.
Each sample of national adults includes a minimum quota of 50% cellphone respondents and 50% landline respondents, with additional minimum quotas by time zone within region. Landline and cellular telephone numbers are selected using random-digit-dial methods.
Learn more about how Gallup Daily tracking works.