Story Highlights
Index shows no change from February
Forty-one percent of workers say their employer is hiring
WASHINGTON, D.C. -- Gallup's U.S. Job Creation Index retained its previous monthly average of +29 in March. The index has been in somewhat of a holding pattern for the past few months, albeit at the upper end of the range Gallup has recorded since 2008.
After experiencing significant gains in the first half of 2014, the Job Creation Index has plateaued in recent months, remaining within a thin, three-point range between 27 and 29 since October. That contrasts with a slightly wider six-point variation over the six months prior to that, from 25 to 30.
Despite little recent movement, the index is far above where it has been since Gallup first began reporting it seven years ago. Having plummeted to a low of -5 in April 2009, the index has regained its footing and even surpassed Gallup's readings in early 2008 before the global economic crisis.
Gallup's Job Creation Index is a measure of net hiring activity in the U.S., with the March average based on a nationally representative sample of more than 17,000 full- and part-time workers. The latest +29 score is the result of 41% of employees saying their employer is hiring workers and expanding the size of its workforce, and 12% saying their employer is letting workers go and reducing the size of its workforce. Both figures are identical to those in February. Meanwhile 41% in March reported no changes in staffing at their workplaces -- 42% in February.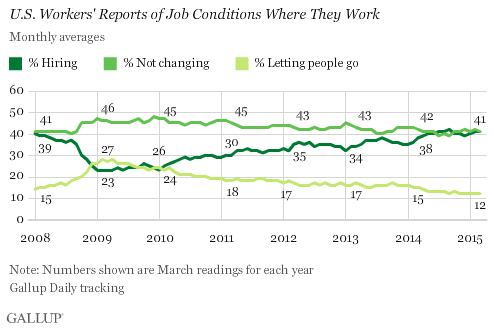 Perceptions of Hiring in Both Government and Nongovernment Static
Net hiring figures didn't budge among workers in government (+20) and nongovernment (+31) sectors, with both figures the same as in February. Still, each sector reports greater net hiring than in any previous March.
Perceptions of hiring among nongovernment workers have consistently been stronger than those of their government counterparts in nearly all of Gallup's readings over the years.
Bottom Line
Though the U.S. Job Creation Index has changed little in recent months, it still remains among Gallup's strongest index readings in recent years. And while Americans' views of the economy's strength have suffered in recent weeks, their perceptions of the job market could perhaps buoy this overall negative economic outlook.
The data in this article are available in Gallup Analytics.
Survey Methods
Results for this Gallup poll are based on telephone interviews conducted March 1-31, 2014, on the Gallup U.S. Daily survey, with a random sample of 17,796 employed adults, aged 18 and older, living in all 50 U.S. states and the District of Columbia. For results based on the total sample of national adults, the margin of sampling error is ±1 percentage points at the 95% confidence level. All reported margins of sampling error include computed design effects for weighting.
Each sample of national adults includes a minimum quota of 50% cellphone respondents and 50% landline respondents, with additional minimum quotas by time zone within region. Landline and cellular telephone numbers are selected using random-digit-dial methods.
Learn more about how the Gallup U.S. Daily works.