Story Highlights
Fifty-five percent of Americans are invested in stock market
That remains down from 62% in early 2008, before the financial crisis
WASHINGTON, D.C. -- Although the Dow Jones industrial average has made significant gains since it plummeted in 2009 after the financial meltdown, Americans are no more likely today than they were six years ago to report having money invested in the stock market. Fifty-five percent of Americans report having money invested in stocks, matching what Gallup found from 2009 through 2011, though up slightly from the low of 52% in 2013.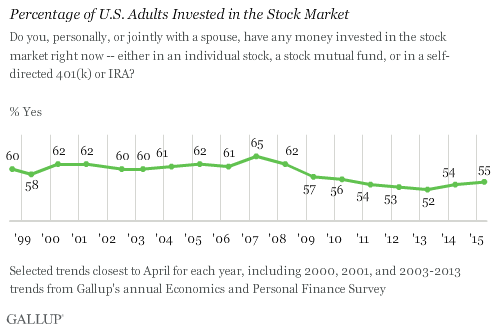 The latest finding comes from Gallup's annual Economy and Finance survey, conducted April 9-12.
Americans' self-reports of having money invested in the stock market -- either in an individual stock, a stock mutual fund or in a self-directed 401(k) or IRA -- were routinely higher than 60% prior to the 2009 economic crisis, but they have not yet returned to that level. That pattern is particularly evident among adults in middle-income households with incomes ranging from $30,000 to $74,999: 56% now say they own stocks, consistent with the percentage in 2010 but well below the 72% found in 2007 before the financial crisis. Stock ownership also remains down slightly among lower-income households (under $30,000), while it has held steady near 90% since 2007 among those in households earning $75,000 or more annually.
While stock ownership fell among all age groups between 2007 and 2010, it has since rebounded some among young adults between the ages of 18 and 34, reaching 49% this year -- up from 41% in 2010. But for the 35 and older groups, percentages of those invested in the stock market continue to drop.
Other demographics have seen a shrinking percentage of investors since before the financial crisis, with the exception of young adults and those in households earning more than $75,000 annually. The financial crisis did not appear to have had much of an effect on whether these wealthiest Americans chose to invest in the market.
Perhaps consistent with that, the Wells Fargo/Gallup Investor and Retirement Optimism Index finds that U.S. investors with $10,000 or more in invested assets -- a wealthier-than-average group -- is relatively bullish on stocks right now with 58% saying it is a good time to invest, up significantly from 2011.
Bottom Line
While the stock market has made significant progress in recent years, the upward trend hasn't lured more Americans back into the stock market following the outflow seen after the 2008 financial crisis.
It is understandable that investors were spooked by the big losses in stock values that occurred after the financial crisis, and many have likely decided the risks in stock investing are too great -- and have chosen to invest their money elsewhere.
Survey Methods
Results for this Gallup poll are based on telephone interviews conducted April 9-12, 2015, on the Gallup U.S. Daily survey, with a random sample of 1,015 adults, aged 18 and older, living in all 50 U.S. states and the District of Columbia. For results based on the total sample of national adults, the margin of sampling error is ±4 percentage points at the 95% confidence level. All reported margins of sampling error include computed design effects for weighting.
Each sample of national adults includes a minimum quota of 50% cellphone respondents and 50% landline respondents, with additional minimum quotas by time zone within region. Landline and cellular telephone numbers are selected using random-digit-dial methods.
View complete question responses and trends.
Learn more about how Gallup Poll Social Series works.