Story Highlights
The issue is now more salient than in the year after Columbine
Conservatives more likely than others to say issue matters to vote
Americans slightly favor GOP as reflecting their views on gun control
WASHINGTON, D.C. -- More than one in four U.S. registered voters (26%) say they would vote only for a candidate who shares their views on gun control -- about double the 11% to 15% who said this in the year after the 1999 Columbine High School massacre. The majority, 54%, say it is one of many important factors in their vote, while 17% do not see guns as a major voting issue for them.
American voters' views on how gun control relates to their voting behavior have evolved over the past 16 years as discussion on how to combat gun violence has re-emerged with every mass shooting. Last year, a study from the Federal Bureau of Investigation found a sharp rise in mass shootings since 2000. According to the study, the average number of mass shootings per year had more than doubled in 2007 to 2013 compared with 2000 to 2006.
The latest poll, conducted Oct. 7-11, after a mass shooting at an Oregon community college, finds that Americans are roughly twice as likely as they were just after Columbine to say their views on gun control are non-negotiable in how they vote.
Gun Control as Voting Issue Varies by Party, Gun Ownership
Republicans, individuals who identify as conservative, gun owners and those who believe gun control laws should be made less strict are the most likely to say that a candidate must share their views on gun control. At least three in 10 voters in each of these subgroups -- including 40% of those favoring less strict gun laws -- say they would vote only for a candidate who shares their views on guns. A smaller 21% of those who favor stricter gun laws say they will vote only for a candidate who agrees with them.
Americans Slightly More Likely to Say GOP Better Reflects Their Views on Gun Control
In 1999, Americans were about equally likely to say the Republican Party and the Democratic Party could do a better job of reflecting their own views on gun control, with a slight tilt toward the Democrats. Today, voters are still somewhat divided, but tilt more toward the GOP on the issue, at 46%, compared with 37% for the Democratic Party.
Fourteen percent say neither party does a better job in reflecting their views on gun control. This is about twice as high as the percentage of those who gave this answer in 1999, suggesting greater frustration with both parties on the issue.
Perhaps unsurprisingly, nine in 10 Republican voters say their party does a better job. Conservatives (69%) and gun owners (60%) also highly favor the GOP over the Democratic Party when it comes to gun control.
Contrarily, more than three in four Democratic voters (77%) say their party does the better job on gun control. Liberals (74%) and those who do not own a gun (45%) are also most likely to say the Democratic Party does the better job.
Moderates are split between the GOP (38%) and the Democratic Party (39%). Political independents, however, are more likely to prefer the Republican Party (42%) over the Democratic Party (29%) on the issue.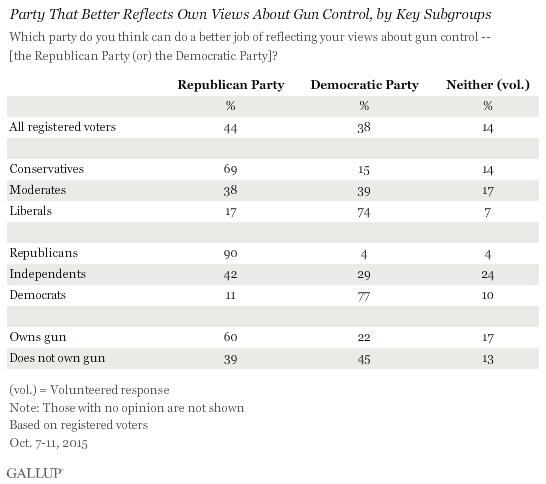 Bottom Line
Much has occurred in the conversation on gun control since a pair of Colorado teenagers killed a dozen fellow students and a teacher in 1999. Today, as was the case when Gallup polled in the wake of the Columbine shootings, Americans are deciding between presidential candidates and their positions on how to address the seeming epidemic of mass shootings.
Most American voters don't identify as single-issue voters when it comes to gun control, however -- though a larger percentage do now than did 16 years ago. Still, a majority of them see the issue as an important one that factors into how they choose an elected official.
The Republican Party currently enjoys a slight upper hand on the issue in terms of which party Americans see as better reflecting their own views. But the party is also in less of a position to negotiate, as Republicans and conservatives are more likely to say a candidate must share their views on this issue.
Historical data are available in Gallup Analytics.
Survey Methods
Results for this Gallup poll are based on telephone interviews conducted Oct. 7-11, 2015, on the Gallup U.S. Daily survey, with a random sample of 855 registered voters, aged 18 and older, living in all 50 U.S. states and the District of Columbia. For results based on the total sample of national adults, the margin of sampling error is ±4 percentage points at the 95% confidence level. All reported margins of sampling error include computed design effects for weighting.
Each sample of national adults includes a minimum quota of 60% cellphone respondents and 40% landline respondents, with additional minimum quotas by time zone within region. Landline and cellular telephone numbers are selected using random-digit-dial methods.
View survey methodology, complete question responses and trends.
Learn more about how Gallup Poll Social Series works.