Story Highlights
Perceptions of rising crime up seven points from 2014
Perceptions of crime not always in sync with federal crime figures
Conservatives, Republicans most likely to say crime is up
WASHINGTON, D.C. -- Seven in 10 Americans say there is more crime in the U.S. now than there was a year ago -- up slightly from the 63% who said so in 2014. Meanwhile, 18% say there is less crime, and 8% say the level of crime has stayed the same.
The results are based on Gallup's annual Crime poll, conducted Oct. 7-11.
Since Gallup first began asking Americans in 1989 about their perceptions of crime, majorities generally have said crime had worsened compared with the previous year -- with more than 80% holding this view in the late 1980s and early '90s. Perceptions of greater crime fell over the course of the next decade as actual crime rates dropped, and reached a record low of 41% in 2001 after 9/11. By 2002, though, this figure was back to a majority, and ranged from 53% to 74% in the decade that followed.
Government data on actual crime rates in 2015 will not be released until next year, so it is not possible to know whether Americans' perceptions of rising crime this year reflect what is currently happening in the U.S. In many large cities across the country, violent crime rates have spiked in 2015, suggesting that national crime figures could be on the rise. News reports of this increased violence may account for the uptick in perceived violence in the latest poll.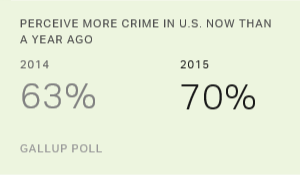 Americans' perceptions of crime, however, are not always on par with reality. Despite government data showing declining violent crime rates in the U.S. over the past two decades, majorities of Americans in Gallup's trend still maintained that crime had increased nationally. Even so, there have been notable declines in the percentage of Americans perceiving more crime when the actual crime rate has fallen, such as in the 1990s.
Government statistics show serious crime decreased nearly every year from 1994 through 2010. According to the U.S. Department of Justice, Bureau of Justice Statistics, the overall violent crime rate for rape, sexual assault, robbery, aggravated assault and simple assault fell from 80 victimizations per 1,000 persons in 1994 to 19 per 1,000 in 2010. In the first decade of that trend, public opinion followed. While 87% of Americans in 1993 said crime was up, this figure dropped to 41% in 2001. But the percentage perceiving more crime shot up again to 62% in 2002 -- around the time of the Washington, D.C.-area sniper shootings -- and has remained fairly high ever since, despite actual crime rates falling in most years.
Though serious crime did increase in 2011 and 2012, Americans' perceptions of crime did not grow in subsequent polls, indicating that actual crime, as measured by federal crime statistics, has not strongly influenced the public's perceptions of crime in recent years.
Crime Victims No More Likely Than Nonvictims to Say Crime Is Up
Americans who say they have been victims of one of a list of eight crimes in the past 12 months are not any more likely to say crime is up than those who were not crime victims, 71% vs. 70%, respectively. This is a smaller difference than Gallup has previously found between crime victims' and nonvictims' perceptions, but the differences over the years have never been large.
While majorities of Americans across other demographic and political groups perceive an increase in national crime, the extent of that view varies by subgroup.
Gallup has previously found that women are more likely than men to say crime has increased from the previous year.
Perceptions of greater crime are much lower in the West (64%) -- and have been since 2011 -- than in the East (69%) and the South (71%), while Midwesterners (76%) are most likely to say crime has increased in the U.S. Additionally, those who live in rural areas (75%) are more inclined to say crime is up than those in suburban areas (69%) or cities (68%).
Since President Barack Obama took office in 2009, conservatives (80% this year) and Republicans (79%) have been the most likely to perceive current crime in the U.S. as higher than in the year prior, compared with liberals (57%) and Democrats (65%) who have been much less likely to say crime is up since Obama was elected. This pattern was reversed when George W. Bush was in office, with Democrats being the most likely to perceive an increase in crime.
Perceived Seriousness of U.S. Crime Up in 2015
Nearly six in 10 Americans (59%) say U.S. crime is an "extremely" or "very" serious problem -- up slightly from 55% in 2014 and just one percentage point below the high for this measure in surveys conducted from 2000 to 2010. About one in three (35%) say the problem is "moderately" serious, while 5% say it's "not too serious" or "not serious at all."
Bottom Line
A majority of Americans typically say crime is increasing compared with the previous year, even when government data suggest violent crime is falling. These perceptions have fluctuated significantly over the past 26 years, and although the current 70% who say crime is increasing is up from the last several years, it is still below the levels recorded at a number of times in previous years.
This year, there has been an uptick in Americans' perceptions of crime in the U.S. Although government reports to confirm whether this is the case are not yet available, people may be reacting to news reports of increased violent crime in many major U.S. cities.
Gallup data show that in any given year, about one in four Americans say they or someone in their household was a victim of crime, and 6% or less are the victims of violent crimes. This suggests that news media reports probably have more of an effect on Americans' perceptions of crime in the U.S. than their personal experience with crime.
Historical data are available in Gallup Analytics.
Survey Methods
Results for this Gallup poll are based on telephone interviews conducted Oct. 7-11, 2015, with a random sample of 1,015 adults, aged 18 and older, living in all 50 U.S. states and the District of Columbia. For results based on the total sample of national adults, the margin of sampling error is ±4 percentage points at the 95% confidence level. All reported margins of sampling error include computed design effects for weighting.
Each sample of national adults includes a minimum quota of 60% cellphone respondents and 40% landline respondents, with additional minimum quotas by time zone within region. Landline and cellular telephone numbers are selected using random-digit-dial methods.
View survey methodology, complete question responses and trends.
Learn more about how Gallup Poll Social Series works.