Story Highlights
42% view Paul Ryan favorably, 29% unfavorably
+13 net favorable rating his highest
Most past speakers rated favorably when they assumed role
PRINCETON, N.J. -- Speaker of the House Paul Ryan begins his term with generally positive ratings from Americans -- 42% have a favorable opinion of him and 29% an unfavorable one. His ratings have generally been more positive than negative over the last three years, but Ryan's current +13 net favorable rating is his best to date.
The latest data are from a Nov. 4-8 Gallup poll, conducted shortly after Ryan took over as the new speaker of the House. Gallup has measured opinions of Ryan at various points since August 2012, when Republican presidential nominee Mitt Romney tabbed him as his vice presidential running mate. Ryan's ratings at that time were only slightly more positive than negative, likely because his presence on the GOP presidential ticket caused Democrats to view him much more negatively than they do now.
Two subsequent readings, taken when Ryan was considered a potential 2016 presidential candidate, showed a slightly wider gap between his favorable and unfavorable ratings, but also a decline in the percentage of Americans familiar enough with Ryan to rate him. In July 2014, 45% of Americans did not have an opinion of Ryan, compared with an average 22% during the 2012 campaign and 29% currently.
His current 42% favorable rating essentially ties with 43% from September 2012 as his high, but in that poll, his unfavorable rating was considerably higher than now -- 40% compared with 29%.
Most Past Speakers Enjoyed Positive Initial Ratings
Americans have generally rated new speakers of the House quite positively when they take office. This includes John Boehner (+20 net favorable) in 2011, Nancy Pelosi (+22) in 2007 and Dennis Hastert (+21) in 1999. The exception is Newt Gingrich, whose net favorable was -3 in 1995. However, that is also one of Gingrich's best evaluations in Gallup's trend on him, behind only a +4 net rating (29% favorable, 25% unfavorable) a few weeks after the 1994 midterm elections that led to Gingrich rising to the speakership.
Ryan should not expect his "honeymoon" to last very long, if history is a guide. Only Hastert maintained more positive than negative ratings two years into his speakership. But Hastert may have benefited from being less well-known than other speakers, as evidenced by the high percentage not having an opinion of him for much of his tenure. He also governed during a time when Americans were generally satisfied with the way things were going in the United States.
All recent speakers, including Hastert, left the speakership rated more negatively than positively, and much worse off than when they started.
Ryan Popular Among Republicans
The poll finds 67% of Republicans have a favorable opinion of Ryan, while 15% have an unfavorable opinion. Both figures are up by about 10 percentage points from Gallup's prior reading, taken in July 2014.
Republicans do not view Ryan quite as positively now as they did when he was running for vice president. In late September 2012, his favorable rating was 85% among the party base.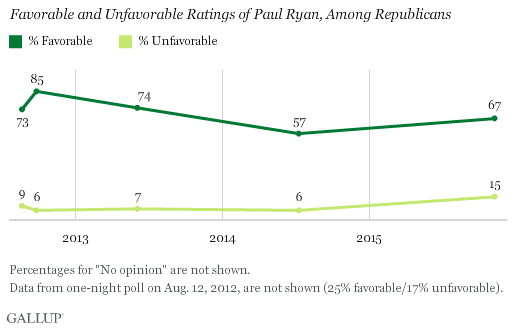 Although Ryan has been rated more positively by Republicans in the past, his current ratings paint a stark contrast with Gallup's most recent reads on Senate Majority Leader Mitch McConnell and former Speaker Boehner from October. Republicans rated both men more negatively than positively.
Implications
As has been the case for recent speakers, Ryan is entering his new role with more Americans viewing him positively than negatively. Ryan will face a challenge in maintaining those positive ratings, given the trajectory of prior speakers' favorable ratings. The partisan nature of the role and the association with the unpopular institution of Congress are two likely reasons speakers become less popular over time.
If Ryan's popularity fades like that of prior speakers, he may follow a downward path among his fellow partisans, as did Boehner -- or could remain popular among core party supporters, as did Pelosi. Democrat Pelosi had 62% favorable and 22% unfavorable ratings among Democrats in her final Gallup reading as speaker in October 2010, not much worse than her initial rating in January 2007. Pelosi's overall ratings turned highly negative because Republicans came to view her so badly. Just 8% gave her a favorable rating while 86% rated her unfavorably in the final Gallup measure of her as speaker.
Ryan was reluctant to become speaker, but many Republicans believed he was the only member who could win sufficient support from the conservative and moderate wings of the party. His ability to keep both wings of the party happy will be important in determining how long the honeymoon phase of his speakership lasts.
Historical data are available in Gallup Analytics.
Survey Methods
Results for this Gallup poll are based on telephone interviews conducted Nov. 4-8, 2015, with a random sample of 1,021 adults, aged 18 and older, living in all 50 U.S. states and the District of Columbia. For results based on the total sample of national adults, the margin of sampling error is ±4 percentage points at the 95% confidence level. All reported margins of sampling error include computed design effects for weighting.
Each sample of national adults includes a minimum quota of 60% cellphone respondents and 40% landline respondents, with additional minimum quotas by time zone within region. Landline and cellular telephone numbers are selected using random-digit-dial methods.
View complete question responses and trends.
Learn more about how the Gallup Poll Social Series works.