Story Highlights
Satisfaction drops seven percentage points from last month
Fewest Americans satisfied since November 2014
Democrats had largest drop in satisfaction, 15 points
WASHINGTON, D.C. -- After the recent terrorist attack in San Bernardino, California, Americans' satisfaction with the way things are going in the U.S. dropped seven percentage points to 20%. This is the lowest level of satisfaction recorded since November 2014, but still above the all-time low of 7% in October 2008.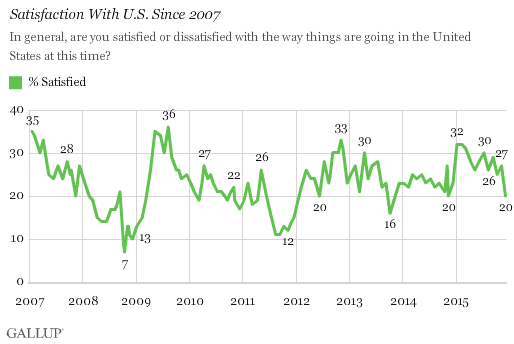 The San Bernardino attack, which occurred just before this Dec. 2-6 survey, almost certainly accounts for some of the downturn in satisfaction. In the attack, 14 victims died and many were wounded, and it was considered so significant that President Barack Obama addressed the incident and its aftermath in a rare prime-time speech on Sunday night.
A seven-point month-to-month drop in satisfaction is rare but not unprecedented. Satisfaction dropped seven points in 2013 during the October partial government shutdown. It plummeted 12 points in the fall of 2008 as the economy crumbled, falling to the all-time low of 7% in mid-October of that year.
The recent high point in satisfaction is 32% in January and February of this year, the highest since the end of 2012. Satisfaction levels have been lower for the rest of this year. But despite month-to-month fluctuations, at least 25% of Americans have been satisfied each month until the December reading.
Democrats' Satisfaction Declines Most
Satisfaction has dropped among all major demographic groups since early November, but not equally. Among Republicans, consistently the group least likely to be satisfied, satisfaction dropped four points, similar to independents' five-point decline. Satisfaction among Democrats dropped by a much larger 15 points. Democrats' November satisfaction was among the highest for any group, and thus it had more room to fall.
Satisfaction among women and younger Americans dropped by double digits from November to December, leaving a significant gender gap on this measure, with men significantly more likely than women to be satisfied. White Americans remain less likely to be satisfied than nonwhite Americans, probably because whites are more likely to be Republicans.
Bottom Line
While the San Bernardino mass shooting was likely the primary factor in the drop in Americans' satisfaction with the way things are going in the U.S., it was not the only troubling news that could have driven the decline. Paris was hit by a terrorist attack on Nov. 13 that killed more than 120 people and prompted calls for a tougher U.S. strategy against the Islamic State group. In the U.S., a shooting at a Planned Parenthood clinic on Nov. 27 resulted in the deaths of three people. And a video of a white Chicago police officer killing a black teenager, who appeared to be walking away from him, was made public in late November. Meanwhile, in Baltimore, the trial began for one of the officers accused of being responsible for the death of Freddie Gray earlier this year.
But not all the news was negative. The government last Friday released a strong jobs report for November, prompting many to predict that the Federal Reserve will raise interest rates next week. If the stock market and economy appear to be improving in December, satisfaction could go up again.
Still, the major issue of the moment is terrorism. Americans' satisfaction with the way things are going in the country will most likely continue to reflect their perceptions of the way the terrorism situation is being handled, as long as the perceived threat remains high.
Historical data are available in Gallup Analytics.
Survey Methods
Results for this Gallup poll are based on telephone interviews conducted Dec. 2-6, 2015, with a random sample of 824 adults, aged 18 and older, living in all 50 U.S. states and the District of Columbia. For results based on the total sample of national adults, the margin of sampling error is ±4 percentage points at the 95% confidence level. All reported margins of sampling error include computed design effects for weighting.
Each sample of national adults includes a minimum quota of 60% cellphone respondents and 40% landline respondents, with additional minimum quotas by time zone within region. Landline and cellular telephone numbers are selected using random-digit-dial methods.
View survey methodology, complete question responses and trends.
Learn more about how Gallup Poll Social Series works.