PRINCETON, N.J. -- Americans again name Hillary Clinton and President Barack Obama the woman and man living anywhere in the world they admire most. Both win by wide margins over the next-closest finishers, Malala Yousafzai for women and Pope Francis and Donald Trump for men.
Although Clinton and Obama each led this year's poll by significant margins, the percentage mentioning each as most admired is slightly lower than the percentages they have received in the past. Across the eight times Obama has been most admired man, an average 23% of Americans have named him, while in the 20 times Clinton has been most admired woman, an average 16% have named her.
The top 10 list for men includes three presidents (Obama, George W. Bush and Bill Clinton), three current presidential candidates (Trump, Vermont Sen. Bernie Sanders and Dr. Ben Carson), and three religious and spiritual leaders (Pope Francis, the Dalai Lama and the Rev. Billy Graham). The only top 10 male finisher who doesn't fall into one of those categories is Microsoft founder and philanthropist Bill Gates.
Trump's surprisingly strong and often controversial presidential campaign has made him a prominent news figure this year and, thus, top-of-mind for many Americans. This helps explain his strong showing when Gallup asks Americans, in an open-ended fashion, to name the man they admire most. The successful businessman has finished in the top 10 four other times, including from 1988 through 1990 and in 2011.
The 10 most admired women are an eclectic mix of political figures (Clinton, fellow 2016 presidential candidate Carly Fiorina, Massachusetts Sen. Elizabeth Warren, German Chancellor Angela Merkel, former Secretary of State Condoleezza Rice and former Alaska Gov. Sarah Palin), human rights leaders (Yousafzai of Pakistan and Aung San Suu Kyi of Myanmar), and television personalities (Oprah Winfrey and Ellen DeGeneres). Queen Elizabeth of England and Michelle Obama, who hold largely ceremonial positions in the government, also finished among the leading women.
Clinton Named Most Admired More Than Any Other Woman or Man
Clinton has been the most admired woman each of the last 14 years, and 20 times overall, occupying the top spot far longer than any other woman or man in Gallup's history of asking the most admired question. Since 1993, the year she was first named most admired woman, Clinton has stayed in the news as first lady, U.S. senator, secretary of state and a two-time presidential candidate.
Former first lady Eleanor Roosevelt was named most admired woman 13 times during her lifetime, putting her second to Clinton in terms of first-place finishes. Dwight Eisenhower has 12 No. 1 finishes, the most for any man. Obama, the most admired man each of the last eight years, is now tied with Bill Clinton and Ronald Reagan for top overall finishes among men.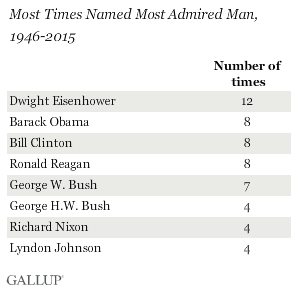 Americans usually name the sitting U.S. president as the most admired man. The only men to win the distinction at least four times were all presidents. The tendency to name the sitting president as most admired man has acted as a cap on the number of total times a man can win the honor at eight, or the number of years elected presidents can serve.
So far, Eisenhower is the only man to win more than eight times. In addition to the eight years he served as president from 1953 to 1961, the World War II hero was also named most admired the year he was first elected president (1952), and three other years when the incumbent president was generally unpopular (1950, 1967 and 1968).
Obama can join Eisenhower as winning most admired more than eight times if he stays relatively popular during his final year in office, having also won in 2008, the year he was elected, when incumbent President George W. Bush was unpopular.
Graham, Queen Elizabeth Extend Records for Top 10 Finishes
While Hillary Clinton has the most appearances at No. 1 by a wide margin, her total of 24 top 10 placements is well behind the leaders in that category -- Graham with 59 and Queen Elizabeth with 47.
Graham has been among the top 10 most admired men every year since 1955 except for 1962, in addition to 1976 when Gallup did not ask the question. Despite that impressive record, he has never placed first, but ranked second from 1969 through 1974 and again in 1997 and 1999. Graham is now 97 and generally out of the public eye, but still this year made the cutoff for the top 10.
Queen Elizabeth, now 89, placed in the top 10 in 1948, the first year Gallup asked Americans to name the most admired woman. Unlike Graham, she has not maintained a spot in the top 10 each year, but she has still amassed 47 such appearances in the last 67 years. She, like Graham, has never won the top overall honor, placing second in 1952, 1957, 1958 and 1962.
After Graham and Queen Elizabeth, Winfrey and Jimmy Carter are the living people with the next highest number of top 10 appearances, at 28. Winfrey also never has been named the most admired woman, but she has been second or third every year since 1997. Carter was most admired man in 1977, 1978 and 1979. He last finished in the top 10 in 2013.
Implications
Hillary Clinton has set many historical standards in Gallup's most admired woman and man polling. She has been named most admired woman 14 consecutive years and 20 times overall, both records. She ranks among the leaders in top 10 finishes but still trails a few women who rose to prominence at a young age, lived a long life, or both, including Queen Elizabeth, Margaret Thatcher, Jacqueline Kennedy and Winfrey.
Clinton is the front-runner for the 2016 Democratic presidential nomination. Given the prominence of presidents and ex-presidents in the most admired lists, if Clinton succeeds in her presidential bid, she would certainly continue to add to her long list of records in Gallup's most admired polling. This would include joining Eisenhower as the only two people who have ever been named most admired man or woman before being elected president.
Historical data are available in Gallup Analytics.
Survey Methods
Results for this Gallup poll are based on telephone interviews conducted Dec. 2-6, 2015, with a random sample of 824 adults, aged 18 and older, living in all 50 U.S. states and the District of Columbia. For results based on the total sample of national adults, the margin of sampling error is ±4 percentage points at the 95% confidence level. All reported margins of sampling error include computed design effects for weighting.
Each sample of national adults includes a minimum quota of 60% cellphone respondents and 40% landline respondents, with additional minimum quotas by time zone within region. Landline and cellular telephone numbers are selected using random-digit-dial methods.
View survey methodology, complete question responses and trends.
Learn more about how Gallup Poll Social Series works.