Story Highlights
Both measures at their respective highs since November 2012
Democrats still most approving of Obama's performance on issues
WASHINGTON, D.C. -- Americans' approval of President Barack Obama's handling of the economy and healthcare policy -- both at 44% -- is at the high for each since November 2012. The president's economic rating was almost as high (43%) in a survey conducted in February 2015.
Americans have not been as approving of Obama's performance on the economy since November 2012, just after the president was re-elected to a second term. The 44% he received then was similar to the 45% right before Election Day. Both scores were major improvements from the sub-40% ratings he'd received during much of his first term -- including a record low of 26% in August 2011 after contentious negotiations with Congress to raise the debt limit. Obama's best marks on the economy -- between 55% and 59% -- came during his first few months in office. Over the past three years, Obama's economic approval rating has fluctuated, reaching a low of 33% in 2014.
The president's approval ratings on healthcare policy have stayed within a tighter range. Americans were least approving of his handling of the issue, at 36%, in February 2010 and in November 2014, when his overall job approval rating was near a record low, and were most approving in November 2012, at 49%. His average approval rating for this issue is 41%.
These data are from a Nov. 4-8 Gallup poll, taken before Friday's Paris terrorist attacks, which appear to have led to a modest rally in support for the president. Obama's overall approval rating rose from 47% in Tuesday to Thursday Gallup Daily tracking to 51% from Friday to Sunday.
The Nov. 4-8 poll also included measures of Obama's handling of foreign affairs (37%) and the situation involving Islamic State militants, commonly known as ISIS, in Iraq and Syria (30%). Both of these ratings would likely be different today, after the Paris attacks. Obama's 37% rating on foreign affairs is consistent with the 36% and 39% ratings he received on the issue in two polls conducted earlier this year, but substantially lower than the majority approval ratings he initially received in his first term in office.
Perhaps unsurprisingly, Democrats remain most approving of the president's performance on the economy (70%) and healthcare (75%), with a smaller majority approving of his handling of foreign affairs (61%). None of these ratings has changed much since a year ago. Conversely, Republicans approve of Obama's performance on these issues the least, with approval ratings just above 10% on each measure. Though still low, these dismal scores are slightly higher than Republicans' single-digit approval of one year ago.
Independents, however, have become significantly more approving of Obama's handling of the economy -- up 19 percentage points from last year; healthcare policy, up 10 points; and foreign affairs, up eight points.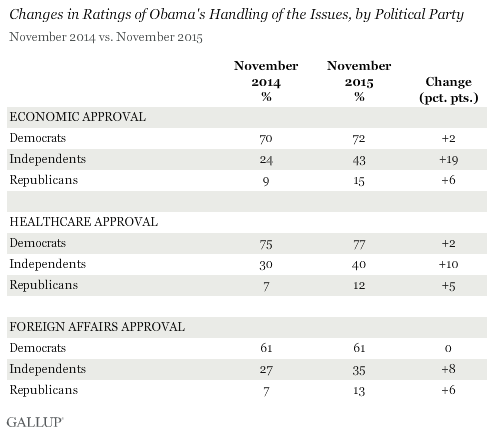 At the time the poll was taken, a slight majority of Democrats (53%) approved of Obama's handling of the situation involving the Islamic State, compared with 27% of independents and 10% of Republicans. While relatively few Republicans approve, they were most likely among political groups to favor the use of ground troops in Syria and Iraq, as Obama has recently committed to doing. The latest developments in Paris could cause Obama to change, or possibly increase the intensity of, his approach.
Bottom Line
As the unemployment rate hits a seven-year low, approval of the president's handling of the economy has edged up to a recent high. Americans' approval of Obama's handling of healthcare policy is also up to 44%. Both of these are, however, lower than the president's overall approval rating, which was 49% as measured in this same poll and appears to have pushed past 50% in the wake of the Paris attacks. That modest rally in support may have affected how Americans view Obama's handling of specific issues -- in particular the situation with the Islamic State and foreign affairs, but possibly also the economy and healthcare.
Obama continues to enjoy majority approval ratings on these issues within his party, and has experienced sizable year-over-year increases in approval among independents. Ratings from the GOP remain low, but have thawed slightly since last year.
Historical data are available in Gallup Analytics.
Survey Methods
Results for this Gallup poll are based on telephone interviews conducted Nov. 4-8, 2015, with a random sample of 1,021 adults, aged 18 and older, living in all 50 U.S. states and the District of Columbia. For results based on the total sample of national adults, the margin of sampling error is ±4 percentage points at the 95% confidence level. All reported margins of sampling error include computed design effects for weighting.
Each sample of national adults includes a minimum quota of 60% cellphone respondents and 40% landline respondents, with additional minimum quotas by time zone within region. Landline and cellular telephone numbers are selected using random-digit-dial methods.
View survey methodology, complete question responses and trends.
Learn more about how Gallup Poll Social Series works.