Story Highlights
60% are satisfied, up from 53% in 2015
For first time, majority of Republicans (54%) say they are satisfied
Sixty-seven percent of Democrats are satisfied
WASHINGTON, D.C. -- A new high of 60% of Americans say they are satisfied with the acceptance of gays and lesbians in the U.S. -- up from 53% in 2014 and 2015. As recently as 10 years ago, satisfaction was as low as 32%.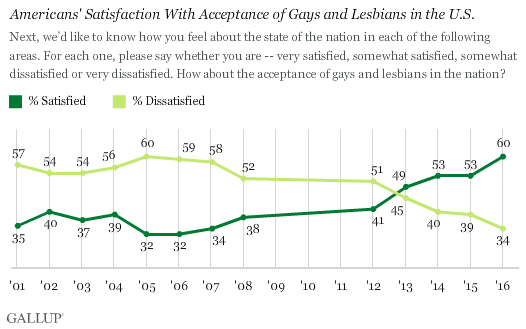 The latest data, from Gallup's annual Mood of the Nation survey conducted Jan. 6-10, come after a landmark year in achievements for the gay rights movement. Most notably, the U.S. Supreme Court invalidated state laws that banned same-sex marriage. Prior to the court's decision last year, 60% of Americans supported gay marriages.
Gallup first polled on Americans' satisfaction with acceptance of gays and lesbians in 2001, when about a third reported being satisfied. Over the next eight years, this figure hovered between 32% and 40%. The level of satisfaction climbed in each poll between 2006 and 2014 amid a state-by-state battle for marriage rights. During this time, the federal government also repealed the military's "don't ask, don't tell" policy and the Supreme Court struck down much of the federal Defense of Marriage Act.
Gallup asks Americans who say they are dissatisfied with the acceptance of gays and lesbians if that dissatisfaction stems from their desire to see more acceptance or less acceptance. Similar percentages currently choose each explanation. Both of these figures have declined over the years as overall satisfaction has climbed, with a much greater decline in the percentage who are dissatisfied and want less acceptance.
Majorities of All Party Groups Satisfied With Gay Acceptance in U.S.
The latest poll marks the first time that majorities of Americans from within the three major political identifications report being satisfied with acceptance of gays and lesbians in the U.S. Democrats remain the most satisfied (67%), as they have been since 2012. Meanwhile, 59% of independents and 54% of Republicans report being satisfied on the issue.
Over the past 15 years, Democrats were least satisfied -- ranging between 27% and 38% in satisfaction -- during the administration of President George W. Bush, a Republican president who called for a constitutional amendment to ban same-sex marriage as he campaigned for re-election in 2004. But as Democratic President Barack Obama completed his first term in office in 2012, Democrats' satisfaction climbed to 48% and has gained 19 percentage points in the years since.
Satisfaction among the GOP has been a lot tamer, ranging from 32% to 41% from 2001 to 2013. Though Republicans were generally more satisfied than Democrats during the Bush presidency and the least satisfied group during the Obama presidency, the percentage of those who report being satisfied has climbed quite a bit over Obama's second term.
Bottom Line
The past decade has seen significant progress for the gay rights movement in the U.S., and along with that, a greater acceptance of gays and lesbians in the country more generally. Now a new high of 60% of Americans are satisfied with the acceptance of gays and lesbians in the U.S., nearly doubling the 32% from 10 years ago.
But despite being in the minority, there are many Americans who are unhappy with the advancements made in gay rights, and there are judges, religious figures and GOP presidential candidates who seek to undo what gay rights supporters have achieved. Meanwhile, another faction of Americans are dissatisfied because they seek more acceptance for gays and lesbians -- perhaps in response to continued efforts to walk back newly achieved gay rights, hate crimes against LGBT people and other acts of intolerance directed at the community.
Still, a stronger majority than ever before is content with the current state of gay acceptance in the U.S. Given the generational differences Gallup has found among supporters of gay rights, it is likely that satisfaction will continue to grow as younger generations supplant older ones.
Historical data are available in Gallup Analytics.
Survey Methods
Results for this Gallup poll are based on telephone interviews conducted Jan. 6-10, 2016, with a random sample of 1,012 adults, aged 18 and older, living in all 50 U.S. states and the District of Columbia. For results based on the total sample of national adults, the margin of sampling error is ±4 percentage points at the 95% confidence level. All reported margins of sampling error include computed design effects for weighting.
Each sample of national adults includes a minimum quota of 60% cellphone respondents and 40% landline respondents, with additional minimum quotas by time zone within region. Landline and cellular telephone numbers are selected using random-digit-dial methods.
Learn more about how Gallup Poll Social Series works.