Hurricane Katrina's fury not only claimed lives and homes, but it took jobs as well. The Labor Department reported in late October that the two states hit hardest by Katrina -- Louisiana and Mississippi -- posted the highest state jobless rates in September. The unemployment rate in Louisiana climbed to 11.5% and the rate in Mississippi rose to 9.6%.
In cooperation with the American Red Cross, a recent CNN/USA Today/ Gallup survey interviewed 1,510 people who had applied for aid as a result of Hurricane Katrina*. The majority of Katrina victims interviewed, 69%, say they had a job immediately before the hurricane hit.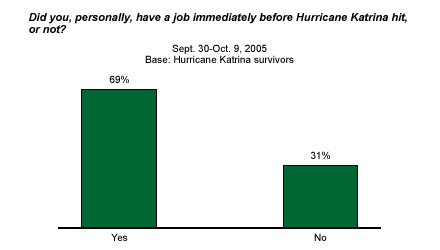 A slim majority of those employed before the hurricane said they were still at the same job, but more than a third (37%) of that group (which equates to 25% of all of those interviewed) said they were not working at the time the survey was conducted a few weeks ago. Seven percent said they had found new jobs; including 4% who said the new job is just as good as their old one, and 3% who said the new job isn't as good.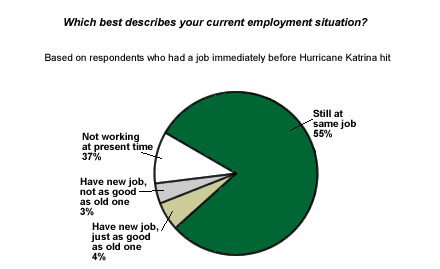 While 21% of white respondents who had jobs pre-Katrina said they were not working at the present time -- more than twice that number of black respondents find themselves in the same position. At 46%, nearly half of black Katrina victims who had jobs prior to the disaster said they weren't working now.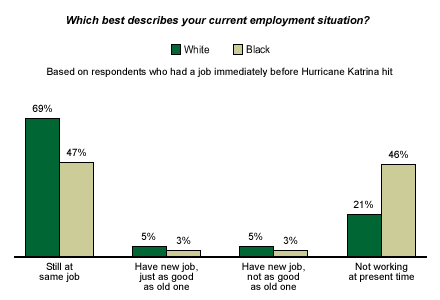 Victims in the middle- and higher-income groups were less likely to lose their jobs following Hurricane Katrina than those in lower-income households. Forty-eight percent of Katrina victims who were employed before the hurricane and whose annual household incomes in 2004 were less than $20,000 said they were not working at the time the survey was conducted. Slightly more than one in four respondents who were working before Katrina and who come from households with annual incomes of more than $30,000 could say the same.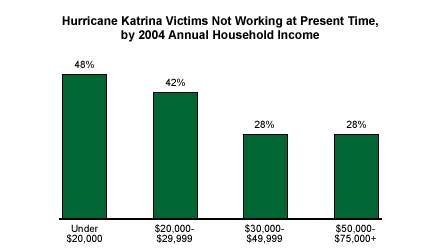 *Results are based on telephone interviews with a sample of 1,510 adults, aged 18 and older, drawn randomly from the American Red Cross database of applicants seeking assistance due to the effects of Hurricane Katrina. Interviews were conducted Sept. 30-Oct. 9, 2005.
The vast majority of applicants provided a working contact telephone number to the Red Cross. Gallup did reverse phone lookups to obtain telephone numbers for the portion of the selected sample that did not provide a contact number. Where necessary, Gallup interviewers tracked down updated telephone numbers when respondents had moved from their previous location. Interviews were conducted on both landline and cellular telephones. Full details on the poll methodology can be found at https://www.galluppoll.com/
In addition to sampling error, question wording and practical difficulties in conducting surveys can introduce error or bias into the findings of public opinion polls.