Story Highlights
Approval averaged 83% among Democrats, 13% among Republicans
70-percentage-point party gap in approval exceeds previous high of 61 points
From Eisenhower through Carter, average party gap was 34 points
WASHINGTON, D.C. -- Throughout his presidency, Barack Obama averaged 83% job approval among Democrats and 13% among Republicans. That 70-percentage-point party gap in job approval ratings easily eclipses the prior high -- 61 points for George W. Bush. All other presidents had party gaps of 55 points or less.
Average Job Approval Ratings of Presidents, by Political Party
Ranked from largest to smallest party gaps
Average approval, Republicans
Average approval, Democrats
Average party gap

%

%

pct. pts.

Obama
13
83
70
G.W. Bush
84
23
61
Clinton
27
82
55
Reagan
83
31
52
Nixon
75
34
41
Eisenhower
88
49
39
G.H.W. Bush
82
44
38
Kennedy
49
84
35
Ford
68
37
31
Johnson
44
71
27
Carter
30
57
27
Gallup began regularly measuring party identification and presidential approval in the same polls in the 1950s.
Gallup
Although the extreme polarization in Obama's ratings could reflect his policies and approach to governing, it also reflects the era in which he governed. The last three presidents -- Obama, Bush and Bill Clinton -- and four of the last five (including Ronald Reagan) averaged greater than 50-point party gaps in their job approval ratings.
George H.W. Bush was the recent exception. He averaged 67% overall approval during his first three years as president, when the U.S. economy was strong, the Cold War was ending and he led a successful war effort against Iraq. In those years, the party gaps in his approval rating were between 32 and 34 points, typical of presidents prior to Reagan. His last year in office, when the economy struggled to emerge from a recession, the party gap was 54 points, similar to the polarization level for the most recent presidents.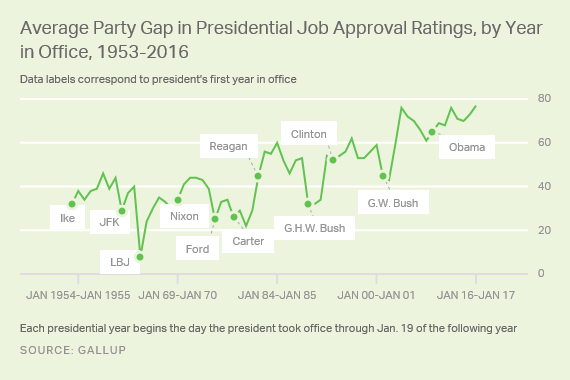 On average, from Dwight Eisenhower's first year in office beginning in January 1953 through Jimmy Carter's last year in office that ended in January 1981, the party gap in presidential job approval ratings was 34 points. The average party gap in approval ratings for Presidents Reagan through Obama is 58 points.
Political polarization has continued to reach new extremes in recent years. In total, there have been 15 presidential years in which the party gap in approval ratings exceeded 60 points. That includes each of the last 13 presidential years -- George W. Bush's last five and all eight of Obama's years in office. The only other presidential years showing that degree of polarization are Clinton's and Reagan's fourth years -- when each sought re-election.
Initially, there are no signs that polarized evaluations of presidents are easing in Donald Trump's presidency. In Gallup's first measure of Trump's job approval rating, there is a 76-point gap in approval between Republicans (90%) and Democrats (14%).
Implications
In recent decades it has become clear that Americans' evaluations of presidents are more strongly tied to their personal political loyalties than in the past. This may reflect that recent presidents' actions have become more controversial or just more politically charged, such as their decisions on the use of military force, their economic policies, their attempts to reform healthcare and other entitlement programs, and their choices of Supreme Court justices.
To some degree, the closer link between partisanship and presidential evaluations could also result from the expanding and more varied news sources available to Americans today. In the past, Americans' exposure to a president's work was limited to a few minutes on one of the major network news broadcasts or to what they read in a local newspaper. More recently, Americans' options for news have expanded beyond those traditional sources to include national cable news and internet news and opinion sites. Many of these more recently developed news outlets take a decidedly pro- or anti-administration point of view. Americans' choices to engage with particular news sources are often influenced by, and reinforce, their own political leanings.
But even as available news sources multiply, so do other options for people's time. TV news viewership and newspaper readership has declined over time, with internet news offsetting only part of the declines. Those who do not pay much attention to political news, and thus have little basis for forming a judgment, may default to their party loyalties when asked in an opinion survey whether they approve or disapprove of the job the president is doing.
If highly partisan views of presidents are the "new normal," presidents will struggle to achieve majority approval ratings. George W. Bush did not have an approval rating of 50% or higher after May 2005, just four months into his second term. Obama's job approval held in the 40% range for most of his presidency, and he averaged 47.9% job approval throughout his eight years in office. His ratings stayed consistently above the majority level only during the early months of his presidency, around the time of his re-election and in the final months of his presidency.
The highly partisan initial ratings of Trump indicate he may not even enjoy the traditional honeymoon period prior presidents have had in the early months of their presidencies.
Explore President Obama's approval ratings in depth and compare them with those of past presidents in the Gallup Presidential Job Approval Center.
These data are available in Gallup Analytics.
Survey Methods
Results for this Gallup poll are based on telephone interviews conducted Jan. 20, 2016-Jan. 19, 2017, on the Gallup U.S. Daily survey, with a random sample of 178,829 adults, aged 18 and older, living in all 50 U.S. states and the District of Columbia. For results based on the total sample of national adults, the margin of sampling error is ±1 percentage points at the 95% confidence level. For results based on the total sample of 53,610 Republicans, 64,783 independents and 54,198 Democrats, the margin of sampling error is ±1 percentage points at the 95% confidence level. All reported margins of sampling error include computed design effects for weighting.
Each sample of national adults includes a minimum quota of 70% cellphone respondents and 30% landline respondents, with additional minimum quotas by time zone within region. Landline and cellular telephone numbers are selected using random-digit-dial methods.
Learn more about how the Gallup U.S. Daily works.