Story Highlights
59% of Mississippi residents are "very religious"
Vermont is the least religious state, with 21% very religious
Most religious states continue to be mainly in South, plus Utah
WASHINGTON, D.C. -- Mississippi remains the most religious state in the U.S., with 59% of its residents in 2016 classified as "very religious," followed by Alabama (56% very religious) and Utah (54%). Vermont is the least religious state; 21% of its residents are classified as very religious. Two other New England states, Maine and Massachusetts, are the second- and third-least religious.
Most Religious States
Based on % Very religious
Very religious

%

Mississippi
59
Alabama
56
Utah
54
South Dakota
53
South Carolina
52
Arkansas
52
Louisiana
50
Tennessee
50
Oklahoma
49
Georgia
47
North Carolina
47
Kentucky
47
Gallup Daily, January-December 2016
Least Religious States
Based on % Very religious
Very religious

%

Vermont
21
Maine
23
Massachusetts
25
Rhode Island
27
Nevada
27
Alaska
27
Oregon
27
Connecticut
28
Hawaii
28
New Hampshire
29
Washington
29
Gallup Daily, January-December 2016
These state-by-state results are based on 174,969 interviews conducted as part of Gallup Daily tracking in 2016, including more than 480 interviews in every state and more than 1,000 interviews in most states. Complete results and sample sizes are shown at the end of the article.
Gallup classifies Americans as "very religious," "moderately religious" or "nonreligious" based on their responses to questions about the importance of religion and church attendance. Very religious Americans say religion is important to them and report attending services every week or almost every week. Nonreligious Americans are those for whom religion is not important and who seldom or never attend religious services. Moderately religious Americans meet just one of the criteria, saying either religion is important or that they attend services almost every week or more often.
Gallup began tracking religious indicators daily in 2008. The percentage of all Americans who are very religious has declined slightly over that period of time, from 41% in 2008 to 38% in 2016, while those who are nonreligious has edged up from 30% to 32%. The relative rank ordering of the states, however, has changed little over the past nine years.
Mississippi is the most religious state in the nation for the ninth straight year. In 2008, when Gallup first calculated these state rankings, 59% of Mississippi residents were very religious -- the same as today, although this percentage has fluctuated some over the past nine years. Alabama and Utah have owned the second and third spots in the religiosity rankings in all but one year, 2009, when Alabama was second and Utah tied with South Carolina and Louisiana for third.
Most of the top 10 highly religious states over the past nine years have been in the South, except for Utah, where the highly religious Mormon population helps put it in the top 10 consistently. In 2016, the only other non-Southern state in the top 10 was South Dakota.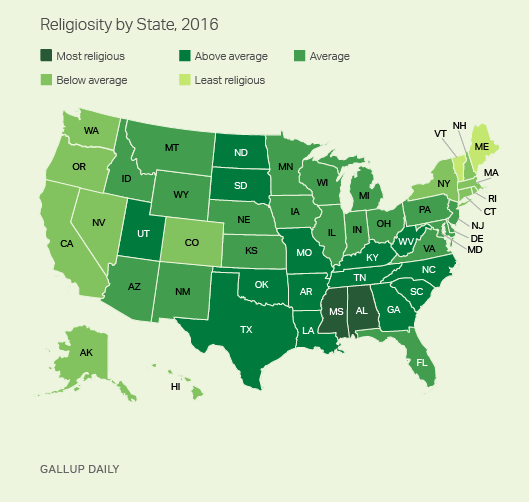 The least religious states have typically been concentrated in the upper Northeast, Mid-Atlantic and Northwest regions. Vermont has been the least religious state for all but one of the last nine years, the exception being 2015 when New Hampshire topped the list.
In 2016, all six New England states were among the 10 least religious states, along with Washington, Oregon, Hawaii, Alaska and Nevada. This marked the first time New Hampshire was neither the least nor second-least religious state in the union; the Granite State tied for 10th least religious.
Bottom Line
There is no clear-cut answer as to why state-by-state differences in religiosity persist. Some of it relates to a state's culture, which in turn derives from many years of religious history. A state's religious culture also reflects the type of religion dominant in each state. Utah's majority-Mormon population and Southern states' strongly Protestant population, for example, are more likely to be religious than those in states where these religions are less dominant.
These cultures can be self-sustaining and extend beyond the life of any one resident. Children in highly religious states generally end up being more religious than children who grow up in less religious states. Persons moving to Mississippi may find themselves more likely to attend religious services because so many others are doing so, while persons moving to Vermont may be less inclined to attend because so few of their neighbors do.
Overall religious patterns continue to change in the U.S., with an increase in the percentage of Americans who say that they have no formal religion and a slight overall decrease in general religiosity. To date, however, these patterns have not dramatically affected the relative religiosity of the states when compared with one another, and the evidence from the past nine years suggests that this pattern may persist in the years ahead.
Survey Methods
Results for this Gallup poll are based on telephone interviews conducted Jan. 2-Dec. 30, 2016, on the Gallup U.S. Daily survey, with a random sample of 174,969 adults, aged 18 and older, living in all 50 U.S. states and the District of Columbia. Margins of error for individual states are no greater than ±6 percentage points and are ±3 percentage points in most states. All reported margins of sampling error include computed design effects for weighting.
Each sample of national adults includes a minimum quota of 60% cellphone respondents and 40% landline respondents, with additional minimum quotas by time zone within region. Landline and cellular telephone numbers are selected using random-digit-dial methods.
Learn more about how the Gallup U.S. Daily works.
Religiosity by State, 2016
Sorted by % Very religious
Very religious
Moderately religious
Nonreligious
Sample size

%

%

%

Mississippi
59
29
12
1,668
Alabama
56
28
16
2,913
Utah
54
16
30
2,013
South Dakota
53
25
22
532
South Carolina
52
29
19
2,755
Arkansas
52
30
18
1,901
Louisiana
50
30
20
2,379
Tennessee
50
31
20
4,148
Oklahoma
49
30
22
2,680
North Carolina
47
30
23
5,726
Georgia
47
31
22
5,200
Kentucky
47
30
24
2,682
Texas
45
32
24
13,319
Missouri
45
29
27
3,406
North Dakota
44
29
26
561
West Virginia
44
32
24
1,031
Nebraska
43
28
28
1,379
Kansas
43
29
29
1,769
Virginia
42
31
28
5,042
Idaho
42
24
35
1,140
New Mexico
41
29
30
1,429
Indiana
41
30
30
3,852
Iowa
40
30
30
2,050
Wyoming
39
29
32
521
Pennsylvania
38
29
33
7,893
Ohio
38
31
31
6,266
Wisconsin
38
27
35
3,389
Minnesota
38
29
33
3,230
Michigan
37
30
33
4,903
Illinois
37
29
34
5,438
Delaware
37
29
35
498
Florida
37
31
32
10,538
Arizona
36
28
37
4,348
Maryland
36
32
33
3,140
New Jersey
34
31
35
4,585
Montana
34
30
36
1,071
Colorado
32
27
41
3,495
California
31
29
40
17,170
New York
31
30
40
10,240
New Hampshire
29
21
50
712
Washington
29
27
45
4,353
Hawaii
28
27
45
567
Connecticut
28
31
41
1,986
Oregon
27
25
48
2,844
Alaska
27
26
47
536
Nevada
27
33
41
1,408
Rhode Island
27
30
43
593
Massachusetts
25
28
48
3,804
Maine
23
27
50
940
Vermont
21
21
58
488
Total
38
30
32
174,969
Gallup Daily, January-December 2016