Story Highlights
40% now find cloning animals morally acceptable
Americans split by religiosity, ideology gender on the issue
16% in the U.S. say cloning humans is morally acceptable
WASHINGTON, D.C. -- A record-high 40% of Americans now say that cloning animals is morally acceptable, up from 32% last year. As high as the current percentage is, a majority (57%) still say cloning animals is morally wrong.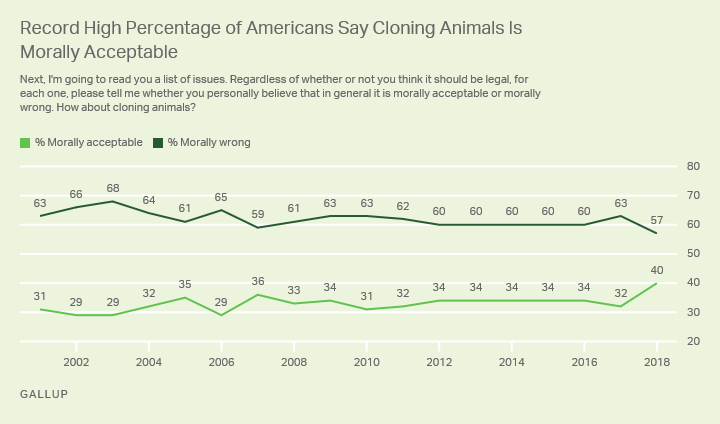 These data come from Gallup's annual Values and Beliefs survey, conducted May 1-10. This is the first reading on the issue Gallup has taken since the announcement that Chinese scientists had successfully cloned a primate in January. The scientists used a technique similar to that first used to clone Dolly the sheep in 1996.
Gallup first asked about the morality of cloning animals in 2001, when 31% of Americans said it was morally acceptable. Until this year, views on animal cloning remained relatively stable, with the percentage saying it is morally acceptable fluctuating between 29% and 36%.
Views on Cloning Animals Vary by Gender, Ideology and Religiosity
Religiosity is associated with some of the starkest differences in Americans' views of animal cloning. Roughly a quarter of Americans who say religion is very important to them (23%) consider animal cloning morally acceptable. That compares with 64% of those who report religion is not very important to them.
Morally acceptable
Morally wrong

%

%

Gender
Male
50
48
Female
30
66
Political ideology
Conservative
27
72
Moderate
43
52
Liberal
55
42
Importance of religion
Very
23
73
Fairly
49
50
Not very
64
31
Gallup, May 1-10
There is also a 28 percentage-point difference between the 55% of self-described liberals who say cloning animals is morally acceptable and the 27% of conservatives who say the same. Additionally, there is a 20-point difference between men (50%) and women (30%). Similar patterns of difference in views of the moral acceptability of cloning animals between these groups have been observed in recent years.
Cloning Humans Remains Far Less Accepted Than Cloning Animals
Consistent with trends since 2001, far fewer Americans say cloning humans is morally acceptable (16%) than say the same of cloning animals. Acceptance of cloning humans has been fairly steady near 15% since 2015, but longer term has been trending up, from 7% in 2001.
Bottom Line
Americans have become more liberal in their views of what is morally acceptable on most issues in recent years. However, this trend had largely not been seen in support for cloning of animals, which had fluctuated within a relatively narrow band until this year. It is possible greater liberalization on other issues is extending to views of cloning. Americans' remain much more accepting of animal cloning than human cloning, though their support for the latter has gradually increased over the years.
Americans' more favorable view toward cloning could result in an environment that is more conducive to research related to the practice. However, a majority still finds it morally wrong, presenting a potentially uphill battle for any U.S. research institutions seeking additional resources to engage in the study of animal cloning.
Survey Methods
Results for this Gallup poll are based on telephone interviews conducted May 1-10, 2018, with a random sample of 1,024 adults, aged 18 and older, living in all 50 U.S. states and the District of Columbia. For results based on the total sample of national adults, the margin of sampling error is ±4 percentage points at the 95% confidence level. All reported margins of sampling error include computed design effects for weighting.
Each sample of national adults includes a minimum quota of 70% cellphone respondents and 30% landline respondents, with additional minimum quotas by time zone within region. Landline and cellular telephone numbers are selected using random-digit-dial methods.
Learn more about how the Gallup Poll Social Series works.