Story Highlights
17% of Americans approve of the job Congress is doing, same as in July
28% of Republicans, 7% of Democrats approve
WASHINGTON, D.C. -- Americans' approval of the job the U.S. Congress is doing remains mired at 17% in August. Congressional approval has been relatively stable since January, fluctuating between 15% and 20% during that time.
The latest rating comes from a Gallup survey conducted Aug. 1-12. August is normally an uneventful month for Congress because it's when the legislative body traditionally breaks for summer recess. However, Senate Majority Leader Mitch McConnell canceled the break this year to work toward the passage of spending bills that would avert a government shutdown.
In February of last year, after Donald Trump's inauguration, congressional job approval rose to 28%. However, that increase was short-lived, and by last April, Americans' views of Congress had fallen back to levels near those before Trump took office. Since then, no more than 21% have said they approve of the job Congress is doing, with approval dropping as low as 13% last fall, when Republicans were debating tax reform legislation.
The current 17% approval rating is about average for congressional approval over the past 17 months but below the overall average of 30% since Gallup began tracking the public's views of Congress.
Republicans continue to give Congress higher marks than do other partisan groups. The 28% of Republicans who approve contrasts sharply with Democrats' 7% approval. Independents' approval, at 17%, falls in between the ratings of the two major party groups.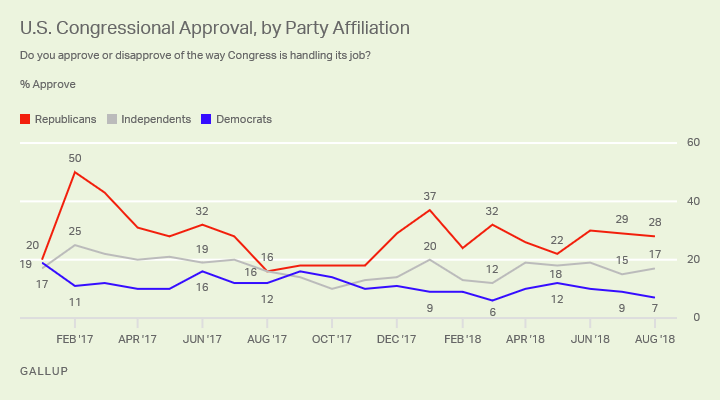 While Republicans express the most widespread approval of Congress, their current rating is still well below the 50% who approved of the legislative body after Trump's inauguration last February. By last August, Republicans' approval had also fallen to levels near those found before Trump's inauguration, bottoming out at 16% that month after the GOP failed in its efforts to repeal the Affordable Care Act. Republicans' approval of Congress subsequently rose in late 2017 and early 2018 after Trump and Congress passed a tax cut law, and it has stayed at or above 22% throughout 2018. Democrats' approval of Congress has been at or below 12% during the same time frame.
Survey Methods
Results for this Gallup poll are based on telephone interviews conducted Aug. 1-12, 2018, with a random sample of 1,024 adults, aged 18 and older, living in all 50 U.S. states and the District of Columbia. For results based on the total sample of national adults, the margin of sampling error is ±4 percentage points at the 95% confidence level. All reported margins of sampling error include computed design effects for weighting.
Each sample of national adults includes a minimum quota of 70% cellphone respondents and 30% landline respondents, with additional minimum quotas by time zone within region. Landline and cellular telephone numbers are selected using random-digit-dial methods.
View survey methodology, complete question responses and trends.
Learn more about how the Gallup Poll Social Series works.