Story Highlights
Degree of personal satisfaction varies by subgroup
Young adults who are "very" satisfied down 17 points since 2017
Percentage among GOP who are very satisfied up 15 points since inauguration
WASHINGTON, D.C. -- Eighty-six percent of Americans say they are satisfied with the way things are going in their personal lives, maintaining the improved levels Gallup has measured in recent years. The vast majority of Americans have been content with the direction of their lives over the 40 years Gallup has tracked this measure, with satisfaction dipping only as low as 73% in July 1979 during the energy crisis.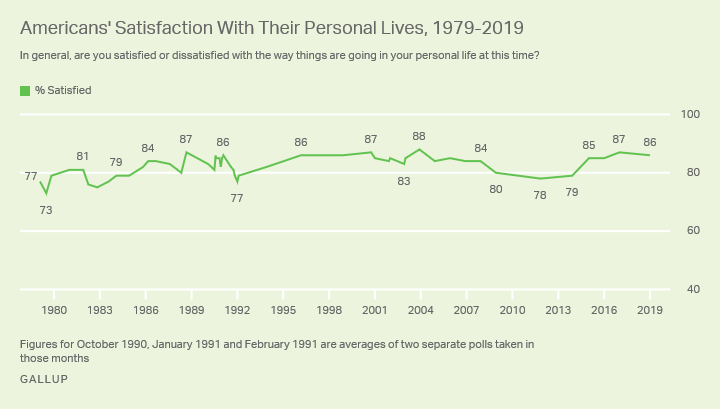 Notable dips have been recorded along with other U.S. economic downturns, including the recession in the early 1990s as well as the years leading up to and after the 2008 global financial crisis. The 2017 measure of 87% satisfied was the highest level of Americans' satisfaction with their personal lives since 2003, marking a return to the pre-Great Recession norm.
Most Americans Say They Are Very Satisfied With Their Lives
The latest poll, conducted Jan. 2-10, included a follow-up question probing how satisfied or dissatisfied Americans feel with their lives.
Just over half of U.S. adults report being "very satisfied" (56%) with the direction of their lives, while 30% say they are "somewhat satisfied." Although Americans have always been more likely to say they are very satisfied than somewhat satisfied with how their lives are going, today's level for the former is on the high end of the 46% to 59% range seen since 2001.
Republicans Much More Likely Than Democrats to Be Very Satisfied
The follow-up question reveals that some groups with similar overall satisfaction levels differ in the extent to which they are very satisfied versus somewhat satisfied.
For example, Republicans (90%) are about as likely as Democrats (87%) to say they are satisfied with how things are going in their lives. But 70% of Republicans report being very satisfied with the direction of their lives, while just half of Democrats (50%) say the same.
These two groups' satisfaction levels have shifted in the past two years. When Gallup asked how satisfied they were in January 2017 -- just weeks before Republican President Donald Trump's inauguration -- more Democrats (63%) than Republicans (55%) were "very satisfied." But in the two years since, Democrats' ratings have dropped by double digits, while Republicans' have increased by a similar amount.
Independents have hovered between 50% and 55% "very satisfied" in most years since 2007 -- though they dipped lower in these ratings in the post-economic-crisis years of 2011 and 2013.
Sharpest Drop in "Very Satisfied" Among Young Adults
The 13-percentage-point drop among Democrats is not the largest change in "very satisfied" ratings for a major subgroup since 2017. Young adults' life satisfaction ratings have plummeted 17 points, from 57% of 18- to 29-year-olds very satisfied to 40%.
Meanwhile, senior citizens are now more satisfied with their lives than they have been in years, and more so than any other age groups since at least 2007. After cratering at 46% in 2011, the percentage of adults aged 65 and older who report that they are very satisfied with their lives has increased in each poll since then.
Life Satisfaction Ratings Among Whites, Nonwhites Diverge
Among racial groups, whites and nonwhites reported similar "very satisfied" levels in 2017 but have gone in separate directions since. Whites are now about as satisfied with their personal lives as they were before the 2008 financial crisis, after a series of steady improvements in their ratings since 2013. But nonwhites' "very satisfied" ratings of their lives have dropped by nine points since two years ago, with the current 47% for nonwhites and 61% for whites marking the largest difference between the two groups in this recent trend.
Bottom Line
Strong majorities of Americans have consistently reported satisfaction with their personal lives over the past four decades. But more recently, the degree of satisfaction has varied, particularly by political party and race.
Changes in satisfaction often reflect respondents' political lenses, such as a buoyancy in Republicans' views of their lives under a president of their own political party, as in 2007 and this year -- while Democrats' ratings have become depressed since Trump took office. Americans who approve of the incumbent president's performance are generally more likely to be very satisfied with their personal lives.
Meanwhile, other sharp changes raise further questions, such as the plunging "very satisfied" ratings among young adults -- though views among this group, like those of racial groups, may be a function of political party identification.
Gallup has studied hundreds of countries around the world over more than a decade, and has found that decreases in happiness have often coincided with major change events, such as Trump's election, the Brexit vote in the U.K. or the Arab Spring. While the life satisfaction question may not measure happiness per se, it is one that leaders will want to monitor.
View complete question responses and trends.
Learn more about how the Gallup Poll Social Series works.