Story Highlights
87% of Democrats say Trump should be removed from office
71% of Democrats said Nixon should be removed just before he resigned
Trump job approval largely steady at 41%
WASHINGTON, D.C. -- Democrats and Republicans are far more unified in their respective positions about whether or not President Donald Trump should be impeached and removed from office than they were about Richard Nixon at the end of the Watergate scandal.
Eighty-nine percent of Democrats currently say Trump should be impeached and removed from office. That compares with 71% of Democrats who in 1974 said the charges against Nixon warranted his removal from office. The 1974 survey was conducted days before Nixon announced his resignation from office on August 8, 1974.
Among Republicans, 92% reject Trump being impeached and removed from office while just 7% are in favor of it. Under Nixon, a smaller 59% of his fellow Republicans opposed his removal from office while 31% endorsed it.
Remove from office
Not remove from office
No opinion

%

%

%

Donald Trump
U.S. adults
51
48
1
Democrats
87
12
1
Independents
53
44
2
Republicans
7
92
1
Richard Nixon
U.S. adults
58
31
11
Democrats
71
19
10
Independents
55
31
14
Republicans
31
59
10
Wording for Donald Trump: Next we have some questions about the allegations being reported in the news concerning President Trump. Based on what you know at this point, do you think that Donald Trump should or should not be impeached and removed from office?; Wording for Richard Nixon: Just from the way you feel now, do you think his actions are serious enough to warrant his being removed from the Presidency, or not?
Gallup
Gallup's new update, from an Oct. 14-31, survey, finds 51% of all Americans in favor of Trump being impeached and removed from office, essentially unchanged from 52% in an early October survey. Support for removing Trump remains higher than earlier this year when the question was asked in the context of special counsel Robert Mueller's investigation into possible Trump campaign ties with Russia in the 2016 election.
The percentage of U.S. adults who currently think Trump should be impeached and removed from office is lower than it was for Nixon in August 1974, 58%. Prior polls that year showed between 44% and 48% of Americans saying the charges against Nixon were serious enough to warrant his removal as president.
In 1974, more Americans did not express an opinion about the president being removed from office (11%) than do so now (1%). Ten percent of both Democrats and Republicans did not have an opinion about removing Nixon from office, compared with 1% for each party group now.
The higher percentage with no opinion in 1974 than now, to some degree, complicates the comparison of the percentages wanting the president removed from office. However, re-basing the percentages to include only those with an opinion would still show greater Democratic support for removing Trump (88%) than for removing Nixon (79%).
Party differences between 1974 and now reflect the more politically polarized U.S. environment, with Americans' opinions about the president now more unified within party groups than in the past. Eighty percentage points currently separate Democratic (87%) and Republican support (7%) for removal, double the size of the party gap under Nixon (71% and 31%).
Party Gap for Clinton in 1998 Similar to That for Nixon
Last week, the U.S. House of Representatives voted in favor of formal hearings into impeaching Trump. At a similar point in the process in Bill Clinton's impeachment, 32% of Americans said Clinton should be impeached and removed from office, and 65% disagreed. That survey was taken October 6-7, 1998, just before the House approved an impeachment inquiry of Bill Clinton.
The partisan gap on Clinton's impeachment was almost the same as it was for Nixon -- 43 percentage points. Fifty-eight percent of Republicans and 15% of Democrats favored removing Clinton from the presidency. Twenty-nine percent of independents also believed that Clinton should be removed from office.
Trump Job Approval Largely Steady at 41%
Since the impeachment process picked up steam in mid-September after the House learned of a whistleblower's complaint about Trump's dealings with the Ukrainian government, Trump's job approval ratings have been steady near 40%.
In the latest survey, 41% of Americans approve and 57% disapprove of the job he is doing as president. The latest approval ratings nearly match Trump's 40% average approval rating during his entire presidency.
While the impeachment proceedings have done little to influence the way Americans perceive Trump, that was not the case for Nixon. His approval rating fell from 65% in February 1973 to 45% just three months later as more information about the scandal surfaced. As the investigations continued, including Senate hearings into the matter, Nixon's job approval continued to erode. By October 1973, it had fallen to 27%. From December 1973, through the end of his presidency, Nixon's approval rating was consistently below 30%.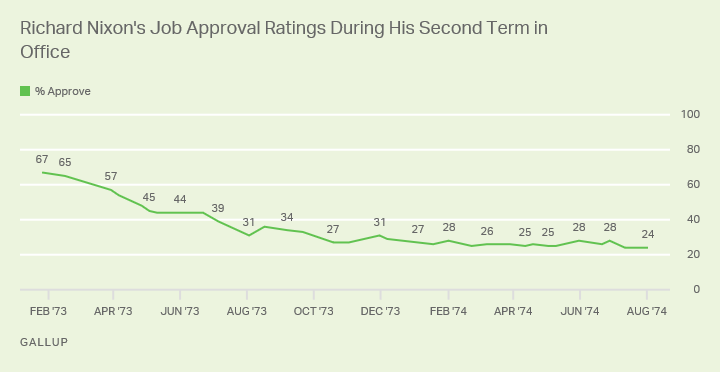 The pattern for Clinton's approval ratings was more in line with that for Trump than that for Nixon. In early January 1998, before news of Clinton's affair with a White House intern became public, Clinton's approval rating was 60%. His ratings did not show any meaningful decline thereafter, and 63% approved of him in October when the House voted to initiate impeachment hearings.
On December 19, in the midst of a U.S. airstrike campaign against Iraq, the House voted to impeach Clinton. A subsequent Gallup poll found Clinton's approval rating surging to 73%. In February 1999, after the Senate voted to acquit Clinton on the impeachment charges, 68% approved of the job he was doing.
Implications
For the moment, support for Trump being impeached and removed from office has stabilized. The public is largely divided along party lines, and the House vote last week to formalize the impeachment inquiry reflected those party divisions, with all Republicans voting against it and nearly all Democrats voting in favor of it.
The extreme partisan polarization distinguishes the Trump impeachment process from that for Nixon and Clinton. Though Republicans did not favor removing Nixon from office, enough of them did that Republican members of Congress had more latitude to vote against the party majority on impeachment. Nixon's low approval ratings -- 24% overall and just 50% among Republicans -- also gave Republican members of Congress more leeway to vote against the party base.
In contrast, Republicans are rock solid both in their opposition to impeachment and their support for Trump. While that could change as more evidence comes out about Trump's dealings with Ukraine (or other matters), it may be more likely that Republicans hold firm in their views given the party base's unflinching support for Trump through many controversies during his presidency.
Republicans also were nowhere near as unified in their views of whether or not Clinton should be impeached and removed from office as they are about Trump.
As far as Democrats are concerned, their steadfast opposition to Trump throughout his presidency suggests they are unlikely to revise their opinions as the impeachment process unfolds.
The partisan divisions both in the general public and in Congress appear to indicate that the Democratic-controlled House will have enough votes to impeach Trump. However, unless enough Republican senators break from the wishes of their party to join Democrats in voting to remove Trump from office, he is likely to finish out his term in office. That would give voters the ultimate decision as to whether to keep Trump for a second term or replace him with a new president.
Explore President Trump's approval ratings and compare them with those of past presidents in the Gallup Presidential Job Approval Center.
View complete question responses and trends (PDF download).
Learn more about how the Gallup Poll Social Series works.