WASHINGTON, D.C. -- Gallup finds 5.6% of U.S. adults identifying as lesbian, gay, bisexual, transgender, or something other than straight or heterosexual. The percentage has steadily increased since Gallup first measured LGBT identification in 2012.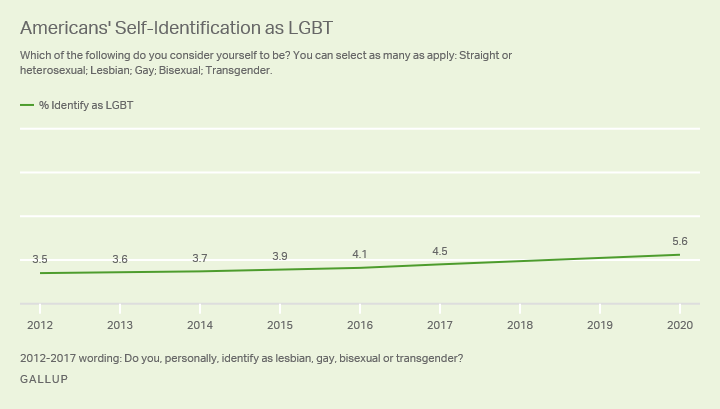 Line graph. Gallup trend in self-identification as lesbian, gay, bisexual or transgender. In 2020, 5.6% of U.S. adults identified as LGBT. That is up from 4.5% in 2017, the last year it was asked, and 4.1% in 2016. From 2012 to 2015, between 3.5% and 3.9% of U.S. adults identified as LGBT.
More than half of LGBT adults identify as bisexual. LGBT identification is much more common among younger adults than older adults.
For more details on LGBT identification, see Gallup's latest release:
LGBT Identification Rises to 5.6% in Latest U.S. Estimate
Additionally, Gallup finds that about one in 10 LGBT adults -- or slightly less than 1% of all U.S. adults -- are married to a same-sex partner.
One in 10 LGBT Americans Married to Same-Sex Spouse
Explore more Gallup articles about LGBT issues on the LGBT Topics page.
Explore Gallup questions and trends about gay and lesbian rights on Gallup's Topics A-Z page.
For more articles in the "Short Answer" series, visit Gallup's The Short Answer page.