Story Highlights
Americans' satisfaction with U.S. abortion policies is at two-decade low
Percentage dissatisfied because laws are too strict has jumped to new high
Four in 10 Democrats now dissatisfied and want laws to be less strict
WASHINGTON, D.C. -- Americans' satisfaction with the nation's abortion laws is at a two-decade low of 24%. At the same time, the percentage saying they are dissatisfied because they think the laws should be less strict -- broadly speaking, a "pro-choice" position on abortion -- is at a new high of 30%. A smaller share of the population, 22%, is dissatisfied because they believe the laws should be stricter.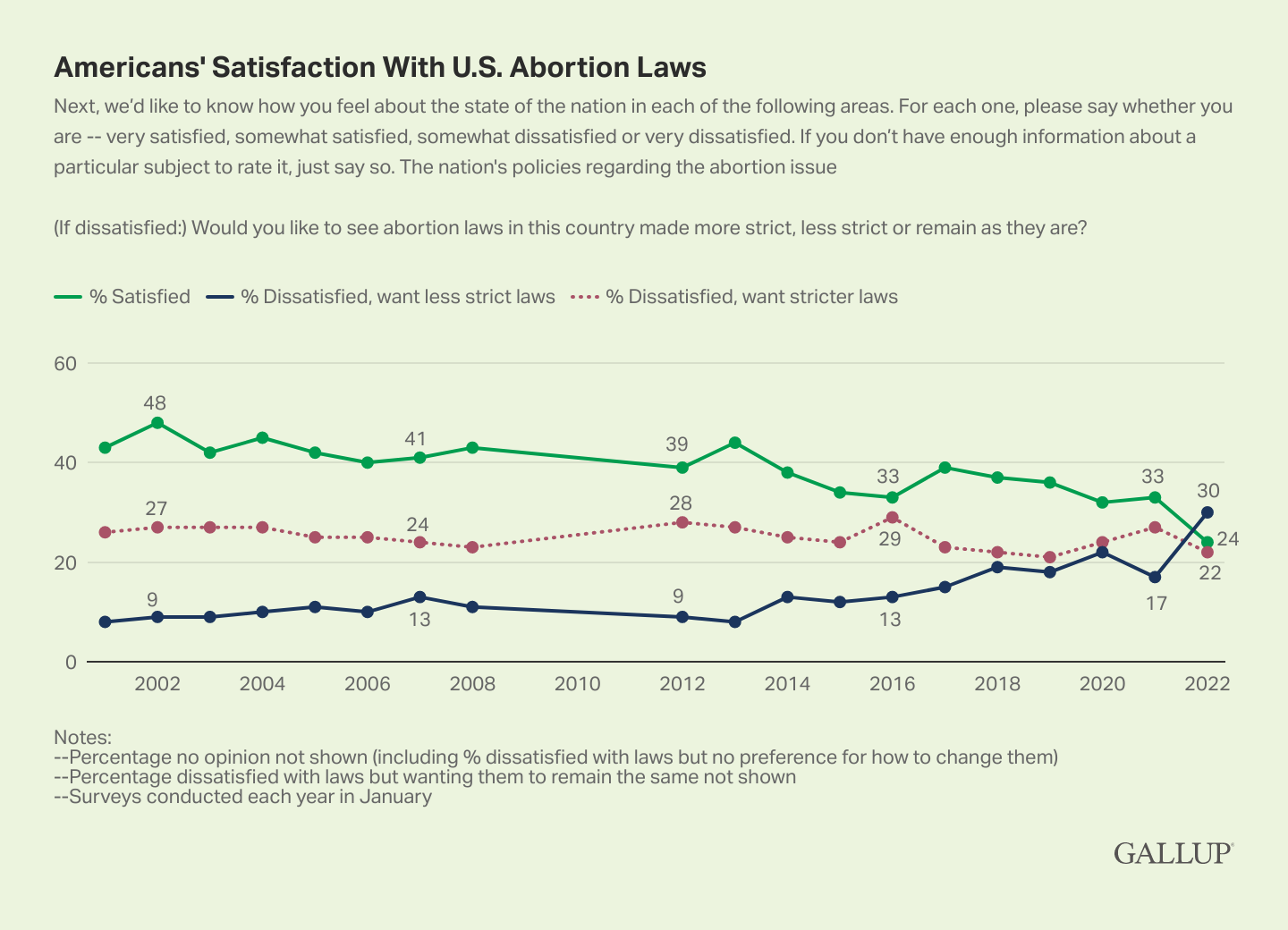 Line graph. Trends from 2001 to 2022 in three positions on U.S. abortion policies: 1) the total percentage satisfied with these policies; 2) those dissatisfied and wanting less-strict laws; and 3) those dissatisfied and wanting stricter laws. The percentage satisfied has declined from as high as 48%, in 2002, to about 33% in recent years, dropping to 24% in 2022. The percentage dissatisfied and wanting less-strict laws has increased from less than 15% before 2018 to about 20% from 2018 to 2020 and jumping to 30% in 2022. The percentage dissatisfied and wanting stricter laws has been steadier near 25%, and is now 22%.
The latest findings, from a Jan. 3-16 Gallup poll, represent a change from the prior two decades, when more Americans were dissatisfied with abortion laws because they believed they were not strict enough rather than too strict, or the two positions were tied.
Overall, 24% of Americans are satisfied with U.S. abortion policies, 66% are dissatisfied and 9% have no opinion. The dissatisfied group includes 14% who initially say they are dissatisfied but, when probed, say the laws should remain as they are. This is in addition to the 22% dissatisfied who want stricter laws and the 30% dissatisfied who want less-strict laws.
Gallup asks Americans about their satisfaction with the nation's abortion laws as part of its January Mood of the Nation survey, conducted most years since 2001. The percentage satisfied with abortion laws was at or near 40% from 2001 to 2014, after which it trended down to the low 30s, including last year's 33%, before falling to 24% today.
Gallup asks those dissatisfied with abortion laws whether their objection is that the laws are too strict or not strict enough.
From 2001 to 2017, significantly more Americans were dissatisfied that the laws were too lax rather than too strict.

In 2018, after the seating of President Donald Trump's first Supreme Court nominee, the gap narrowed to three points, and it remained close through most of Trump's term as two more conservative justices were added to the bench.

The gap widened to 10 points in 2021, in the two weeks leading up to President Joe Biden's taking office, with still more wanting stricter rather than less-strict laws.

Today's eight-point gap in the other direction (30% wanting the laws to be less strict vs. 22% more strict) comes as a Texas ban on early-term abortions has survived reviews by both the U.S. Supreme Court and a federal appeals court, leaving the issue for that state's courts to decide.
Meanwhile, the future of the Supreme Court's 1973 Roe v. Wade abortion decision hangs in the balance as the high court deliberates a case involving a Mississippi first-term abortion ban. If the court finds that law constitutional, it would run counter to its Roe ruling, which prohibits states from banning abortion before fetal viability, sometime in the second trimester. That would effectively overturn Roe, which is something Americans oppose by a nearly 2-to-1 margin.
Democrats' Concern Bounces Back to Trump-Era High
The increase since last year in those dissatisfied and wanting abortion laws to be less strict has occurred among all party groups, but that position is more prevalent among Democrats (43%) and independents (31%) than Republicans (14%). The current rate of Democrats holding this view is similar to what it was in 2020, before sinking to 28% as Biden was taking office, but the 31% among independents is by far the highest for that group.
Longer term, the rise over the past decade in Americans' discontent with the strictness of abortion laws has been driven mainly by Democrats and independents. Republicans' views have been fairly steady, with relatively few wanting the laws to become less strict.
Line graph. Trend from 2001 to 2022 in percentages of Americans by party who are dissatisfied with the nation's abortion policies and want laws to be less strict. The percentage of Democrats dissatisfied and wanting less strict laws has increased from 9% in 2001 to 43% today, with most of that increase occurring since 2016. The percentage of independents holding this position was 7% in 2001. It remained below 15% through 2016, after which it started gradually climbing, and is at a trend high of 31% today. No more than 10% of Republicans have held this view until 2022, when it rose to 14%.
Americans' tendency to be dissatisfied with abortion laws because they think they should be less strict rather than stricter is seen across most subgroups of society. That inclination is particularly strong among Democratic-oriented groups: non-White adults, young adults, women and those with no religious identity. Conversely, Protestants, Catholics and adults who are 55 and older are about evenly split in their desire to see abortion laws made more versus less strict.
Summary of satisfaction with current abortion policies and, if dissatisfied, main reason why
Satisfied with abortion policies
Dissatisfied; laws should be less strict
Dissatisfied; laws should be more strict
Net less strict

%

%

%

pct. pts.

U.S. adults
24
30
22
+8
Gender
Men
27
28
22
+6
Women
22
32
22
+10
Race
White adults
25
28
23
+5
Non-White adults
22
34
21
+13
Age
18 to 34
24
39
20
+19
35 to 54
23
34
22
+12
55 and older
25
21
23
-2
Party ID
Republicans
30
14
38
-24
Independents
20
31
23
+8
Democrats
25
43
8
+35
Religious preference
Protestants
21
25
30
-5
Catholics
28
22
21
+1
No religion
26
47
10
+37
Note: Percentage dissatisfied with laws but wanting them to remain the same not shown
Gallup, Jan. 3-16, 2022
Bottom Line
Americans grew more dissatisfied with the strictness of abortion laws in the nation during the Trump presidency, likely reflecting concerns about the increasingly conservative Supreme Court as well as a host of abortion restrictions that were adopted at the state level in those years. After a dip in concern in 2021, that discontent has surged again in 2022.
Heightened alarm about the security of reproductive rights could help the Democratic Party in upcoming elections if it spurs their supporters to vote, or if the issue influences more independents than usual to support the Democratic candidate.
Historically Gallup has found self-identified "pro-life" Americans to be more likely than those who are "pro-choice" to say they will vote only for a candidate who shares their view on abortion, and that continued the last time Gallup asked the question, in 2020. It remains to be seen whether 2022 sees a reversal of that pattern, given that, for the first time, the proportion of Americans dissatisfied with the strictness of abortion laws outnumbers those who are dissatisfied because the laws aren't strict enough. Whether that persists through the fall, when voters go to the polls in the midterm congressional elections, could depend on how the high court rules in the Mississippi abortion case.
Listen in to the Gallup Podcast as Mohamed Younis discusses public opinion on abortion with Gallup's Director of U.S. Social Research, Lydia Saad.
To stay up to date with the latest Gallup News insights and updates, follow us on Twitter.
Learn more about how the Gallup Poll Social Series works.