Labor and Unemployment
Explore Gallup's research.
73% of Americans say artificial intelligence will eliminate more jobs than it creates.
70% of women worldwide prefer to have paid jobs
In 1949, at a low point in business-labor relations, someone proposed that the two sides hear each other out over weekly luncheons.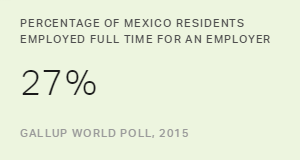 To achieve the greater economic inclusion that Mexico needs, schools and government should work together -- casting a wider net to find and develop a new generation of business leaders that spans regions and socioeconomic classes.
Global Leaders -- Make "Great Job" Creation a Top Priority