In April 2003, the Gallup Management Journal reported on Marriott Vacation Club International's (MVCI) successes in creating a talent-based selection process for sales executives that helped boost sales productivity. The success prompted MVCI to launch two new initiatives aimed at maximizing the company's human potential. A top MVCI executive recently talked to GMJ about his company's progress.
Most successful sales organizations share an intense focus on talent. They're almost fanatically obsessed with questions like these: How do we recognize and find great sales talent? How do we keep it? How do we develop it? How do we quantify its financial impact?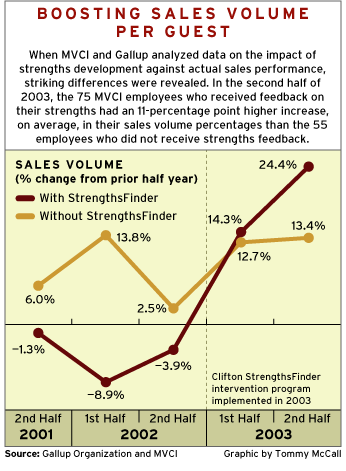 This is especially true at Marriott Vacation Club International, a vacation ownership company that excels in all these areas. "Our business strategy has always emphasized building and sustaining one-to-one relationships with our sales associates and our customers," said Alan Cervasio, MVCI's senior vice president.
And that strategy is paying off. Thirteen years ago, MVCI was a small business, operating five U.S. resorts with approximately $75 million a year in sales. Now, the company has 35 properties located in seven countries around the world with more than $1.4 billion in annual sales. "Over the last nine years, MVCI has experienced a compounded annual growth of 20%," Cervasio said.
In 2003, MVCI was honored with an American Business Award -- or a Stevie Award, as it is more commonly known -- for being the best sales organization in America. Cervasio credits MVCI's talent-based selection and strengths management with boosting the company's sales performance. (See "American Business Awards 2003" in See Also.)
A journey begins
Cervasio recounted how MVCI began working with Gallup in the early 1990s to select talented salespeople. "Up until about April 2002, we were only really doing one thing with Gallup, and that was talent selection. We thought we were pretty good at it," Cervasio said. "However, we knew that in order for us to continue to be the world leader in what we do, fulfill our strategy that calls for a one-to-one relationship with associates and customers, and do $2 billion in business by 2007, we needed to get even closer to our associates and customers."
To enhance employee and customer relationships, MVCI and Gallup collaborated on developing several initiatives at key points on The Gallup Path. (See graphic "The Gallup Path.")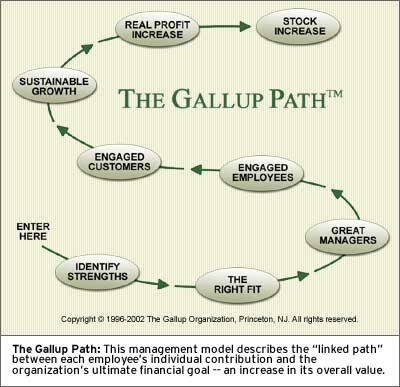 "We're now in the process of implementing the entire Path," Cervasio said. "We did not go in this direction simply to understand more about our associates. We wanted to drive business outcomes by boosting associate engagement, then customer engagement."
Here are key highlights of the new performance improvement initiatives:
Strengths development. A central component of MVCI's employee engagement strategy is building and sustaining one-to-one relationships with its sales associates. To do this, MVCI and Gallup have begun phasing in a strengths development program that emphasizes building organizational capacity by maximizing employees' greatest talents, not trying to fix employees' weaknesses. (See "Strengths Development Programs" in See Also.)

To date, Gallup and MVCI have trained and certified 450 MVCI managers as Strengths Performance Coaches. More than 3,000 MVCI employees have completed Gallup's Clifton StrengthsFinder, an online assessment that identifies a person's top five talent themes, and about half of them have participated in strengths feedback sessions.

"We've incorporated the Clifton StrengthsFinder in many of our performance assessment and review processes," Cervasio said. "We know we're going to motivate our associates because we're sitting down with them and talking about a plan that's tailored to them and their strengths."

Employee engagement. To assess the effectiveness of its talent selection and strengths development initiatives, MVCI launched an employee engagement improvement process. The program is built around the Gallup Q 12, a 12-item employee survey that links to business outcomes like retention, productivity, profitability, customer engagement, and safety and is integrated with manager training and action-planning activities.
The business impact
Over the years, MVCI has found that an effective talent-based selection process yields outstanding financial returns. Here's how Cervasio illustrated the point: "If the sales associates that were hired using the Gallup selection process had presented to our customers during the two-year period after we had introduced the new process, they would have produced $269 million more in net sales revenues than the associates hired through an alternate process."
Cervasio noted that this is due in part to Gallup's talent-based approach to employee selection. Gallup's approach is founded on the premise that a person's talents are strongly predictive of future performance. By helping MVCI managers identify each applicant's greatest talents -- and making talent a core consideration in the hiring process -- MVCI has been able to select and hire new sales associates who are more likely to be successful in sales roles.
The strengths development program also delivered higher levels of employee engagement as well as a substantial return on investment. An analysis of MVCI's Q 12 employee engagement results showed that the company's strategy is fostering high levels of employee engagement and boosting job performance. MVCI currently ranks above the 80 th percentile of all organizations in Gallup's employee engagement database.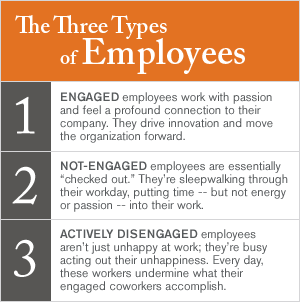 Fifty-seven percent of MVCI's employees are engaged. Gallup's research indicates that the average level of engagement of U.S. workers is 28%. (See sidebar "The Three Types of Employees" and "Getting Personal in the Workplace" in See Also.)
"When we did the Q 12 survey of employee engagement, we added a couple of questions to gather feedback on the strengths development program," Cervasio said. "We asked associates if they had received feedback about their strengths in the past year." The analysis of the results showed that the engagement levels of employees who received feedback on their strengths ranked above the 90 th percentile, while the engagement levels of employees who didn't receive strengths feedback ranked below the 30 th percentile."
However, that wasn't enough for MVCI. "We also wanted to quantify, in dollars, the business impact of the Clifton StrengthsFinder," Cervasio said. To do this, MVCI and Gallup analyzed data on the impact of strengths development against actual sales performance. The analysis revealed striking differences between those who participated in strengths development and those who did not. Employees who received feedback on their strengths had much larger increases in their sales-closing percentages -- and in sales volume per guest -- than employees who didn't receive strengths feedback. (See "Boosting Sales-Closing Percentages" below and "Boosting Sales Volume per Guest" on page 1.)
The analysis also identified how much money "not engaged" and "actively disengaged" sales associates are costing MVCI. The results showed that at the workgroup level, "10% of our sales force is actively disengaged. Each actively disengaged sales team costs us more than half a million dollars per year," Cervasio said; this equates to about $56 million in lost business per year.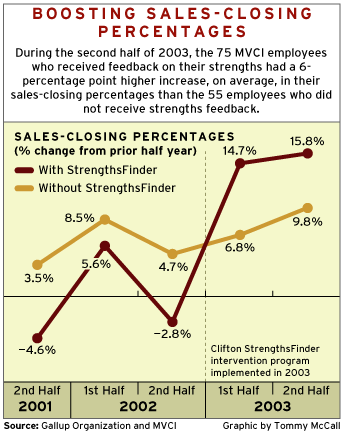 "If you factor in the 23% of our sales associates who are not engaged, that equates to another $54 million in net revenue loss," he added. "That's over $100 million in lost revenue due to the sales associates who are either actively disengaged or not engaged."
Looking ahead
The successful implementation of the strengths development and employee engagement initiatives within MVCI's sales organization has grabbed the attention of MVCI senior management.
"At MVCI, we are truly fortunate to have not only the support, but also the outstanding vision and leadership, of Chief Customer Officer and Senior Vice President of Sales and Marketing Pete Watzka, who has embraced all aspects of The Gallup Path," Cervasio said. "When you have leadership that 'gets it,' my job of bringing the concepts of building a strengths-based organization to MVCI is made a whole lot easier. Obviously, when you're able to tie results to these processes, we get the attention of everyone."
Cervasio added, "We've been using Gallup's selection processes for 12 years, and our president and chief financial officer are quite familiar with the ROI numbers on the sales selection process. Their reaction to the selection ROI has obviously been very positive.
"However, they were somewhat skeptical about the new programs. The biggest source of skepticism was whether we would be able to quantify their impact on business outcomes. When we sat down and went over the business impact analysis with the president and chief financial officer, the president, who is a 35-year Marriott guy, said to me: 'I'm finally seeing a people solution that really impacts the business.'"
MVCI's plans for further improvements include rolling out a customer engagement program. The first step will be to administer Gallup's 11-item customer survey, the CE 11. (See "Measuring and Improving Customer Engagement" in See Also.)
"To continue to have a competitive advantage, we need to get closer to our customers," Cervasio said. "We need to know what makes them emotionally engaged to Marriott."