PRINCETON, NJ -- Gallup's latest poll finds only one in five Americans approving of the job Congress is doing at this time. The public's rating of Congress had shown slight improvements in recent months, but the current rating is down again and is among the lowest that Gallup has ever measured dating back to 1974. Americans' assessment of the job President George W. Bush is doing is also quite negative and has shown little change over the past two months, with about one in three Americans expressing approval of him.
Congressional Job Approval
According to the Nov. 11-14, 2007, poll, 20% of Americans approve of the way Congress is handling its job, while 69% disapprove. Congressional job approval ratings tied their historical low point -- an 18% reading in 1992 -- in August of this year. Americans' ratings of Congress showed some improvement in the following months, reaching 29% in mid-October before falling back again this month.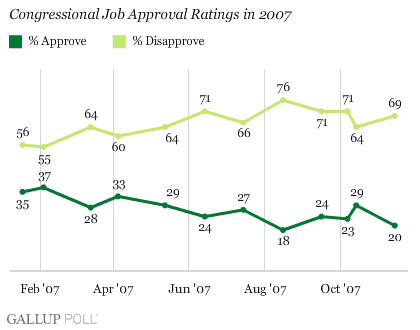 By historical standards, the current 20% approval rating is among the lowest Gallup has ever recorded. In fact, in the 173 times since 1974 that Gallup has asked Americans to rate the job Congress is doing, Congress' approval rating has been at or below 20% only four times.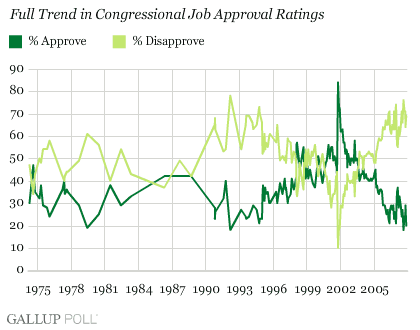 Republicans and Democrats do not differ much in their ratings of Congress at this time. Just 26% of Democrats say they approve of the job Congress is doing, while 20% of Republicans approve. Independents' approval rating is lower still, at 14%.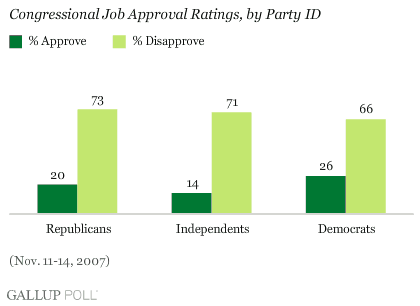 Presidential Job Approval Ratings
Bush's job approval ratings have shown little change in the past two months -- 32% of Americans now say they approve of the job he is doing as president and 61% disapprove. Over the course of the year, Bush's approval ratings have been fairly stable, averaging 34% and fluctuating between a high of 38% in April and his administration's low point of 29% in July.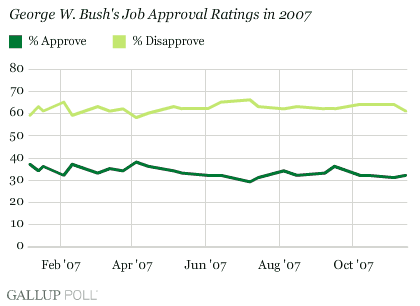 Combined Gallup data from the past two months show that ratings of Bush vary most by political attitudes:
Seventy-two percent of Republicans approve of the job Bush is doing, compared with 27% of independents and just 7% of Democrats.
A majority of self-described conservatives, 54%, approve of Bush, while only 25% of moderates and 9% of liberals do.
Among the combined party and ideology groups, conservative Republicans show the highest level of support for Bush, at 74%, while liberal Democrats show the lowest support, at only 4%.
Bush's approval rating is higher among men than among women; among frequent churchgoers than among those who seldom or never attend religious services; among those living in the South than among those living elsewhere; among those in higher-income than among those in lower-income households; and among whites than among blacks. There are only minor variations in Bush's approval rating by age and education.
Survey Methods
Results are based on telephone interviews with 1,014 national adults, aged 18 and older, conducted Nov. 11-14, 2007. For results based on the total sample of national adults, one can say with 95% confidence that the maximum margin of sampling error is ±3 percentage points. In addition to sampling error, question wording and practical difficulties in conducting surveys can introduce error or bias into the findings of public opinion polls.