WASHINGTON, D.C. -- Last week, French police intervened to quell riots in suburbs just outside of Paris that were prompted by the deaths of two youths whose motorbike crashed into a police car. After urban riots beset France for several weeks in 2005, Olivier Roy, research director at the French National Center for Scientific Research, wrote, "riots are usually triggered by an incident with the police." Earlier this year, a Gallup Poll of France found 73% of respondents nationwide expressing confidence in the local police. However, the data also revealed that men and younger respondents were less likely to be confident than women and older respondents.
Also known as banlieues, these neighborhoods on the outskirts of French cities are often characterized by high-rise public housing and large communities of residents with roots in North and West Africa. Each banlieue has its own name, such as La Cité des 4000 near Paris or Les Minguettes in Lyon's suburbs, and residents, especially the young, identify strongly with their neighborhood. Roy writes in his analysis of the 2005 riots that local youths often band together to protect against intruders, be they the police, a rival group, or even journalists, in some cases triggering civil unrest.
Overall, the police force is a trusted institution in France. But the level of trust, while still relatively high, varies by age and gender. Respondents aged 15 to 54 (71%) are less likely to express trust in their local police force than are those aged 55 and older (77%). And French men (69%) are less likely than French women (76%) to express confidence in their local police.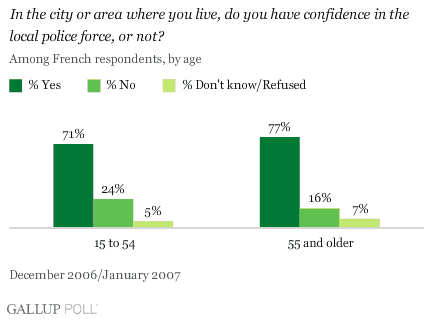 Sixty-five percent of French men aged 15 to 54, compared with 79% of men aged 55 and older, say they trust their local police force. But among women, the age gap is insignificant. Seventy-seven percent of women aged 15 to 54 and 75% of those aged 55 and older say they have confidence in the police.
The 14-point gap between the younger and older male respondents suggests that low levels of trust in police may be a primarily younger male experience. In the challenging context of the poor banlieues, where many young men perceive law-enforcement personnel as intruders, clashes with the police may be the most dramatic symptoms of the marginalization of France's poorest neighborhoods.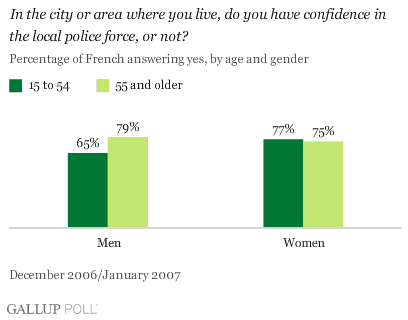 Survey Methods
Results are based on phone interviews with 1,220 adults, aged 15 and older, in France in December 2006 and January 2007. For results based on the total sample of national adults, one can say with 95% confidence that the maximum margin of sampling error is ±3 percentage points. In addition to sampling error, question wording and practical difficulties in conducting surveys can introduce error or bias into the findings of public opinion polls.