GALLUP NEWS SERVICE
PRINCETON, NJ -- Hopes that France's recent legislative elections would result in greater ethnic representation to reflect the country's diversity were dashed when only one of the 555 National Assembly seats for metropolitan France went to a minority candidate. But at the Hôtel Matignon, the government's Paris headquarters, the situation looked a bit brighter for advocates of diversity. Three individuals visibly identifiable as minorities out of 19 portfolios now hold minister-level posts. And President Nicolas Sarkozy's highest profile appointment went to Rachida Dati, a female lawyer of North African ancestry, who heads the Justice Ministry.
A Tolerant Public
The dearth of minorities in the National Assembly contributes to the image of a xenophobic France. Of note, however, is that many of France's Muslim residents are not French citizens and therefore cannot vote. Although political parties fielded about 200 minority candidates during the recent legislative elections, these candidates ran in hard-to-win districts.
In actuality, results from a Gallup World Poll conducted in February 2007 indicate the French public is quite tolerant of ethnic and religious minorities. Nearly 6 in 10 French (59%) say they would prefer to live in a neighborhood with mixed ethnic and religious backgrounds rather than areas where most people share the same background. This figure is at least as high as comparable results from Germany (54%) and the UK (58%). Further, large majorities of French respondents say they wouldn't mind Muslims (74%), Jews (82%), blacks (81%), and Asians (83%) as neighbors.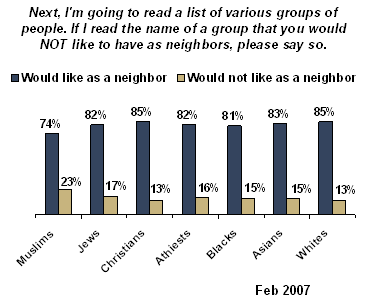 The Meaning of Integration
When it comes to integration of religious differences, however, the secular-minded French population appears less tolerant. Sixty-seven percent of the French say religious minorities must be more flexible about their customs to blend in with the majority. In France, this integration process involves the removal of conspicuous signs of piousness, whatever religion they may represent. A majority of the French public says removing such signs is necessary for integration.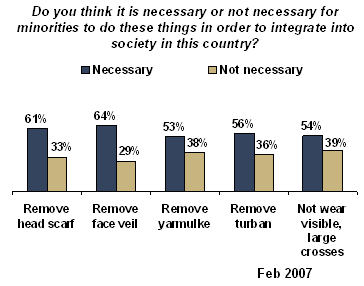 In addition to more representative leadership, integration requires changes in public attitudes. But it may be France's current economic woes that impose the greatest obstacles to assimilation. According to Jonathan Laurence, assistant professor of political science at Boston College, it's the socioeconomic conditions of recent immigrants that represent the missing ingredient for integration. "It's not by design or law, but they accumulate a series of handicaps that lower their chances of entering the job market," says Laurence. Laurence believes the French economy has to perform better to expand opportunities to qualified people, including minorities.   
Survey Methods
Results are based on telephone interviews with 1,220 adults, aged 15 and older, conducted in February 2007. For results based on the total sample of national adults, one can say with 95% confidence that the maximum margin of sampling error is ±3 percentage points. In addition to sampling error, question wording and practical difficulties in conducting surveys can introduce error or bias into the findings of public opinion polls.