WASHINGTON, D.C. -- The international community has criticized Bulgaria and Romania, the newest members of the European Union, for well-publicized incidents involving child neglect and exploitation. Most recently, a BBC documentary investigated the dire circumstances facing many Bulgarian children. The documentary uncovered poor conditions in one Bulgarian orphanage, and exposed child trafficking operations with alleged ties to organized crime.
Since 2005, Gallup has asked Europeans about youth development and the treatment of children. When asked if they thought children were treated with respect and dignity in their respective countries, nearly one in three (30%) Bulgarians and 4 in 10 (40%) Romanians say "no." These percentages are well above the 23% regional median for the 24 EU-member states Gallup surveys. When compared with responses from other southeastern European countries, Romanians, along with Bosnians/Herzegovinians (42%) and Serbs (39%), report the highest negative responses to this question. The regional median for Southeast Europe, which also includes Albania, Kosovo, Macedonia, and Montenegro, is 32%.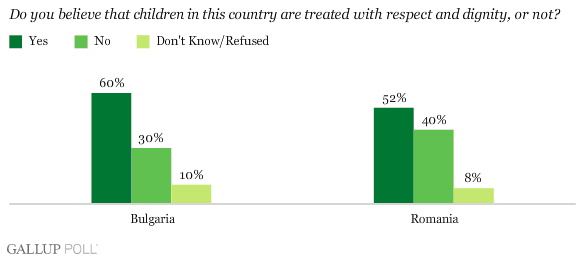 In Southeast Europe, Bulgaria and Romania are the only members of the EU, but responses to youth development questions from those surveyed in these two countries come closer to the overall average in southeastern Europe than the average in the EU. When asked if children in their countries had the opportunity to learn and grow every day, about one-third in each country (Bulgaria, 31%; Romania, 34%) say "no," compared with an EU regional median of only 13% and a Southeast Europe median of 35%. As these two countries conform to EU standards, these numbers may align more closely with EU averages.
Bulgarians, along with Greeks, are also less likely to express satisfaction with their local schools than residents in any other European Union member states surveyed do. Forty percent of Bulgarians say they are dissatisfied with the educational system in the area where they live, while 26% of Romanians are dissatisfied with their local school systems. The regional median for the EU states Gallup surveys is 21%; the regional median for Southeast Europe 36%.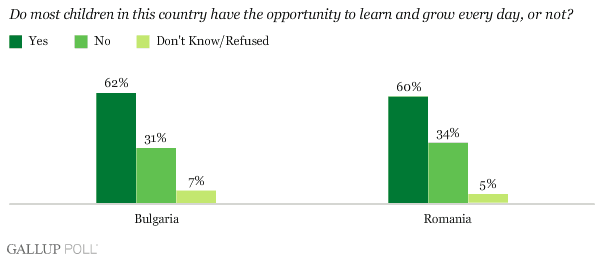 In the past month, British and Romanian officials announced hundreds of arrests in both countries in an effort to crack down on individuals trafficking children out of Romania. Officials claim that in many cases, due to impoverished circumstances, relatives of the children are involved in their exploitation. Relatives accept monetary payment in exchange for the children who are then handed over to organized crime networks that often use these children to carry out criminals acts such as theft.
When they joined the European Union in January 2007, Bulgaria and Romania pledged new policies to combat organized crime. While the European Commission and the U.S. Department of State have acknowledged the efforts both countries have made to combat organized crime and improve the treatment of children, Gallup Poll results, as well as recent events, suggest that key challenges remain. It remains to be seen how much time and effort it will take to bring the problem under control and give residents of both countries more hope for a bright future for their children.
Survey Methods
Results are based on face-to-face interviews with approximately 1,000 adults in Romania, aged 15 and older, conducted April-May 2007 and face-to-face interviews with approximately 1,000 adults in Bulgaria, aged 15 and older, conducted in December 2006-January 2007. Results are based on telephone and face-to-face interview with approximately 1,000 adults in each of 22 European Union member countries and Albania, Bosnia, Kosovo, Macedonia, Montenegro, and Serbia, aged 15 and older, conducted throughout 2005, 2006, and 2007. For results based on the total sample of national adults, one can say with 95% confidence that the maximum margin of sampling error is ±3 percentage points. In addition to sampling error, question wording and practical difficulties in conducting surveys can introduce error or bias into the findings of public opinion polls.