PRINCETON, NJ -- A recent USA Today/Gallup poll finds that most baseball fans believe Roger Clemens was lying when he testified before Congress that he never used steroids.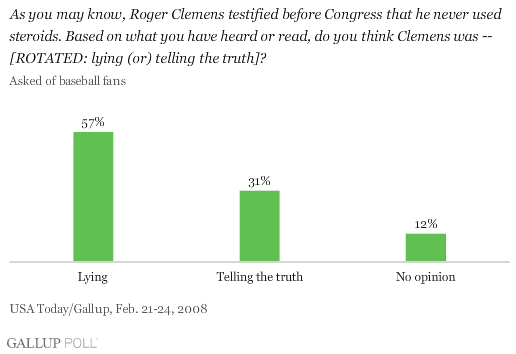 Congress -- acting on the assumption that Clemens provided untruthful testimony -- has asked the Justice Department to investigate possible criminal charges against Clemens. But baseball fans are by no means united in believing that Clemens and other players named in former Sen. George Mitchell's report on past steroid use in baseball should be punished. Baseball fans are more likely to say they have a favorable than an unfavorable opinion of Clemens, and the majority of fans still believe Clemens deserves to be inducted into the Baseball Hall of Fame.
The Feb. 21-24 poll finds 45% of baseball fans saying they have a favorable opinion of Clemens and 37% an unfavorable opinion. His friend and former teammate Andy Pettitte, who has contradicted Clemens' testimony, is rated much more positively (44%) than negatively (23%), though 32% are not familiar enough with Pettitte to rate him.
Barry Bonds does not fare nearly as well in the court of public opinion -- 60% of fans rate him unfavorably and 30% favorably.
These players' legacies will ultimately be decided when they come up for admission to the Hall of Fame. Sixty-two percent of baseball fans think Clemens should be enshrined in Cooperstown, and 29% say he should not be.
Notably, even fans who believe Clemens lied before Congress are more likely than not to say he should be elected to the Hall of Fame, by a 51% to 44% margin. As would be expected, those who believe he provided truthful testimony overwhelmingly think he should be a Hall of Famer (89% to 5%).
In addition to Clemens, the poll asked whether each of seven other former star players should be elected to the Hall of Fame. Clemens receives the third most "yes" votes, behind Sammy Sosa (68%) and Pete Rose (66%), with roughly the same percentage as Rickey Henderson and Mark McGwire (61% each).
Fans are less charitable toward Bonds, with 46% saying he should be elected to the Hall of Fame and 50% saying he should not be. The only player of the eight who gets significantly more "no" votes than "yes" votes is Jose Canseco. Canseco's career résumé may not be as impressive as those of others on the list, and he has also publicly admitted to steroid use -- unlike McGwire, Bonds, and Clemens.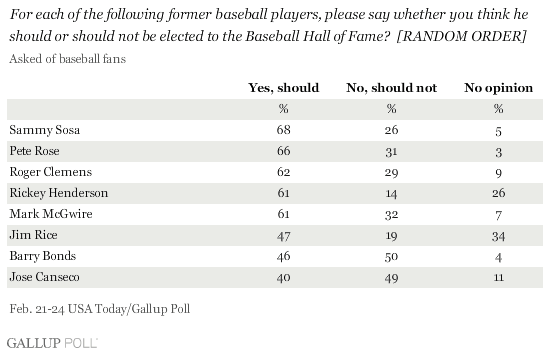 Clemens was not widely believed to have used steroids until he was named in the Mitchell report, released last December. In general, baseball fans seem more inclined than not to forgive these players' past indiscretions -- 55% say Baseball Commissioner Bud Selig should not punish current major leaguers named as past steroid users in the Mitchell report, but 39% believe Selig should punish those players. Selig has yet to make a decision on how he will proceed, but Mitchell recommended against any type of punishment.
It's unclear whether Mitchell's recommendation carried any weight with the fans, but their attitudes on that matter are dramatically different from what they were just prior to the release of the report. In a Nov. 30-Dec. 2 USA Today/Gallup poll, 60% of baseball fans said Selig should punish current baseball players named in the report, and 37% said he should not.
The poll finds 43% of Americans identifying themselves as baseball fans. That continues to be on the low end of what Gallup has measured historically. (See "Baseball Fan Base Near Recent Low" in Related Items.)
Survey Methods
Results are based on telephone interviews with 456 baseball fans, aged 18 and older, conducted Feb. 21-24, 2008. For results based on the total sample of national adults, one can say with 95% confidence that the maximum margin of sampling error is ±5 percentage points.
Interviews are conducted with respondents on land-line telephones (for respondents with a land-line telephone) and cellular phones (for respondents who are cell-phone only).
In addition to sampling error, question wording and practical difficulties in conducting surveys can introduce error or bias into the findings of public opinion polls.