PRINCETON, NJ -- Hillary Clinton has moved ahead of Barack Obama in national Democratic nomination preferences, 48% to 44%, in polling conducted Sunday through Tuesday.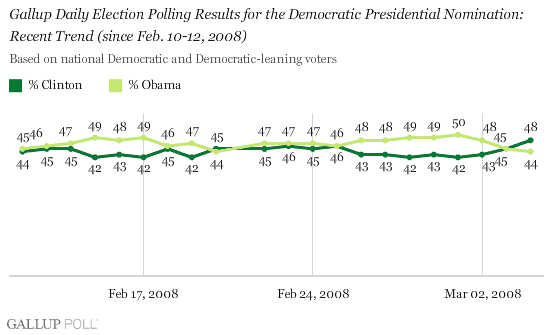 The latest three-day average primarily reflects Democratic attitudes before the outcomes of Tuesday night's primaries were known. National Democratic preferences began to shift in Clinton's favor on Sunday, gained momentum on Monday, and remained favorable to her on Tuesday. Any impact her success in Tuesday night's elections may have on national preferences will be reflected in tomorrow's Gallup Poll Daily election tracking report.
John McCain wakes up this morning with no more significant electoral challenges facing his Republican nomination bid. By winning all four March 4 primaries, McCain crossed the delegate threshold needed to secure the nomination, and the last remaining major challenger in the race, Mike Huckabee, withdrew on Tuesday night.
The battle for national Republican preferences thus ends with McCain leading Huckabee 63% to 20% in Gallup Poll Daily election tracking from March 2-4.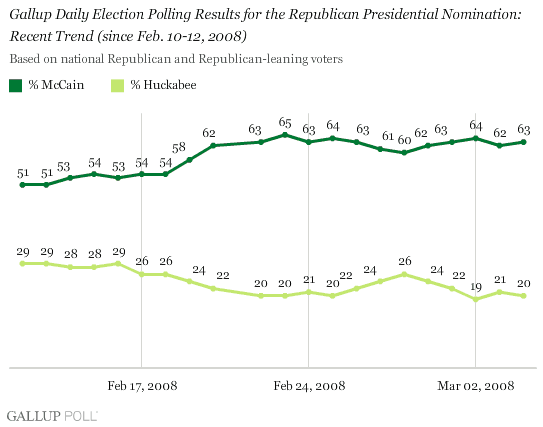 Texas Congressman Ron Paul and former U.N. Ambassador Alan Keyes ended the process with low levels of support from Republican voters, 4% and 2% respectively in Gallup Poll Daily tracking March 2-4 average. This will be the final Gallup Poll Daily tracking update of the GOP race. -- Lydia Saad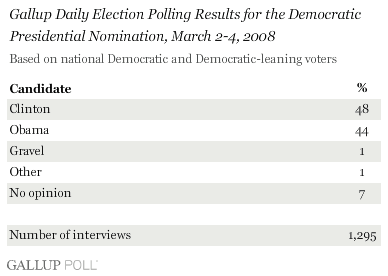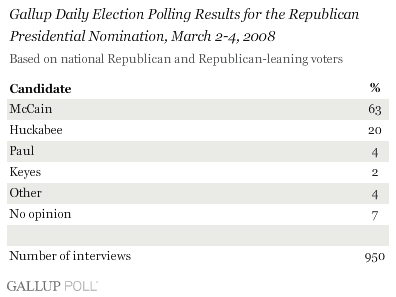 Methodology: Gallup is interviewing no fewer than 1,000 U.S. adults nationwide each day during 2008. The results reported here are based on combined data from March 2-4, 2008, including interviews with 950 Republican and Republican-leaning voters, and 1,295 Democratic and Democratic-leaning voters. For results based on these samples, the maximum margin of sampling error is ±3 percentage points. In addition to sampling error, question wording and practical difficulties in conducting surveys can introduce error or bias into the findings of public opinion polls.