PRINCETON, NJ -- Even though there has been an increased focus on global warming and a growing market of environmentally friendly products, Gallup's annual Environment poll finds just 28% of Americans reporting they have made "major changes" in their lifestyles to protect the environment. Fifty-five percent have made "minor changes."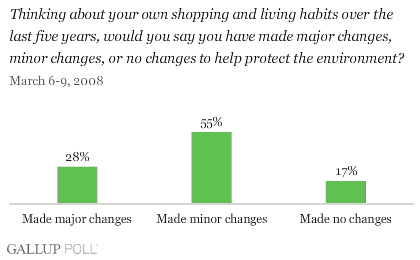 That is in keeping with the public's view about government's role in protecting the planet, with most believing that some additional actions need to be taken, but with Americans stopping short of calling for "immediate and drastic" action.
Furthermore, the environment ranks only in the middle of a list of "problems facing the country" that Americans worry about. Forty percent say they worry "a great deal" about "the quality of the environment," ranking far below the 60% who worry about the economy and the 58% who worry about the availability and affordability of healthcare.
Thus, Americans seem willing to play a small part in helping to protect the environment, but so far, most have not made substantial changes to their shopping and living habits.
Gallup has asked Americans about lifestyle changes to protect the environment twice before (in 2000 and 2003), and, contrary to what one might expect, there has not been a significant increase in the proportion who report making environmentally friendly lifestyle changes over time.
Among most major demographic subgroups, roughly 8 in 10 say they have made at least minor changes in their way of living to help the environment. There are some variations in the percentages of different subgroups who report making "major changes," however.
For example, 34% of women but only 21% of men say they have made major changes in their lifestyles. Also, 32% of Democrats and 31% of independents have altered their habits in an environmentally friendly manner, but only 20% of Republicans have.
It stands to reason that those who express concern about the quality of the environment, about global warming, or the energy situation are more likely to say they have made major changes in their lifestyles than those who are not concerned about these issues.
A majority, 54%, of those who consider themselves "active participants in the environmental movement" have significantly adjusted their lifestyle habits to aid the environment, more than double the percentage of those who do not consider themselves active environmentalists.
This year's poll probed respondents who indicated they have made changes in their lifestyles about the specific changes they have made.
The most common response is recycling -- or recycling more than in the past -- mentioned by 39%.
Roughly one in four have taken steps to conserve fuel, including 17% who say they have cut back on driving, and 9% who report driving a more fuel-efficient car.
About the same proportion have taken steps to conserve energy in the home, including using less electricity (10%), buying energy-saving light bulbs (7%), upgrading to energy-saving appliances (4%), and making their homes more energy efficient overall (2%) -- such as by installing new windows or adding insulation.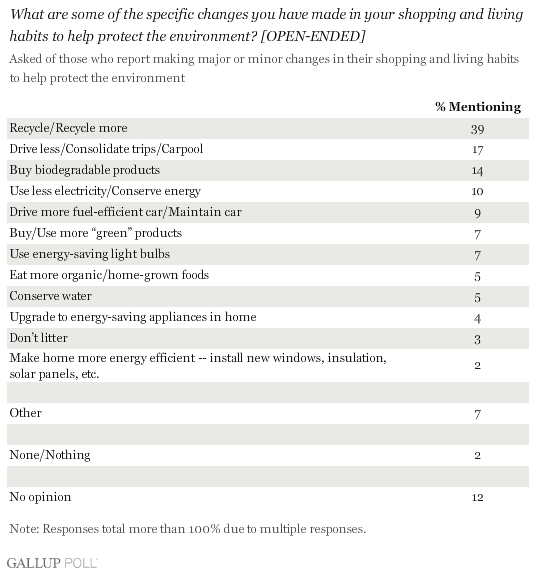 Those who say they have made major changes in their habits do not differ much from those who have made minor changes in the types of activities they report doing on behalf of the environment.
Implications
Because those who are more concerned about the environment are more likely to live a "green" lifestyle, there may not be a notable increase in "green living" in the United States until there is a growth in concern about the environment. Environmental concern has been relatively flat in recent years, and since environmental concern often declines when the economy is struggling, a near-term increase in environmentally friendly living does not seem very likely.
Survey Methods
Results are based on telephone interviews with 1,012 national adults, aged 18 and older, conducted March 6-9, 2008. For results based on the total sample of national adults, one can say with 95% confidence that the maximum margin of sampling error is ±3 percentage points.
Interviews are conducted with respondents on land-line telephones (for respondents with a land-line telephone) and cellular phones (for respondents who are cell-phone only).
In addition to sampling error, question wording and practical difficulties in conducting surveys can introduce error or bias into the findings of public opinion polls.
To provide feedback or suggestions about how to improve Gallup.com, please e-mail feedback@gallup.com.