WASHINGTON, D.C. -- Nepal's newly elected Maoists are currently reappraising the country's relations with the two giants it's nestled between -- India and China. A recent Gallup Poll suggests Nepalese would see a great deal of good in better ties with each of their neighbors.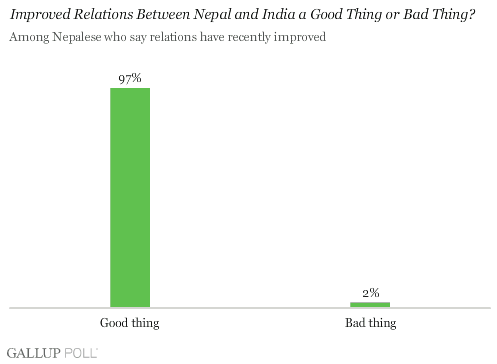 Neighbor to the South
Although India and Nepal are historically united by geography, culture, and religion, the Maoists are aggressively seeking "new unity on a new basis" with India. The best example so far has been the Maoists' plan to scrap and replace a major 58-year-old security and trade treaty that they consider unequal and out-of-date. Doing so, they believe, will place both countries on equal footing so they can move forward together.
Such an outcome would likely appeal to many Nepalese. In July 2007, nearly half of Nepalese (48%) surveyed said relations between the two countries had recently improved, and among those respondents, 97% said this was a "good thing" for their country. Only 11% of Nepalese said relations had declined, and among those respondents, 88% said this was a "bad thing."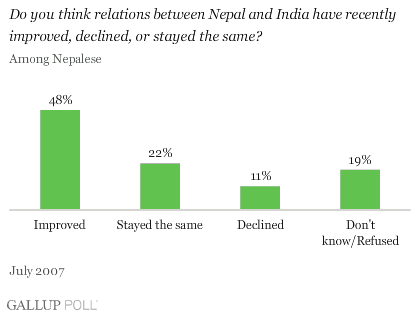 Neighbor to the North
During Nepal's decade-long civil war, China backed Nepal's monarchy rather than its Maoist ideological comrades; it has only recently been making overtures to Nepal's political parties. But overall, Nepal has typically had close relations with China over their half-century of diplomatic relations. Nepalese overwhelmingly told Gallup that these ties are a good thing for their country.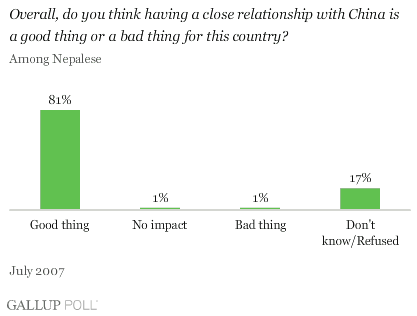 While 81% of Nepalese thought a close relationship in general with China is a good thing for Nepal, three-quarters (75%) said more specifically that China's growing economy is a plus for their country.
Survey Methods
Results are based on face-to-face interviews conducted in July 2007 with at least 1,000 adults, aged 15 and older, in Nepal. For results based on the total sample, one can say with 95% confidence that the maximum margin of sampling error is ±3 percentage points. In addition to sampling error, question wording and practical difficulties in conducting surveys can introduce error or bias into the findings of public opinion polls.