This article is the first in a two-part series on the hopes and dreams that urban Burmese expressed for themselves and their country in a September 2006 Gallup Poll, the most recent survey of people in Myanmar. The first article focuses on respondents' personal dreams; the second looks at their hopes for their nation.
WASHINGTON, D.C. -- Dreams of entrepreneurship and prosperity dominated urban Burmese hopes before Cyclone Nargis likely dashed them four weeks ago. "To own a business or have a successful business" and "be wealthy or financially comfortable" were mentioned most often when Gallup asked residents in 2006 about their wishes for the future.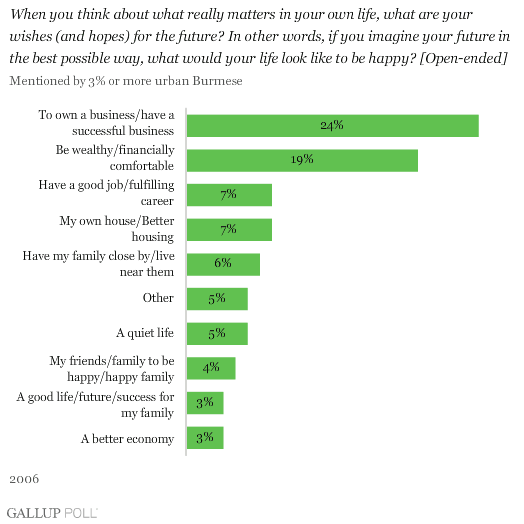 Urban Burmese hopes for financial success are understandable given that residents most often mentioned debts and finances as their biggest problem.
Burmese respondents' top wishes were also consistent with those of their neighbors: Greater wealth and entrepreneurial desires were among the most often mentioned by urban Laotians and urban Cambodians. Laotian respondents also identified debt, finances, and money as their biggest problem.
In Their Own Words
Gallup codes and groups common-themed responses to open-ended questions to organize and examine broad sentiment, but the actual verbatim responses provide deeper context and insight into the lives of the people studied.
To Own a Business/Have a Successful Business
The entrepreneurial desires of urban Burmese ranged from owning humble shops to warehouses, from selling specific goods such as beans to selling anything, and from growing small businesses to switching their businesses from retail to wholesale.
"I would be pleased if I can open a small shop at home and live together with my children." -- 53-year-old woman
"I would be happy if I have more investment to make my small grocery into a big one." -- 44-year-old man
"I would sell any good if it is very profitable. I would be happy if I could make a lot of money through selling." -- 34-year-old man
"I want to become a successful trader involved in local produce -- pulses and sesame." -- 21-year-old woman
Be Wealthy/Financially Comfortable
Wealth and financial comfort thresholds clearly varied among urban Burmese. Some respondents said they would be happy with just enough income to cover basic necessities and provide donations to the local monastery, while others dreamed of being rich and living without worry.
"I would be happy if I can afford food, clothing, and shelter and be able to make donation." -- 45-year-old woman
"Want to live richly with a brick house and car. Also like to be successful by extending my own enterprise." -- 44-year-old man
"Happy if I have enough money to make my children highly educated. Try hard to own a house for my family." -- 37-year-old woman
"Want to be well-earned and rich -- free from debts to live happily by doing good deeds and [making] donations." -- 52-year-old woman
Bottom Line
More than a month after the cyclone ravaged Myanmar, many Burmese are still struggling with day-to-day survival, which likely put many of their dreams on hold or changed some of them forever. But Gallup's findings suggest that even in the face of adversity they experienced before the storm, urban Burmese dreamed of a better life -- which they may still be able to find as they rebuild their lives now.
Survey Methods
Results are based on face-to-face interviews with 337 adults living in one of the larger cities or suburbs of a city in Myanmar, aged 15 and older, conducted in September 2006. For results based on the total sample of adults in urban Myanmar, one can say with 95% confidence that the maximum margin of sampling error is ±6 percentage points. In addition to sampling error, question wording and practical difficulties in conducting surveys can introduce error or bias into the findings of public opinion polls.