WASHINGTON, D.C. -- Confidence in a presidential candidate's ability to handle terrorism may not be enough to satisfy American voters in 2008. A majority of Americans say they prefer a candidate whose greatest strength is fixing the economy (56%) rather than one whose greatest strength is protecting the country from terrorism (39%).
John McCain's senior adviser Charlie Black this week reignited the debate over the politics of national security and the correctness of propagating campaign messages based on fear after being quoted in Fortune magazine stating that another terrorist attack on U.S. soil "would be a big advantage" for McCain. Despite the criticism Black received, President Bush on Wednesday echoed a similar theme, saying McCain is the only presidential candidate "who knows what it takes to defeat our enemies."
The rationale behind these statements is clear. Out of eight key election issues tested in a recent USA Today/Gallup poll, McCain's No. 1 perceived strength is his ability to handle terrorism, while Barack Obama outperforms McCain on his perceived ability to handle energy prices and the economy. Yet, energy prices and the economy outrank terrorism in Americans' order of importance, and a majority of Americans -- regardless of income -- say they prefer a candidate who is best at fixing the economy.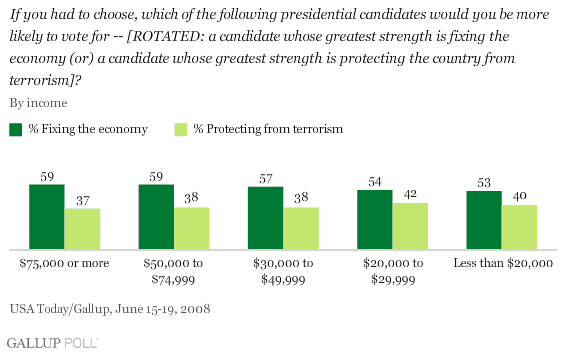 Given the candidates' perceived strengths on the economy and terrorism, voters' preferences for the most part correspond to their perceptions of the more important issue. But preference for the economy over security is not a perfect vote predictor. A full one-quarter of those who prefer a candidate who can protect the country from terrorism say they will vote for Obama, and a nearly identical percentage of those who prefer a candidate who can fix the economy say they will vote for McCain.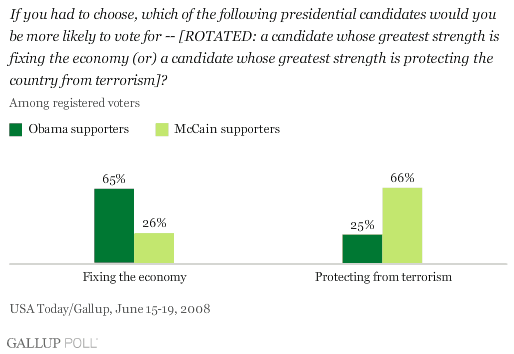 That said, independents decisively prefer a candidate whose greatest strength is fixing the economy, by 57% to 38%. In fact, their preference for the economy is as strong as the preference among Republicans for a candidate who can protect the country from terrorism. It is also worth noting that more than a third of Republicans opt for the "economic" candidate.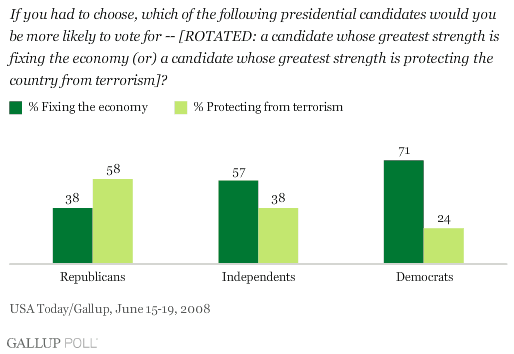 Bottom Line
The McCain campaign faces the dilemma of positioning a candidate whose perceived strength, combating terrorism, is currently not in sync with Americans' most important priority, the economy. While the statements from Black and President Bush did serve to reintroduce terrorism into the campaign conversation, Americans' financial worries are not going away. With the ripple effect of high gas prices taking a direct toll on many Americans' lives, the economy remains the more decisive factor in their vote, and in that respect, Obama currently has the advantage.
Survey Methods
Results are based on telephone interviews with 1,625 national adults, aged 18 and older, conducted June 15-19, 2008. For results based on the total sample of national adults, one can say with 95% confidence that the maximum margin of sampling error is ±3 percentage points.
Interviews are conducted with respondents on land-line telephones (for respondents with a land-line telephone) and cellular phones (for respondents who are cell-phone only).
In addition to sampling error, question wording and practical difficulties in conducting surveys can introduce error or bias into the findings of public opinion polls.
To provide feedback or suggestions about how to improve Gallup.com, please e-mail feedback@gallup.com.